Seamed Stockings & Heels

This week I, Jim Slip, bring to you a bit of class. No skimpy shorts today, just pure elegance. 19 year old Mimi - a student of fashion - arrived in a shiny satin cocktail dress, seamed stockings and heels. An outfit that would have graced a party at the White House in the early 1960's. Of course along with with skimpy shorts and bikinis it so happens I am very much a fan of women dressed in the style of women in the 1950's and early 1960's. Anyway Mimi started her casting by lifting up her dress to reveal her long legs clad in seamed stockings and suspenders. She put her hand in her knickers and played with herself and seeing as she was new to all these capers, I felt it was only right and proper to give her a helping hand! After this, she very adeptly sucked my dick and then I put her on her hands and knees and fucked her whilst holding the camcorder. Next week, having tired of "Elegance" we changed her into the mode of a cheap whore!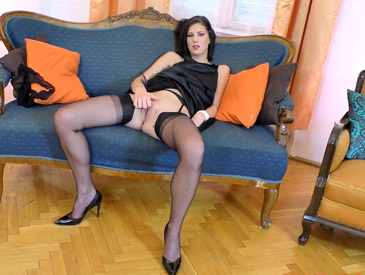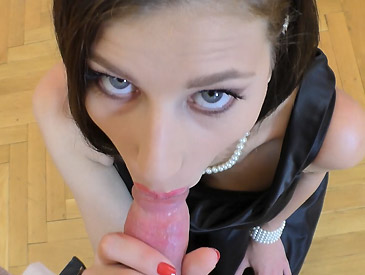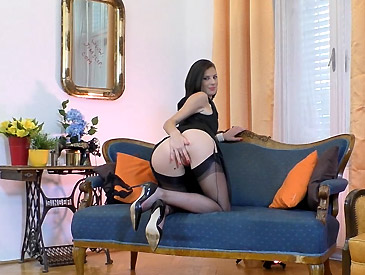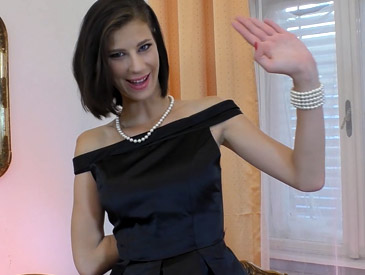 Babelicious In Bikini

As you know it is bikini time on jimslip.com and so Suzy donned a tiny gold bikini to get fucked in. Like most men on a beach watching the girls walk past they often ponder how nice it would be to simply bend one of them over yank their bikini bottoms to one side and stuff their cocks in for a quick fuck. But of course we are civilised and cannot do this sort of thing and this is where jimslip comes in. It is my job to create a virtual version of this fantasy which is exactly what I did with Suzy. At risk of chafing my cock I bent her over, pulled her bikini over and fucked her. I was loathe to remove the bikini because it wouldn't be the same, but in the end I had no choice as for "Health & Safety" reasons and after a Risk Assessment regarding "over-chafing of a penis against a bikini seam".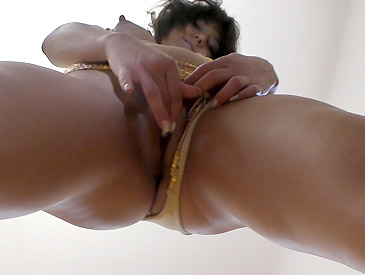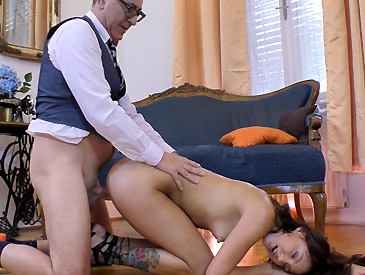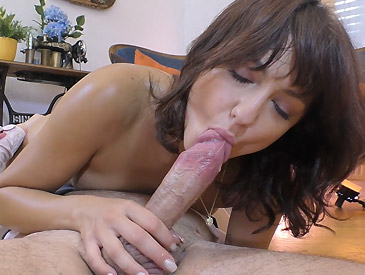 Jim's Casting Cutie

This week we have the very sexy Suzy who arrived for a jimslip casting. She arrived in skimpy denim shorts which are the fashion in this part of the World, not that I minded. Suzy is studying "Hospitality" and I got her to show me some of the moves involved in the hospitality caper. It was not long before she tired of this and thought it would be more beneficial to put her hands down her shorts and play with herself. She asked if I'd "Lend a hand" and of course I obliged and played with her wet pussy accompanied to her groans. I dropped my trousers and sat down and Suzy prowled 'cat like' across to me, grabbed my cock and sucked it hard. Suzy was rampant and insisted that I screw her whilst holding the camcorder as she said it would help her to pass the casting. I didn't tell her that she'd passed the casting the moment she'd walked through the door.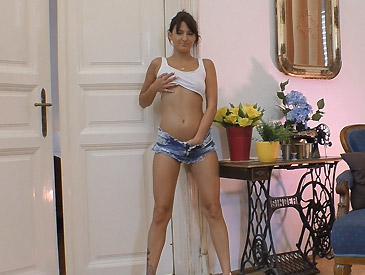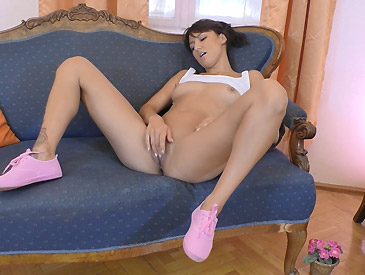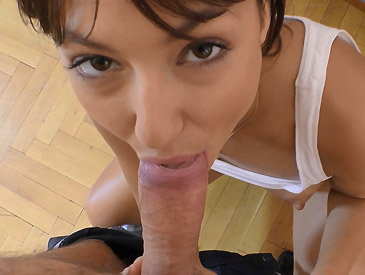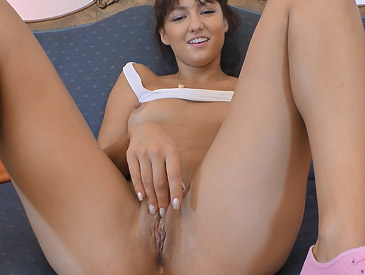 GOLDEN CLASSIC REMASTER FROM 2004

This months remaster to MPG4 is the gorgeous Simone, sporting the most perfect body that one could imagine. I recall at the time being mentally and physically exhausted at the job at hand, that job being shagging babe after babe, day in day out! It took its toll on my sanity! Luckily I lived to tell the tale! This is getting tiresome, my eyes simply can't stand any more of these perfect round bottoms, and they still keep coming at me. Simone, has an arse you want to sink your teeth into and legs.......OK I'll leave it to you to decide.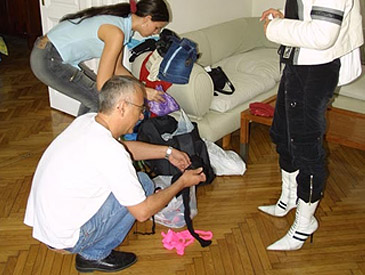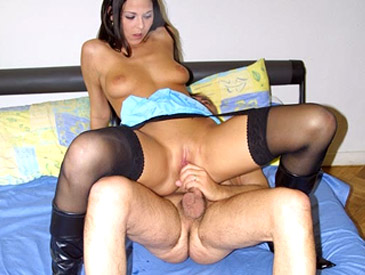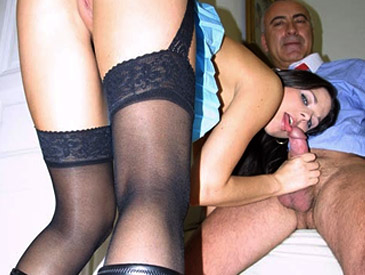 Babe On A Bed!

Yes folks you read it right! Once again we are on a bed and as part of Jim's "Renaissance Period" I have tried a new and wonderful idea. CMWNF i.e "Clothed Male With Naked Female" as I thought it might be quite sexy. Well it was quite sexy for at least the first five minutes, at which point I simply had to get my trousers off and let the cute Crystal clamber onto my dick and fuck it like crazy. After this there was no stopping me. I mean the sheer luxury of fucking a beautiful teen on a comfy bed was too hard to resist. Even Lara Latex was impressed by the shenanigans and later commented how Crystal had cum twice. Yes, my brethren, take heed, that this scene is possibly about to enter the "Jim Slip Hall Of Fame". STOP THE PRESS! Crystal will be coming back soon for a hot anal scene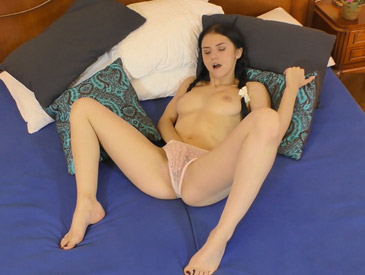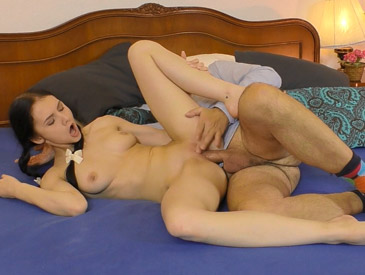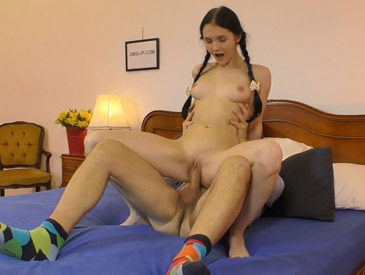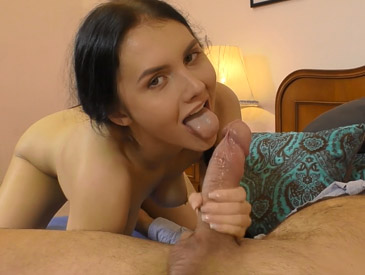 Casting Cutie

This week I have a real treat for you in the petite form of the lovely 19 year old Crystal. Turning up in regulation tiny denims & cowboy boots my eyes nearly came out on springs. She reminded me a little of the character "Wednesday" from the Addams Family. Anyway, as are all the teens who arrive for a Jimslip casting, she was as horny as hell. It was not long before I had plunged my trotters down her shorts & checked her sodden pussy and it wasn't long before Crystal had torn my trousers down and started feasting on my stiff cock. Over the years I have pondered many things, for example, why is a Brontosaurus thin at one end, thick in the middle and thin at the other end? As well as why are the cutest, prettiest teens always the most horny, rampant sluts of all girls who arrive at my door.