Jim's Casting Cutie

This week we have the lovely 22 year old Kiki. She arrived not speaking one single word of English so we used Google translate to communicate. Anyway, I am sure you will not mind as she sits there in her little pink dress and starts to run her hands all over her smooth body. Naturally I felt it was my duty to lend a hand so I gave her the camcorder to film me licking her sodden pussy. You will hear her groans on the camcorder which is very sexy. She seemed delighted to be able to suck my dick and as she was slobbering all over it, I thought to myself, "This is a girl that just adores a stiff cock!". I managed to screw her in various positions, always a challenge when holding a camcorder. Anyway, Lara and I decided that the lovely Kiki would scrub up well dressed as a prostitute and this is how she re-appears in next weeks exciting episode!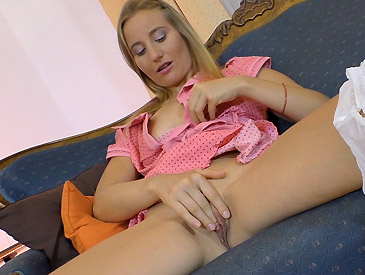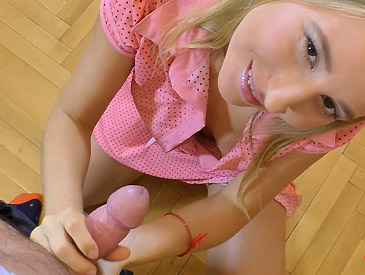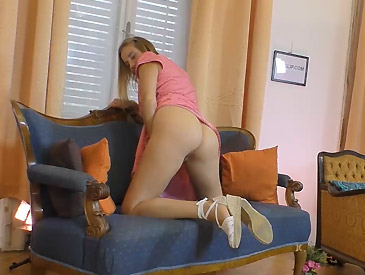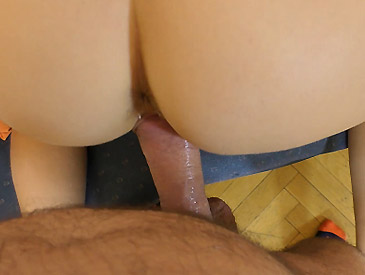 GOLDEN CLASSIC REMASTER FROM 2005

This month we have the very sexy and pint-sized English girl, Summer. English girls beat the world in sheer sluttishness. How could I leave her in the old format, she had to be remastered into MPG4 so you could view her on your mobile on your way to work! Welcome to the wonderful Summer Rain, ex armed forces, licensed to THRILL, sex machine! Marvel at her putting me through my paces, she simply chewed me up and spat me out. I was left an empty, half dead shell of a man...........Can I have some more please??!!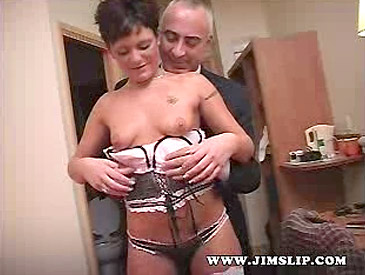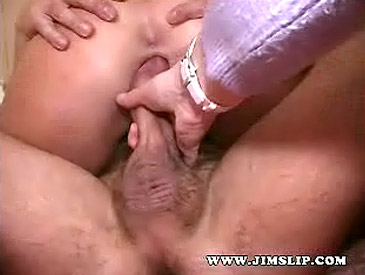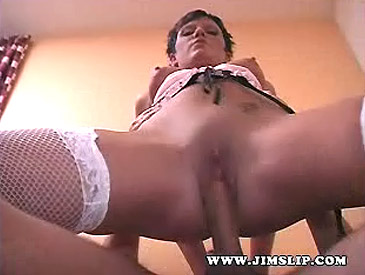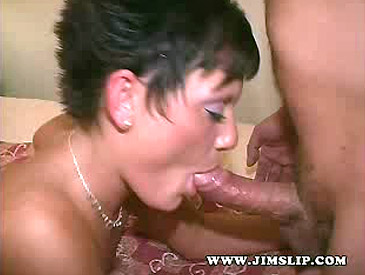 From Phwoarr to Whore

The fact that Mimi had nice long legs it was an obvious choice to change her into a classic whore outfit comprising of ripped tights and thigh length boots. As my wife Lara Latex was on cam, I was able to simply grab Mimi and fuck her in any way I wanted. Being a rampant 19 year old sex maniac it was quite easy to make her orgasm and there is a particularly sexy part where Mimi is impaled on my cock facing the camera, jerking around as if she is being electrocuted. I must admit it was very sexy and things continued in this vein until we were both exhausted.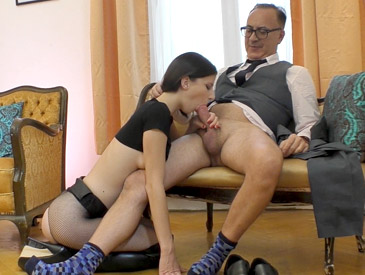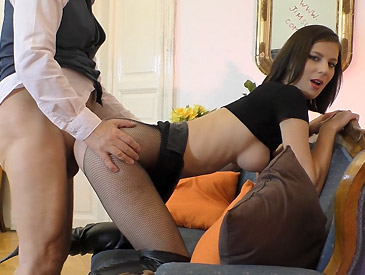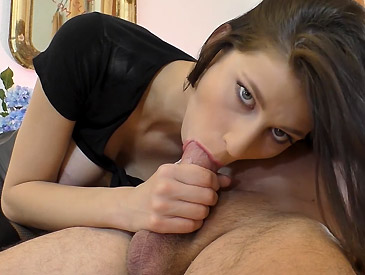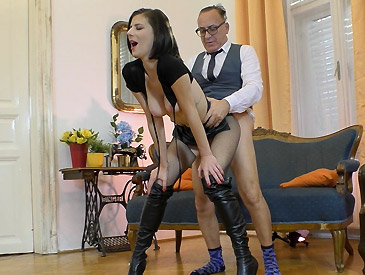 Seamed Stockings & Heels

This week I, Jim Slip, bring to you a bit of class. No skimpy shorts today, just pure elegance. 19 year old Mimi - a student of fashion - arrived in a shiny satin cocktail dress, seamed stockings and heels. An outfit that would have graced a party at the White House in the early 1960's. Of course along with with skimpy shorts and bikinis it so happens I am very much a fan of women dressed in the style of women in the 1950's and early 1960's. Anyway Mimi started her casting by lifting up her dress to reveal her long legs clad in seamed stockings and suspenders. She put her hand in her knickers and played with herself and seeing as she was new to all these capers, I felt it was only right and proper to give her a helping hand! After this, she very adeptly sucked my dick and then I put her on her hands and knees and fucked her whilst holding the camcorder. Next week, having tired of "Elegance" we changed her into the mode of a cheap whore!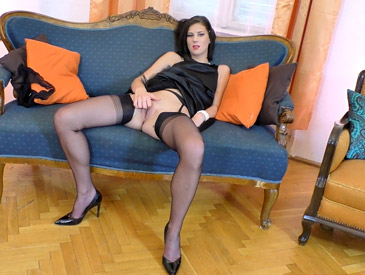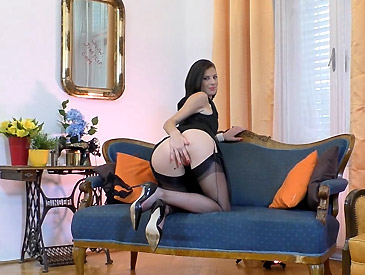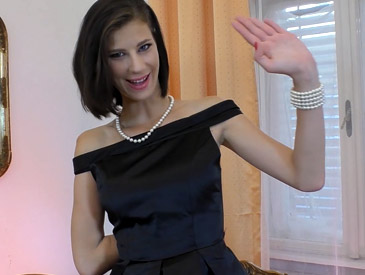 Babelicious In Bikini

As you know it is bikini time on jimslip.com and so Suzy donned a tiny gold bikini to get fucked in. Like most men on a beach watching the girls walk past they often ponder how nice it would be to simply bend one of them over yank their bikini bottoms to one side and stuff their cocks in for a quick fuck. But of course we are civilised and cannot do this sort of thing and this is where jimslip comes in. It is my job to create a virtual version of this fantasy which is exactly what I did with Suzy. At risk of chafing my cock I bent her over, pulled her bikini over and fucked her. I was loathe to remove the bikini because it wouldn't be the same, but in the end I had no choice as for "Health & Safety" reasons and after a Risk Assessment regarding "over-chafing of a penis against a bikini seam".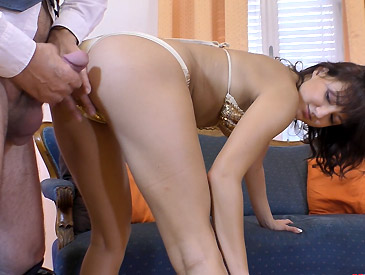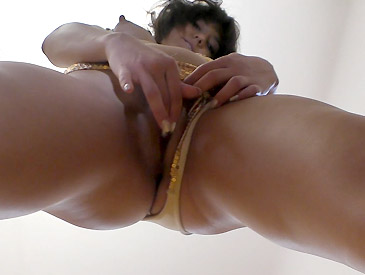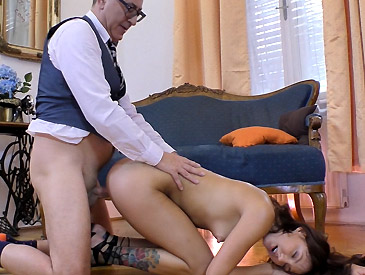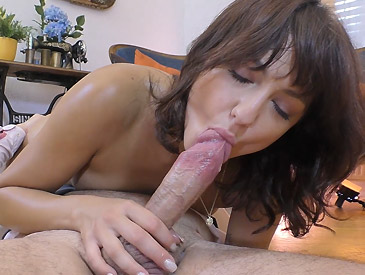 Jim's Casting Cutie

This week we have the very sexy Suzy who arrived for a jimslip casting. She arrived in skimpy denim shorts which are the fashion in this part of the World, not that I minded. Suzy is studying "Hospitality" and I got her to show me some of the moves involved in the hospitality caper. It was not long before she tired of this and thought it would be more beneficial to put her hands down her shorts and play with herself. She asked if I'd "Lend a hand" and of course I obliged and played with her wet pussy accompanied to her groans. I dropped my trousers and sat down and Suzy prowled 'cat like' across to me, grabbed my cock and sucked it hard. Suzy was rampant and insisted that I screw her whilst holding the camcorder as she said it would help her to pass the casting. I didn't tell her that she'd passed the casting the moment she'd walked through the door.