Cuckold Capers 2

Well after being confined to the sofa we decided to retire to the bedroom, a sight you will seldom see on jimslip.com. To be honest I think Lara prefers watching me fuck girls on the bed as it is more erotic for her. Monique was now even more rampant and clambered all over me. It was very easy to make her cum again and again and I presume Lara was also squirming around in the other room. Sometimes I must admit life is good, after all I could have been at the garden centre or looking for sofas like other folks, but instead I was engaged in an orgy of crazed lust with a teen hooker while my wife looked on! Anyway, after we finished and I paid off Monique, Lara demanded her fill off cam and so I fucked her sodden pussy in the bathroom! Another job well done!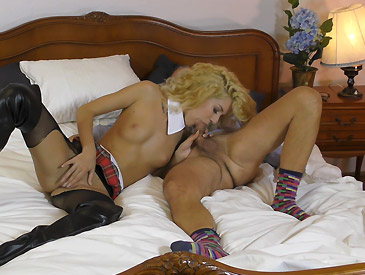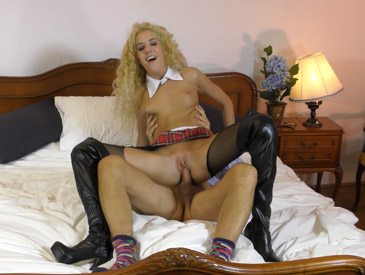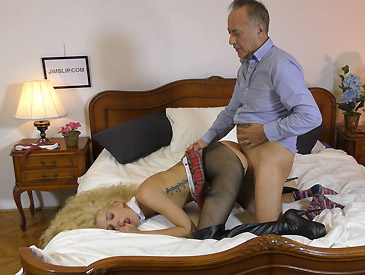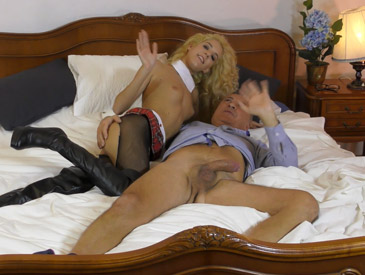 Cuckold Capers 1

This week once again is another episode of Jim & Lara's Cuckold Capers. This is the show where either myself or Lara secretly watch each other fucking someone else! Lara got in touch with the lovely Monique who she'd filmed me fucking before. When Monique answered the phone she was sucking cock in some back street and Lara asked whether she could finish up soon and was up for some cuckold fun with me! Naturally she was and so Lara hid with a monitor to view the shenanigans in the comfort of her arm chair. Anyway, Monique arrived still wiping spunk from her lips. She was wearing what I can only describe as a sexy schoolgirl/stripper outfit! I can't believe she'd travelled to me on public transport dressed like this, surely this must break a hundred rules in the Health & Safety 10,000 page first volume book! Anyway, being a sex mad nymphomaniac and getting off on the fact that she knew Lara was watching her husband fucking another girl, Monique leapt upon me and we basically had a lovely fuck without me being strapped to a camcorder! Thanks Lara xxx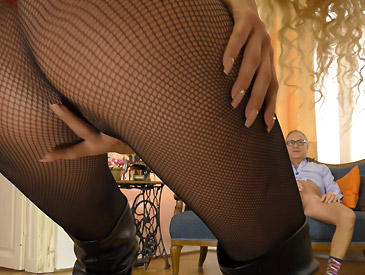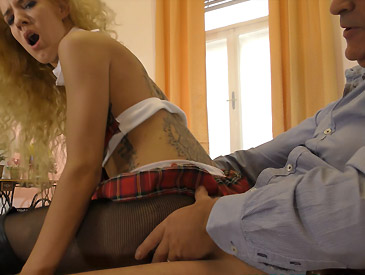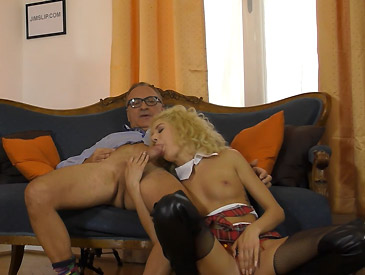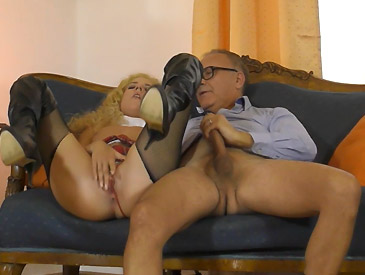 Canadian Cutie Grapples Bear!

This week we have the second girl from Canada to appear on jimslip.com. Lydia wished to have a "go at porn" and naturally found her way to a jimslip casting. Believe it or not Lydia teaches the Highland Fling and works in a mental home, so it seemed perfectly natural for her to end up in my clutches. She told a tale of being accosted by an angry bear rummaging around in her kitchen at home! I mean a BEAR as in "Man-eating," furry, carnivore, rather than macho gay guy with an abundance of hair and a moustache! The bear in question was looking for fresh meat and licked his lips whilst he eyed up Lydia! No doubt imagining what she'd look like turning slowly on a spit with some onions and other vegetables. Of course bears don't normally have barbecues as they are too impatient & hungry to wait for the coals to heat up. Anyway, like all "country girls" Lydia was sex mad and with her very fit dancers body had no trouble making mince meat of me. For an extra special Christmas treat, in the next episode Lydia does a Highland Fling accompanied to the sound of the pipes - except she's dressed in a micro mini-kilt and tights ripped to shreds - which is VERY SEXY INDEED! So Happy Xmas from myself and Lara and of course Lydia too!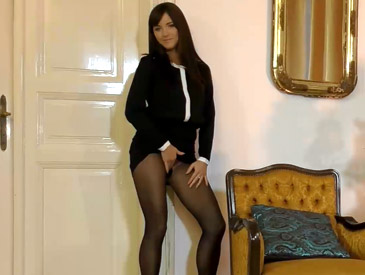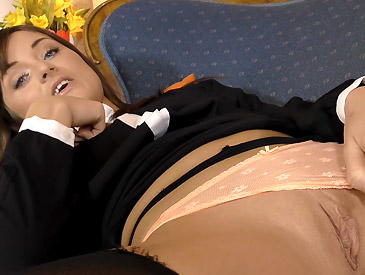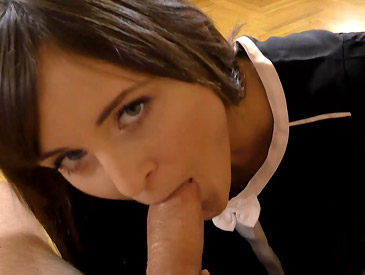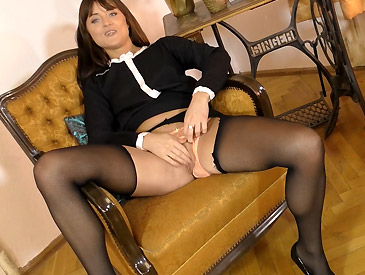 Lydia Has A Fling!

As promised, this week is a special Christmas/ New Years Eve treat as Lydia opens the show with a Highland Fling dressed in the sexiest tartan outfit, possibly ever, in the history of the World. An outfit so sexy that if she were to attend any Hogmanay ball and start dancing, she would cut down the OAP's watching from the sides like a scythe cutting down Wheat! Pensioners would be collapsing from shock on all sides! Of course I found the whole thing very sexy indeed and I had no choice but to grab her and stuff my dick inside her! Lydia was already slightly sweaty from her dancing which gave her a dishevelled look that made the event all the more hornier for me. Being naturally rampant and with the energy of a certain type of "battery powered bunny", she was quite happy to fuck at a pace that would wind a Triathalon athlete. Luckily, yours truly has learned to tame and pace such unruly behaviour, but she still left me decimated by the end of the scene. Anyway, with this tumultuous ending to 2016 we would all like to wish you a Happy New Year and a wonderful 2017!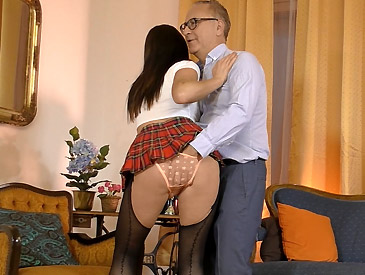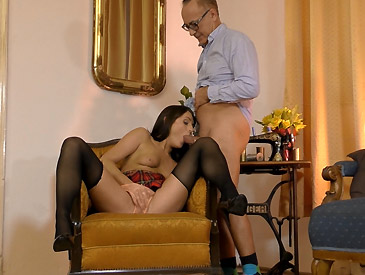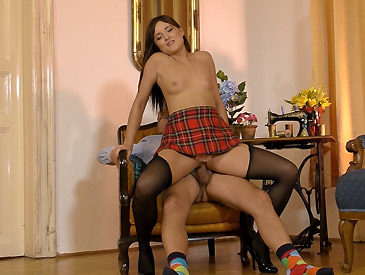 Angelina Meter Maid

This week we have a real newbie to porn, working as a "Parking Ticket Administrative Assistant,"e have 20 yeard old, Angelina, who had got a little fed up with making people miserable and decided that bringing joy to people through the wonderful medium of hard core porn would be a more satisfying occupation. Wisely, she had thought that dressing as a sexy secretary might earn her bonus points during the rigorous selection process, which is a Jimslip casting! Obviously word has got around just how strict I am. To be honest, that is not entirely true. All I require is that a girl is sexy, up for anything and has a great big smile and once I have spent 25 minutes double and triple checking all is well, only then will she be allowed into the infamous Jim Slip Hall of Fame! Naturally, with her gorgeous arse, Angelina passed and next week we dressed her up as guess what? Yes, a prostitute....yes I know I am predictable, but no more so than 10 million other men!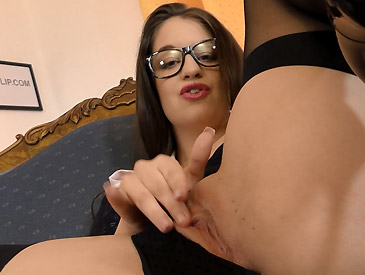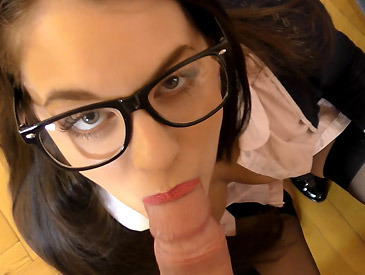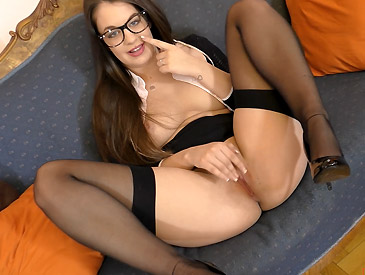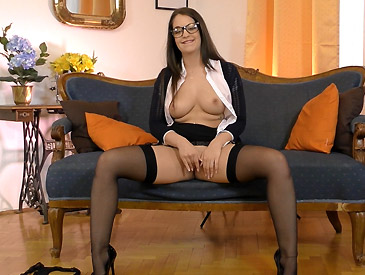 Still Walking The Streets!

In a strange quirk of irony Angelina who had once walked the streets as a parking attendant now wished to seek employment once again walking the streets but as a prostitute, or at least dress in the mode of such. She certainly did brush up well in the "Clobber" to use the vernacular and I lost no time in plunging my hands between her legs to feel her soaking wet pussy! At this point Lara - on cam - noticed how nice her arse was and got Angelina to stride up and down the room wiggling her round bum to the camcorder. Lara had also noticed Angelina's big boobs and wasted no time in shoving the camcorder straight into her cleavage at which point I bade Lara move and plunged by dick into the red hot Angelina without further ado!