Carla Keeps Me Fit!

If you look on larasplaygound you will see the lovely Carla playing with my wife Lara Latex. She was such a bundle of fun, I was intrigued what she'd be like handling a stiff cock, so invited her for a casting. She arrived in those really sexy wet-look leggings, which I insisted upon after seeing both her and Lara athletically doing the squats in. She explained that she had a number of rich & perverted clients who were too lazy to attend a fitness club and wanted a stricter regime of fitness in their own home. For this they demanded Carla be dressed in the garb of a dominatrix. She described how she would put the clients naked on a running machine, turn it to full speed and then lash them to keep up with the machine until they collapsed. Yes, my brethren, the "rich" are always participating in such perverted shenanigans. Not for them a head-band and ten minutes on a rowing machine! In fact at my "Health club" they have an ashtray attached to each and every fitness machine as you never know when you'll be gasping for a hand rolled Cuban cigar. Anyway, as you can imagine, Carla did a great casting and next week she gets fucked in a tiny, pleated, white tennis skirt....oops I'm not supposed to have told you that!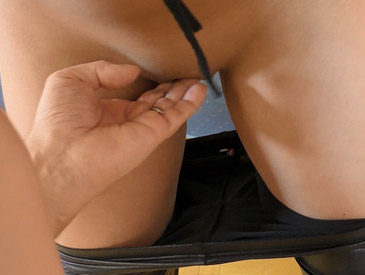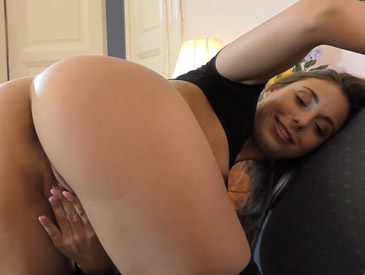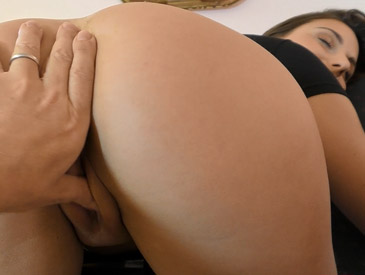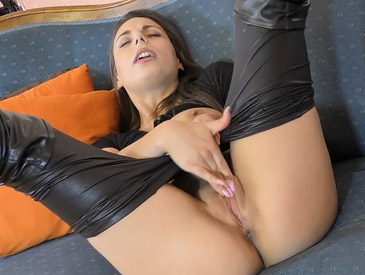 Si! Si! Mr Slip!

I had no idea what was in store for me when we filmed the second section of Melody's scene. She had changed into what I'd call a "Something for the weekend, Sir?" outfit, Mexican style. After the casting Melody was even more rampant than ever and wasted no time in getting to grips with my cock. Once again savouring it before devouring it down her throat. After she had done this for a few minutes she demanded I fuck her brains out and I willingly acquiesced to her demand and pounded into her causing her to utter all kinds of things in Spanish. God only knows what she was saying, but she certainly seemed to be enjoying the hard screwing. Maybe its all the Tacos and chillis, but I must admit these Hispanic girls are red hot and thankfully more and more are making their way to me to dip their toes in the quagmire of porn! All I can say to these babes is Arriba! Arriba!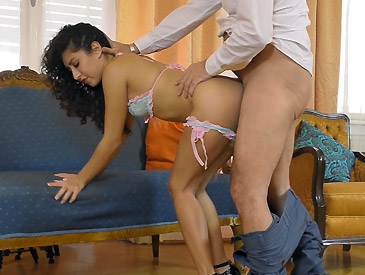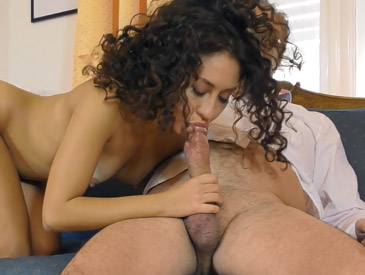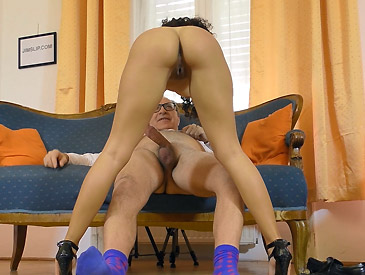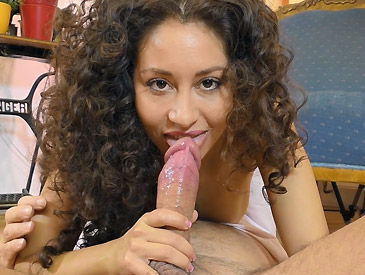 Arriba! Arriba!

This week for your delectation we have the sexy, hot & crazy Mexican minx, Melody Petite. She is a full time cheerleader and showed me some of her sexy moves before telling me how once when she was atop a 10 metre tower of cheerleaders at a football match, a greedy girl from the bottom of said tower, rushed off to get a hot dog and brought the whole tower tumbling down on the footballers! Naturally, being sex-crazed cheerleaders the whole debacle ended up as a public orgy with people in the crowd feverishly masturbating at the mass orgy on the pitch below. Even the TV cameras were shut down so the crews could join in! Anyway as you will see, Melody was everything you'd expect of a girl from Mexico, she was cock crazy and relished my dick like a connoisseur of wine! I did manage to fuck her in a couple of positions whilst holding the camcorder and she too held the camcorder to film me fucking her. She certainly had my "maracas" nearly bursting by the end of the casting! Little did I know there was much, much more in store!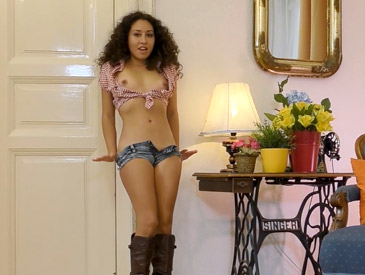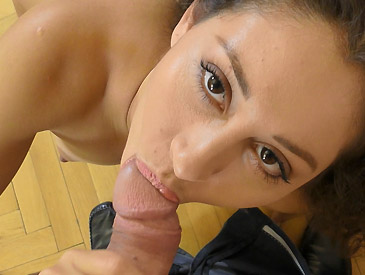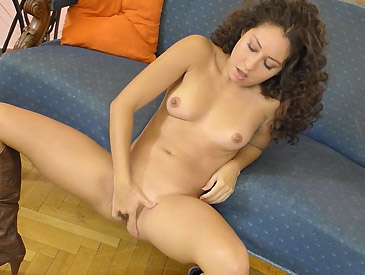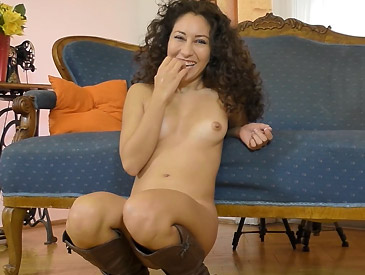 GOLDEN CLASSIC REMASTER FROM 2005

Welcome to "Agnes", yes I know she's got an unusual name for a porn star, but hey the Yank names are just as daft, "Musky McRain", "Misty Showers", "Murky Waters". Anyway Agnes is a babe with a super model figure, all 6' 5" of her clad in thigh high boots. Just my type, with legs that never seem to end. Anyway I'm giving her a full 10 rating for leg length and sheer "Fuckability".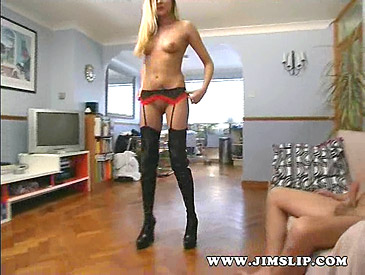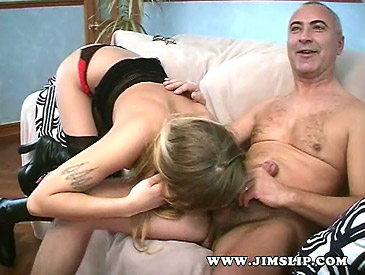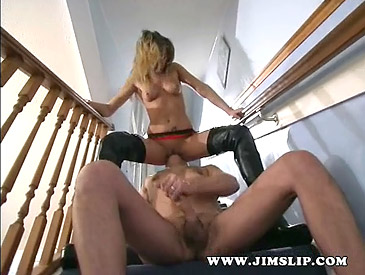 Cute Cowgirl In Plaits!

Members of Jimslip.com will have seen just how sex crazed the lovely Luna was in last weeks casting. Well, it's not over yet as Lara Latex and our stylist re-modelled Luna as a sexy cowgirl complete with tiny denim shorts and her hair in plaits. How they would have viewed Luna if she'd entered a bar in Tombstone during the days of the Wild West, God only knows! In fact probably the same way I did today and that was to simply rip down those tiny denim shorts and stuff my dick into her. Anyway, being a sex maniac, Luna proceeded to fuck me in every position she could think of; pounding up and down endlessly without her breaking a sweat until she had a low gutteral orgasm lasting for at least 15 seconds. After which she proceed to milk my cock like a "Luna-tic" alarming Lara Latex in the process - she thought it was going to ripped off and ruin any future fun she might have - up and down she rubbed it until she extracted the spunk. Then with a wide ecstatic grin she said "Au revoir!" to cam.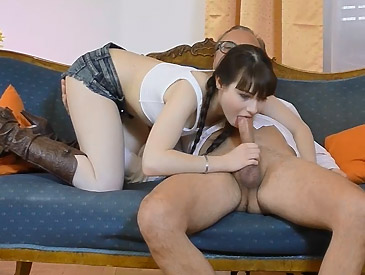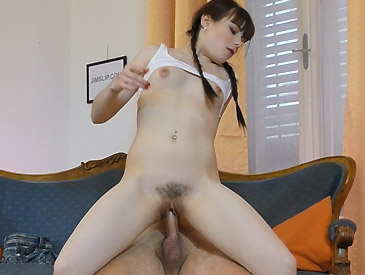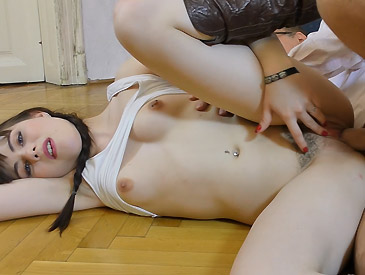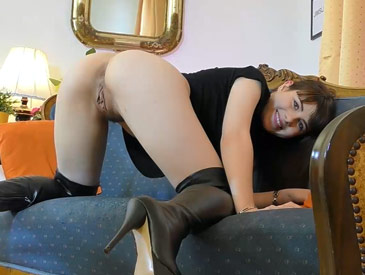 Lovely Luna Teen Dream!

This week all the way from the South of France we have the lovely Luna. She trekked over to Chez Jim to do a casting and may I say from the outset I could see Luna was a sex maniac. She arrived in a pair of "Pantalon de plastique" which simply scream "Fuck me!" well, at least to me they do. She looked the picture of Parisienne elegance with her black polar neck sweater and the ensemble completed with a pair of thigh high boots. An outfit that is just so sexy even the Pope would ravage her if I left them alone together. Anyway, I did a kind of "Manuel" from Faulty Towers attempt at French, which lasted all of 3 minutes, after which I just plunged my hand into those skin tight trousers and felt her soaking pussy. After that, all Hell broke loose and I just had to peel down her trousers, bend her over and fuck her. Hopefully you will forgive the camera wobble! Next week she returns with her hair in plaits and a cowgirl outfit.....