GOLDEN CLASSIC REMASTER FROM 2004

One of my all time favourites, you'll have seen her in another update with Beckie. But the truth is she wanted ME to herself! Hungarian girls don't see the point of girl-girl action, especially when theres a big(ish) cock around to fuck!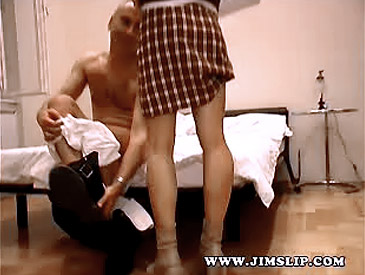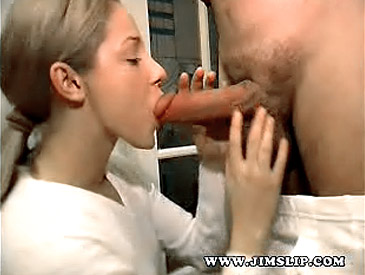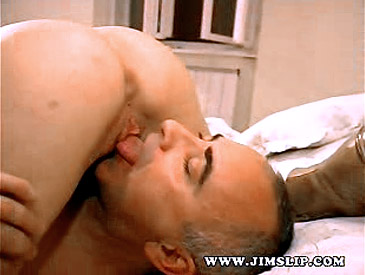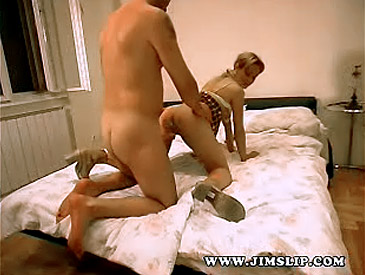 The Grapes Of Lust!

Last week Fira described her route from vineyard to jimslip casting. I didn't mention the part where she encountered a strange unkempt hunch back who was lurking at the back of a crowded bar in the Old Town. He staggered across the bar and bid Fira sit with him to discuss a "Proposal". He then removed an ancient and battered lap top from his carrier bag and revealed his secret to Fira. "I am a photographer of the erotic arts!" he announced with much aplomb and after showing some dirty pics to the shocked but curious Fira, went "On the line" to jimslip.com and then looking furtively from side to side whispered, "This is the man you must see, Mr Jim Slip, tell him Gonzalez sent you, he will make you an international porn star, here is his phone number, go, GO TO HIM NOWWW!" He then stuffed the crumpled bit of paper with my number scrawled on it and without a bye or leave disappeared into the night!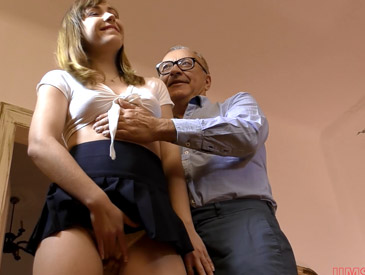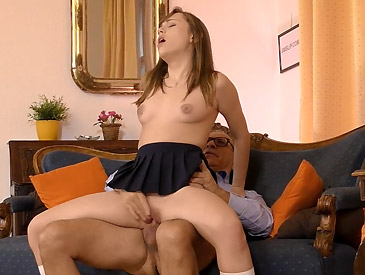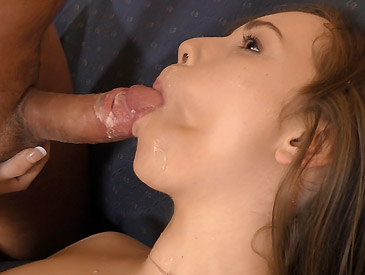 A Tale Most Bizarre!

This weeks babe hails from France, more precisely, from the vineyards of the South. 19 year old Fira tells a tale as shocking as it is bizarre. Picture if you will, a scene of three waifish girls picking and then treading grapes in a large wooden tub. They are being observed by the owner feverishly masturbating in the corner, finally climbing in and collapsing into the tub with the girls to shoot his load into the crushed grapes whilst sucking the nectar off girls feet. No, my brethren, this is not a vision of Hell from a Renaissance painter like Bosch, it is reality and all I can say, is I'd love to erect a diving board over the said tub and dive in together with the squashed grapes, girls & drunken grape covered pervert if needs be! The vineyard owner coyly ventures that his antics give his wine a certain "bouquet" and at £50 a bottle he must know what he's doing!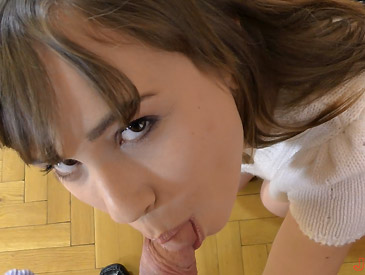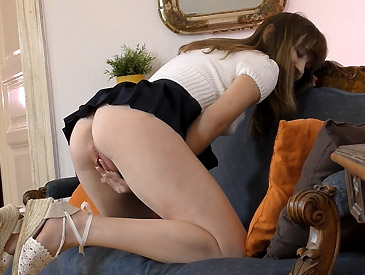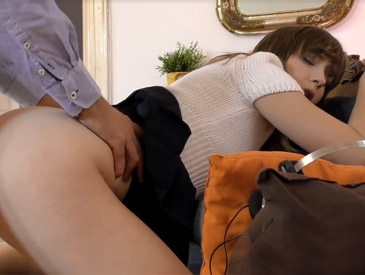 Cutest Hooker In Town!

I guessed that Alessandra would look pretty good dressed as a cheap whore, but I didn't realise just how good! You see its that pert bottom framed by a pair of fishnet stockings roughly hewn with shears so they are ragged at the top. I mean you cant get cheaper than that, why buy a new pair of shorter fishnets when you can simply hack them shorter! So put together with a tiny top, heels and a huge grin what choice did I have but to plunge my tongue down her throat, bend her over and fuck her! No time for foreplay or witty banter, sometimes a thing needs to be done immediately and that is the effect Alessandra would have on any man, dressed like this regardless of race, colour or creed! Even the Dalai Lama's "8 Verses of Training The Mind" representing the many years of meditation & training that is required to reach a higher state of enlightenment, would be dumped straight in the garbage if he were to ever lay eyes on Alessandra dressed in this garb!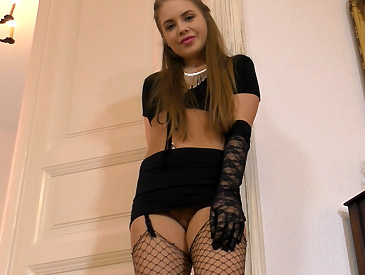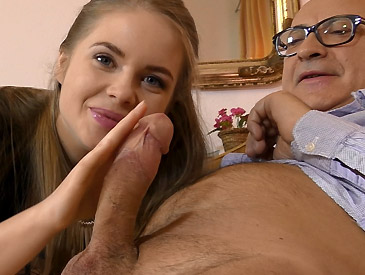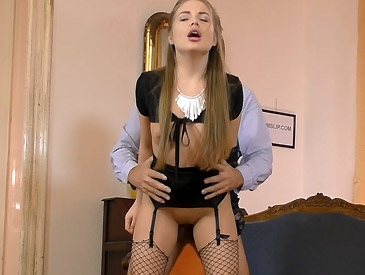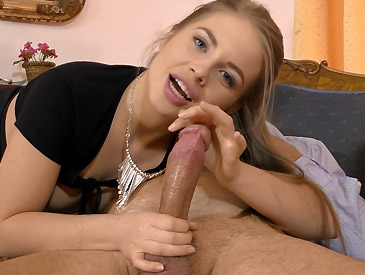 Hot Denims Are Back

This week we have the return of the gorgeous teen sensation Alessandra. If you look back to July 2015 you will see her first jimslip casting. Since then she has been "Actressing" and has played some roles including: a prostitute, Cleopatra and her much acclaimed role as "Yoda" from Star Wars for an amateur dramatics group! Obviously she wore a mask for the role, but her cute diminutive size made sure sure she was a shoe in for the job, not to mention the director undoubtedly wanting to get his sweaty trotters into her knickers as well! Anyway, as you can see Alessandra wore her skimpy cowgirl outfit for our little POV session and I can guarantee you will choke on your Hob Nob when you see her wiggling her "World's Pertest Bottom" into my camcorder! Next week she dons her prostitute outfit complete with ripped fishnets, so set your alarm for next Friday's update!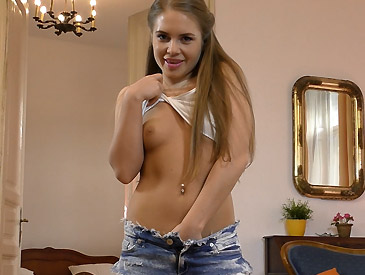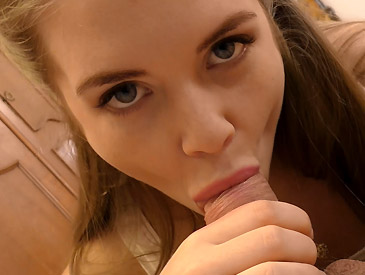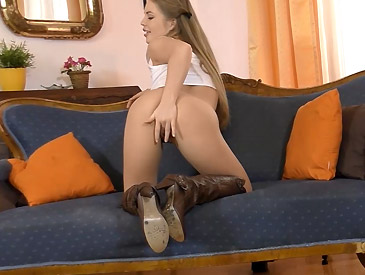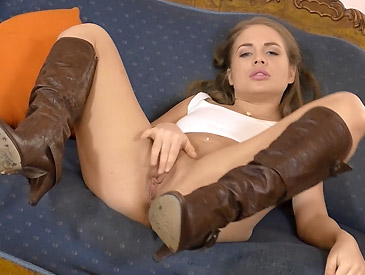 Pamella Walks The Streets!

I thought that would get your attention! After her excellent casting Pamella took to the idea of dressing as a common prostitute with relish - as do many girls on jimslip.com for some peculiar reason. Anyway, as you can see she certainly brushed up well in the thigh high boots, holdups, tiny top and a skirt that was as wide as a mans tie! Lara was also suitably impressed and made Pamella walk up and down the room whilst I watched with amazement, thinking the Pope himself would be turned to the dark side if he ever had to witness such a sight! I had no choice but to slip my hand in her knickers, fondle her and then simply bend her over and screw her on the spot. What else could I do? What else could the Pope or any man do? From here on in, this 19 year old nymphomaniac fucked like a madwoman, until she took me to hand and made me shoot my load all over her succulent lips!