Lydia Has A Fling!

As promised, this week is a special Christmas/ New Years Eve treat as Lydia opens the show with a Highland Fling dressed in the sexiest tartan outfit, possibly ever, in the history of the World. An outfit so sexy that if she were to attend any Hogmanay ball and start dancing, she would cut down the OAP's watching from the sides like a scythe cutting down Wheat! Pensioners would be collapsing from shock on all sides! Of course I found the whole thing very sexy indeed and I had no choice but to grab her and stuff my dick inside her! Lydia was already slightly sweaty from her dancing which gave her a dishevelled look that made the event all the more hornier for me. Being naturally rampant and with the energy of a certain type of "battery powered bunny", she was quite happy to fuck at a pace that would wind a Triathalon athlete. Luckily, yours truly has learned to tame and pace such unruly behaviour, but she still left me decimated by the end of the scene. Anyway, with this tumultuous ending to 2016 we would all like to wish you a Happy New Year and a wonderful 2017!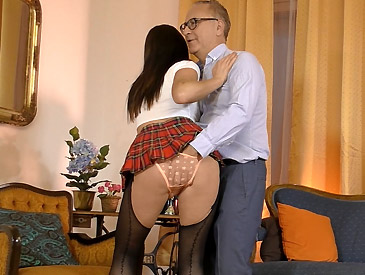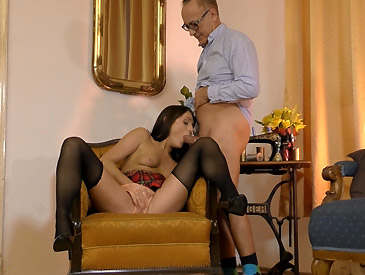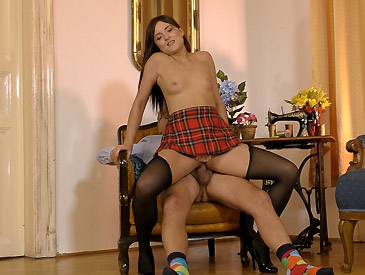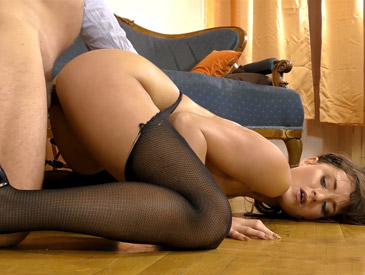 Angelina Meter Maid

This week we have a real newbie to porn, working as a "Parking Ticket Administrative Assistant,"e have 20 yeard old, Angelina, who had got a little fed up with making people miserable and decided that bringing joy to people through the wonderful medium of hard core porn would be a more satisfying occupation. Wisely, she had thought that dressing as a sexy secretary might earn her bonus points during the rigorous selection process, which is a Jimslip casting! Obviously word has got around just how strict I am. To be honest, that is not entirely true. All I require is that a girl is sexy, up for anything and has a great big smile and once I have spent 25 minutes double and triple checking all is well, only then will she be allowed into the infamous Jim Slip Hall of Fame! Naturally, with her gorgeous arse, Angelina passed and next week we dressed her up as guess what? Yes, a prostitute....yes I know I am predictable, but no more so than 10 million other men!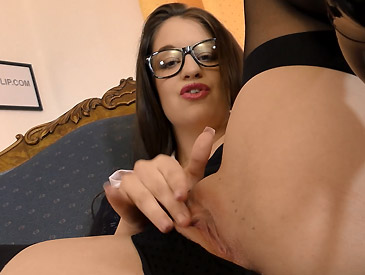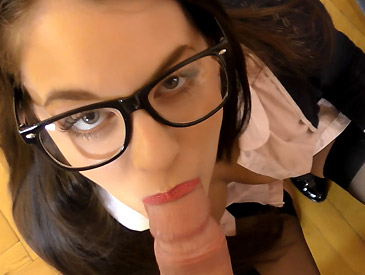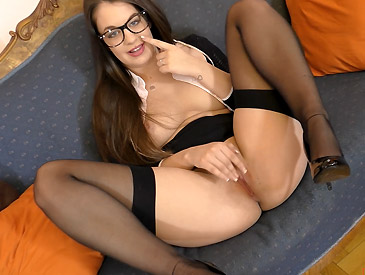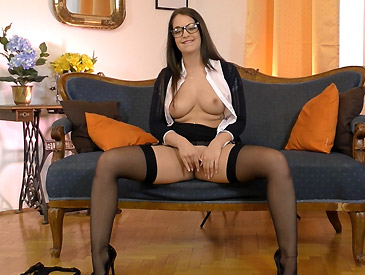 Still Walking The Streets!

In a strange quirk of irony Angelina who had once walked the streets as a parking attendant now wished to seek employment once again walking the streets but as a prostitute, or at least dress in the mode of such. She certainly did brush up well in the "Clobber" to use the vernacular and I lost no time in plunging my hands between her legs to feel her soaking wet pussy! At this point Lara - on cam - noticed how nice her arse was and got Angelina to stride up and down the room wiggling her round bum to the camcorder. Lara had also noticed Angelina's big boobs and wasted no time in shoving the camcorder straight into her cleavage at which point I bade Lara move and plunged by dick into the red hot Angelina without further ado!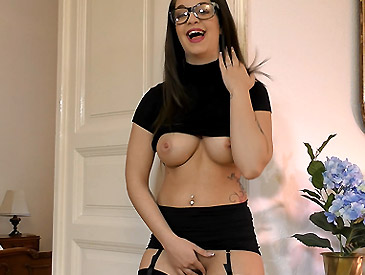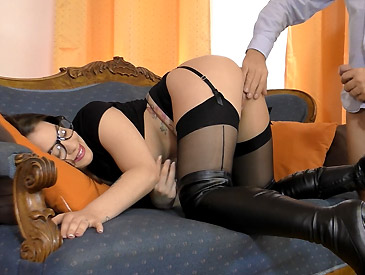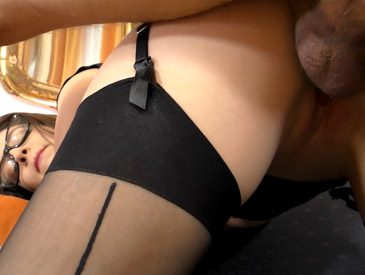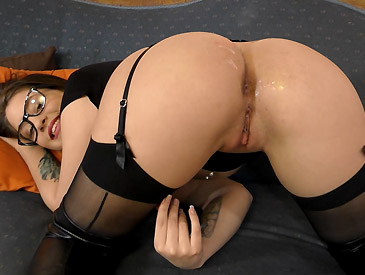 GOLDEN CLASSIC REMASTER FROM 2004

One of my all time favourites, you'll have seen her in another update with Beckie. But the truth is she wanted ME to herself! Hungarian girls don't see the point of girl-girl action, especially when theres a big(ish) cock around to fuck!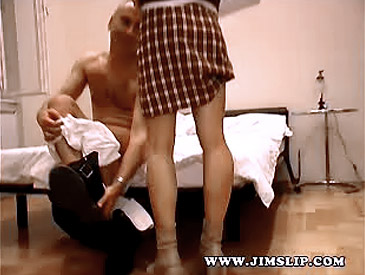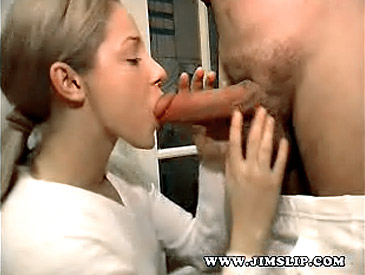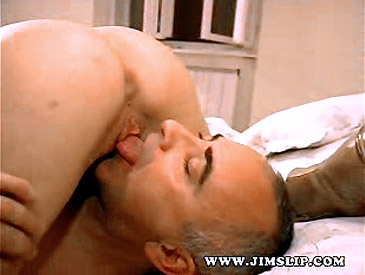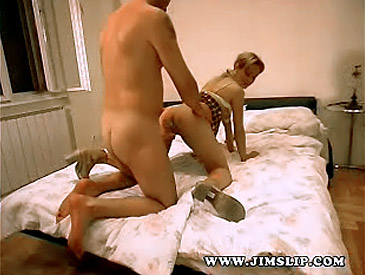 The Grapes Of Lust!

Last week Fira described her route from vineyard to jimslip casting. I didn't mention the part where she encountered a strange unkempt hunch back who was lurking at the back of a crowded bar in the Old Town. He staggered across the bar and bid Fira sit with him to discuss a "Proposal". He then removed an ancient and battered lap top from his carrier bag and revealed his secret to Fira. "I am a photographer of the erotic arts!" he announced with much aplomb and after showing some dirty pics to the shocked but curious Fira, went "On the line" to jimslip.com and then looking furtively from side to side whispered, "This is the man you must see, Mr Jim Slip, tell him Gonzalez sent you, he will make you an international porn star, here is his phone number, go, GO TO HIM NOWWW!" He then stuffed the crumpled bit of paper with my number scrawled on it and without a bye or leave disappeared into the night!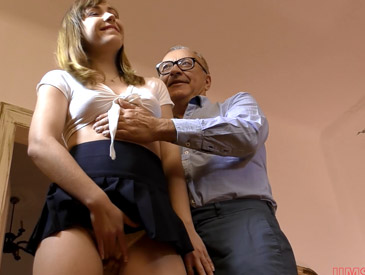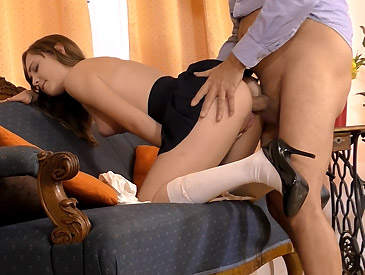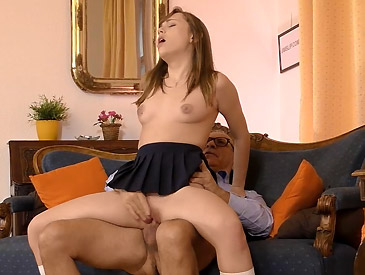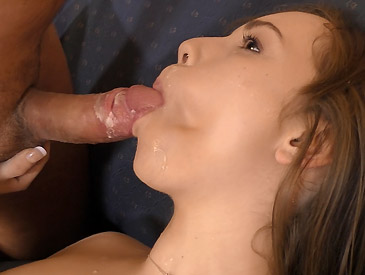 A Tale Most Bizarre!

This weeks babe hails from France, more precisely, from the vineyards of the South. 19 year old Fira tells a tale as shocking as it is bizarre. Picture if you will, a scene of three waifish girls picking and then treading grapes in a large wooden tub. They are being observed by the owner feverishly masturbating in the corner, finally climbing in and collapsing into the tub with the girls to shoot his load into the crushed grapes whilst sucking the nectar off girls feet. No, my brethren, this is not a vision of Hell from a Renaissance painter like Bosch, it is reality and all I can say, is I'd love to erect a diving board over the said tub and dive in together with the squashed grapes, girls & drunken grape covered pervert if needs be! The vineyard owner coyly ventures that his antics give his wine a certain "bouquet" and at £50 a bottle he must know what he's doing!