Cutest Hooker In Town!

I guessed that Alessandra would look pretty good dressed as a cheap whore, but I didn't realise just how good! You see its that pert bottom framed by a pair of fishnet stockings roughly hewn with shears so they are ragged at the top. I mean you cant get cheaper than that, why buy a new pair of shorter fishnets when you can simply hack them shorter! So put together with a tiny top, heels and a huge grin what choice did I have but to plunge my tongue down her throat, bend her over and fuck her! No time for foreplay or witty banter, sometimes a thing needs to be done immediately and that is the effect Alessandra would have on any man, dressed like this regardless of race, colour or creed! Even the Dalai Lama's "8 Verses of Training The Mind" representing the many years of meditation & training that is required to reach a higher state of enlightenment, would be dumped straight in the garbage if he were to ever lay eyes on Alessandra dressed in this garb!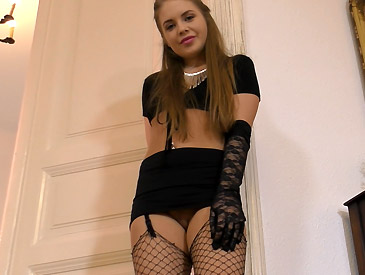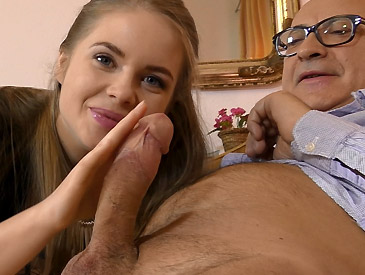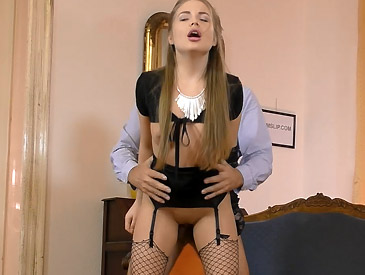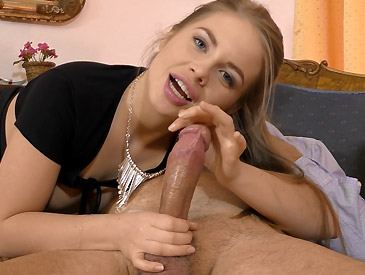 Hot Denims Are Back

This week we have the return of the gorgeous teen sensation Alessandra. If you look back to July 2015 you will see her first jimslip casting. Since then she has been "Actressing" and has played some roles including: a prostitute, Cleopatra and her much acclaimed role as "Yoda" from Star Wars for an amateur dramatics group! Obviously she wore a mask for the role, but her cute diminutive size made sure sure she was a shoe in for the job, not to mention the director undoubtedly wanting to get his sweaty trotters into her knickers as well! Anyway, as you can see Alessandra wore her skimpy cowgirl outfit for our little POV session and I can guarantee you will choke on your Hob Nob when you see her wiggling her "World's Pertest Bottom" into my camcorder! Next week she dons her prostitute outfit complete with ripped fishnets, so set your alarm for next Friday's update!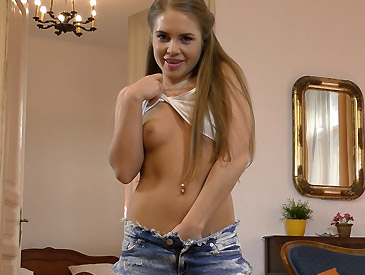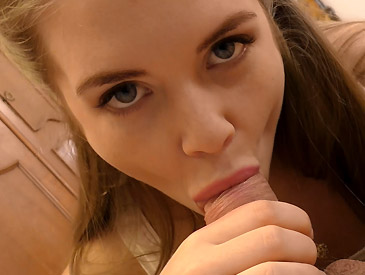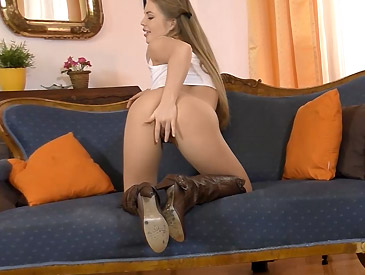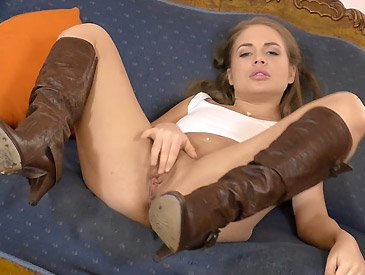 Pamella Walks The Streets!

I thought that would get your attention! After her excellent casting Pamella took to the idea of dressing as a common prostitute with relish - as do many girls on jimslip.com for some peculiar reason. Anyway, as you can see she certainly brushed up well in the thigh high boots, holdups, tiny top and a skirt that was as wide as a mans tie! Lara was also suitably impressed and made Pamella walk up and down the room whilst I watched with amazement, thinking the Pope himself would be turned to the dark side if he ever had to witness such a sight! I had no choice but to slip my hand in her knickers, fondle her and then simply bend her over and screw her on the spot. What else could I do? What else could the Pope or any man do? From here on in, this 19 year old nymphomaniac fucked like a madwoman, until she took me to hand and made me shoot my load all over her succulent lips!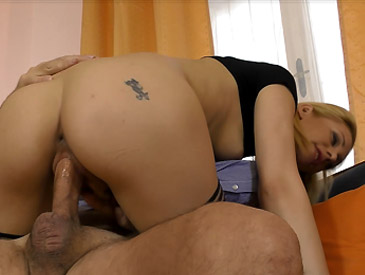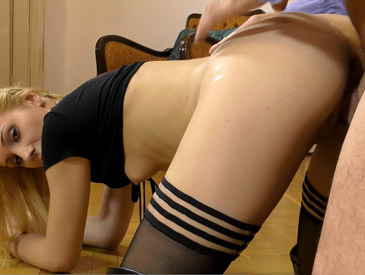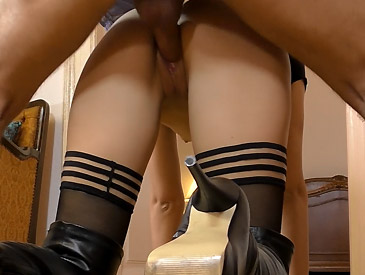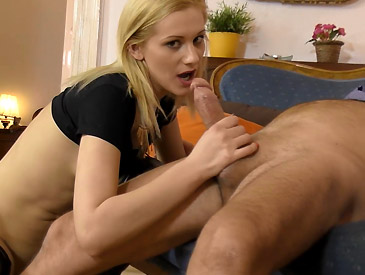 The Hottest Hot Pants

19 year old Pamella arrived for her Jimslip casting in the tiniest pair of denim shorts I have ever seen and to be honest I had already given her a pass, for "Further investigation" the instant she bent over to check her boots were laced up properly. Personally, I thing bending over like this was all part of a cunning plan on her part to guarantee she was selected. She hadn't even bothered to wear panties underneath and I an just imagine the look of shock (or pleasant surprise) on the faces of gentle-folk sitting opposite her on the bus. Surely Pamella must have sent some pace-makers all a flutter on her way. To be honest if one of these OAP's had just twisted his head sideways he could have easily gleaned a sneaky glimpse of Pamella's bits peering out from between her shredded denims. This is of course exactly what I did! Anyway, we completed the casting and at the end, after some discussion, decided that she would look rather sexy dressed up as a prostitute in thigh high boots!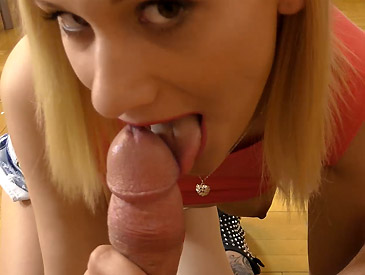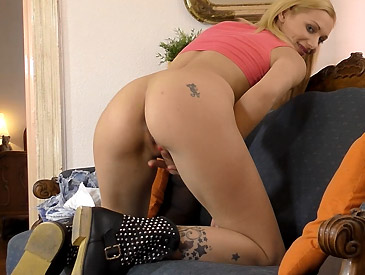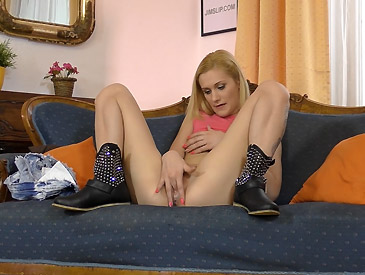 Viva Espana!

Members will have witnessed Julia's antics with shock and awe in last week's casting! Depravity that can only have originated in the mind of a sick twisted pervert i.e. my pal Father Fernando El Paso! Anyway, normally we would change the girl from her street clothes into something different for the second part, but I decided that you'd all murder me if I changed her out of the Sante Maria Academy uniform and so Julia re-emerged on set tidied up but minus her specs. Now with Lara on cam, I was able to grab Julia and fuck her brains out which I enjoyed. We fucked in every position possible and might I say even Lara was impressed by our performances. The Grand Finale being a first on jimslip.com! Julia donned her specs and I shot my load perfectly all over the lenses, something I'd always wanted to do, but never got round to until today!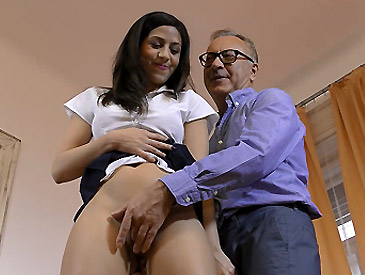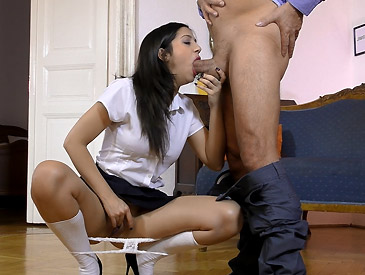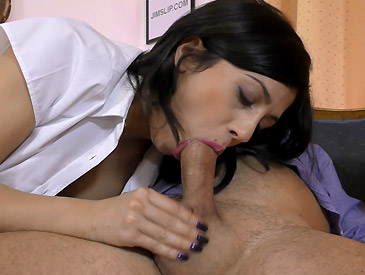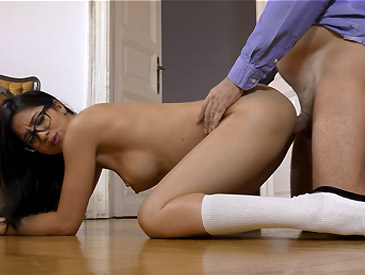 Spanish Sex Bomb!

This week we have the lovely 21 year old Julia who was sent for a casting by Father Fernando-Gonzalez El Paso of the "Sante Maria Academy For Fallen Women" in Madrid. Julia had been previously working in a "Face Dancing Club" in Spain, when she was approached by a priest and a nun for a face dance for which they paid a few thousand Pesetas - strangely this club still accepts old money?!? Anyway, after the priest and nun spent 2 hours, "Like animals" groping, licking and fingering all of Julia's orifices, they offered her "Sanctuary" at their so called "Academy;" which actually turned to be a brothel or bordello for the clergy. Julia wasn't bothered and she just loves the uniform they gave her to wear, as will you! Anyway, the priests and nuns had taught her well and as members will see, Julia was a rampant sex kitten.