Ride Him cowgirl!

Members of jimslip.com are in for a real treat this week because once Monique had changed into some skimpy denim shorts, boots and Gingham shirt, she proved that she has one of the nicest, cutest bums on jimslip.com! Yes, my brethren, if you saw her walking down the street in this outfit you would certainly crash your car! I got Lara to film her wiggling her bum for the camera a few times and then couldn't take any more and simply yanked down her skimpy shorts half way down, dropped my trousers, bent her over and fucked her over the old sewing machine! After I did this, I pulled her shorts back up and threw her on the bed and tried to get my tongue between her skimpy shorts to lick her pussy, which I just about managed to do. After this I'd had enough of the tight shorts and ripped them off so we could continue to fuck on the bed much more easily, until I could take no more and shot my load over that cute, round arse of hers!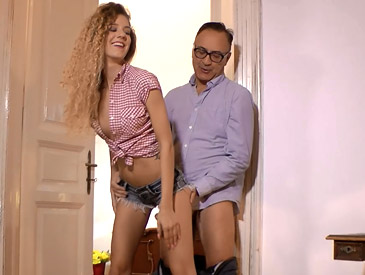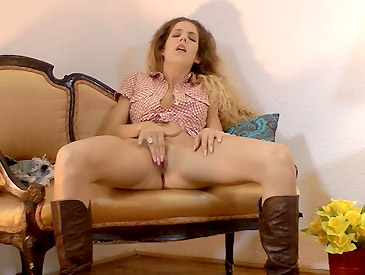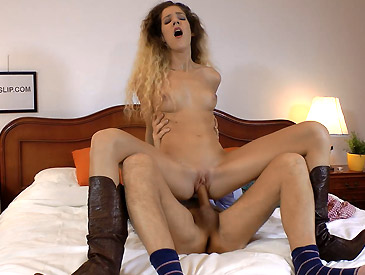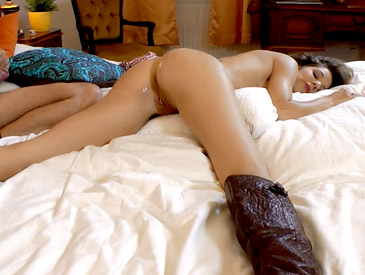 No Dad Is Safe!

This week we have a wonderful 19 year old babe called Monique. She arrived in skin tight riding style trousers and a nice jumper for a casting for jimslip.com. To be honest as soon as I laid eyes on her cute little bum, I knew she'd pass the casting with flying colours, but I made her do it all the same! She told the story of how she'd been employed in a rich household as a babysitter/au pair. Foolishly the mum had chosen Monique and not some fat ugly bird with spots! As soon as mums back was turned, the father had dug out his old Kodak Instamatic and announced he was a photographer and could he take some "Tasteful" shots of Monique whilst dressed as a ballerina. Well, Monique was shocked that this pervert was a cross dresser, but he quickly reassured her it was to be her who was dressed as a ballerina. To cut a long story, the mother returned unexpectedly and found her husband screwing the au pair in a tutu, bang to rights I'd say and she promptly booted Monique out on to the streets, where she found her way to me!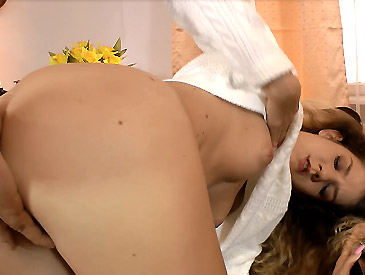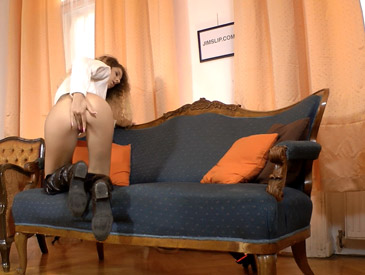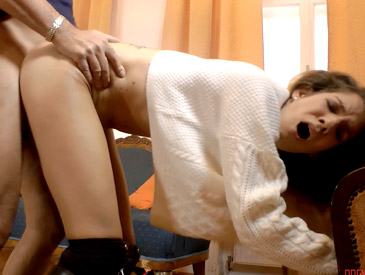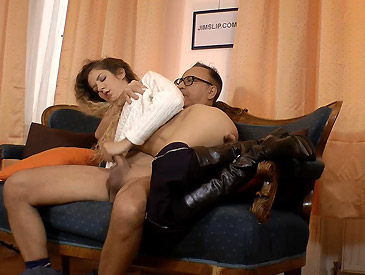 Kittina The SEX MANIAC!

Well, Kittina decided that it would be apt to dress in the mode of a common prostitute. She retained the very sexy hold-ups with bands at the top which look very sexy and what's even more sexier is that she had yanked them up to frame her perfectly round bum! She was also wearing thigh high boots. There is not much to say about Kittina apart from the fact that she "suffered" from a condition that resulted in her having multiple orgasms at the slightest touch. Therefore, being one who enjoys teasing girls crazy, I enjoyed toying with her in a game of cat and mouse! Kittina basically spent the whole time jerking around whilst I fucked or touched her as if she was plugged into the mains! Needless to say we both had a great time!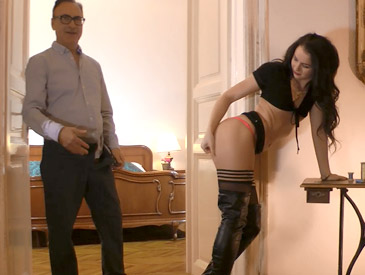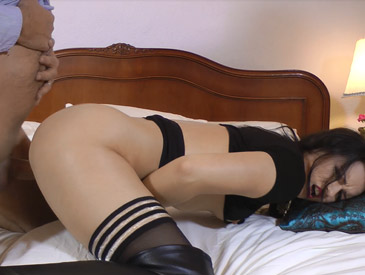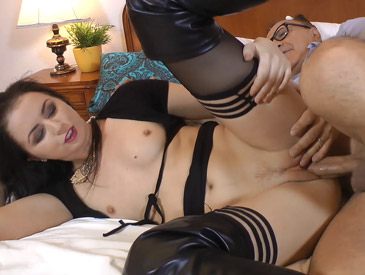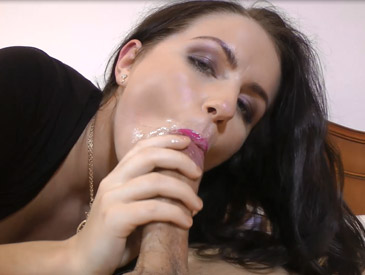 Kittina Massage Madness

This week we have a true sex maniac who looks like "Butter wouldn't melt in her mouth" as grans are prone to saying. After leaving school Kittina held down a number of jobs until landing employment as a receptionist in the "Happy Endings Massage Emporium". She noticed all the groans and squelching noises coming out of the back rooms but being a little "Naive" presumed these noises were as a result of enthusiastic masseuses. Anyway after 10 months she got suspicious as the only clients were male and she confronted the owner, who confessed that the "Happy Endings Emporium" was not "Kosher". He then offered her a a job as a "Masseuse". She performed so well that her boss, a member of jimslip.com, said, "You are too good for a stinking, sleaze ridden hovel like this, you need to follow a new dream, you must pursue a career in hardcore porno filth and promptly handed Kittina my card. The rest is history and yes, Kittina went completely crazy on her casting, just wait to see what happens next week!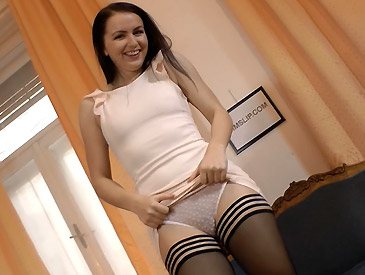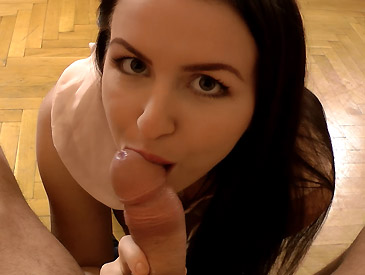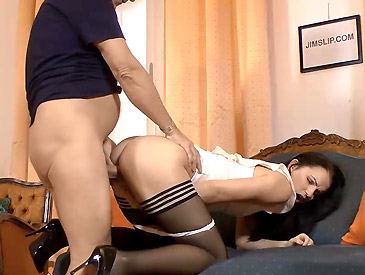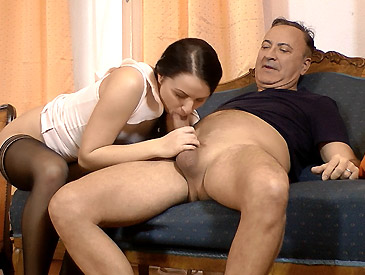 Summer's arrived!

After the antics of last week it was nice to get both the girls into bed and just bung the camcorder on a pile of boxes and press RECORD. By now the girls were gagging for a proper fuck and so I simply went from one of them to the other and the girls took turns on camcorder to film each other being fucked by moi! Summer's camera work was really rather good. Anyway, to end the scene I thought it would be a jolly jape to get my wife Lara Latex to squeeze my cock into Summer while she rode me and then just before I came, to yank my cock out of Summers pussy and squirt my spunk all over her face and into her mouth! Lara thought this a rather spiffing idea and did exactly that. You'll also see her proudly present her spunk covered face to you, the viewer, at the end. We are planning a trip to Birdworld in the UK, but I suspect once again this day out will be interrupted by another day of depravity!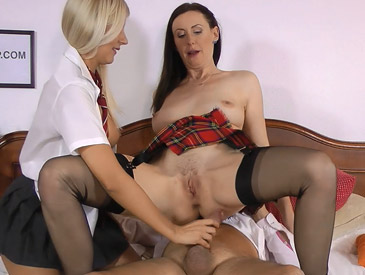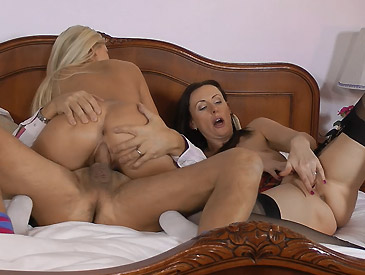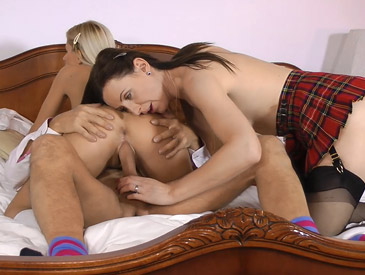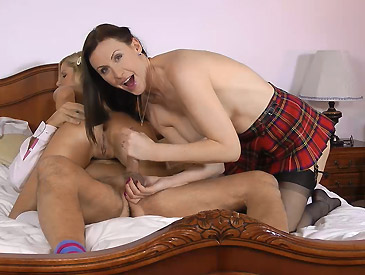 Jim & Lara's Day Off

After weeks of non stop fucking Lara and I decided we need a day off. We thought of all our possible options for a bit of R&R ranging from visiting Gnome World to The Pork Pie Experience but in the end decided we'd stay in and get the lovely, blonde, Summer over for a frantic threesome. Being game for some fun she didn't blink an eyelid when Lara suggested that they both dress up as sexy schoolgirls and indulge in some sexy lesbo frolics in front of me. Naturally I captured the depravity on my camcorder until I could take no more and decided to get the girls to suck my cock, which they did with gusto! They then both got on their hands and knees on the sofa and insisted that I fuck them in turn .How could I refuse such a request? Anyway, we carried on like this until my arm tired of holding the camcorder, so we all jumped into bed and carried on fucking as you'll see in next weeks exciting episode.