Gagging In Gingham

As you will have seen the once shy boffinish babe, Arteya, had transformed into a fully paid up sex maniac over a period of 15 minutes. Anyway, as I stood doing my presentation to camera for Part 2 of this epic video, the lovely Gingham clad star-gazer leapt off the bed and plunged her tongue down my throat before dragging me on to the bed. We had to teach her some of the bizarre circus like positions employed in the "Karma Sutra Of Porn" so there was a little faffing about, which even puzzled the brilliant mind of Arteya. She must have been thinking what possible reason would anyone wish to fuck in a "Reverse cowgirl" position when one can just climb on a dick or simply get fucked from behind. I didn't dare tell her of the current strange fashion in porn for simultaneous multiple dick entry into orifices, where for example, in the case of a triple anal where one's dick would be rubbing against 2 others. Not my cup of tea, my brethren! Truly, I have heard people tell of some twisted and depraved pornographers employing amputees, dwarves, winches and shoe horns in order to cram as many dicks as possible into a girls arse and pussy, attempting to gain entry to the Guinness Book Of Records for "Most erect, gargantuan penis's simultaneously stuffed into a girl's holes ever attempted" I am told 8 is the most at the present time! Anyway, Arteya did a great scene and I welcomed her into the cesspit of porn!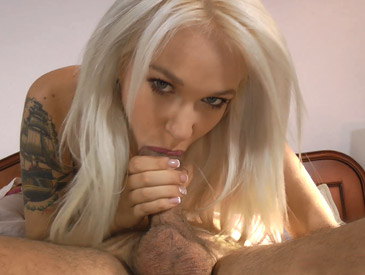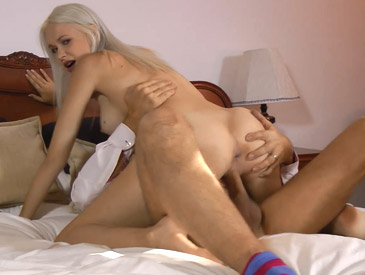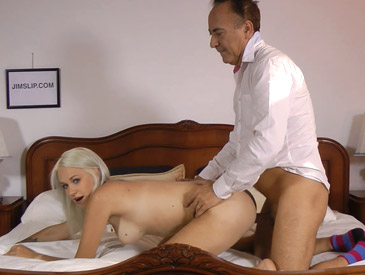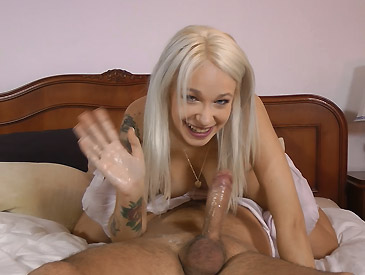 Russian First Timer!

This week once again Beelzebub smiled upon us and caused an absentee girl to be replaced by the lovely Arteya, a true first timer and in Gingham! This brainy babe is at university studying Astronomy and men throughout the world will childishly chortle, when I enquire, "What is your favourite planet?" and Arteya answers, "I love Uranus!" but pronounced in the old school, non "Right on" way that we all once chuckled to when taught about at school. A time before the correct pronunciation of YER ANUS was changed by some politically correct, hi-vis wearing, killjoy, misery guts, to YOU RAN US! Anyway, you will love seeing Arteya's face light up like a star when I ask if she'd like to suck my dick. This being the same girl who at first said, "I'm a little scared," then giggled. She nearly went crazy with lust when I gave her the camera so she could film me fucking her! These boffin girls are always SO DAMN HOT! Next week I drag her to bed!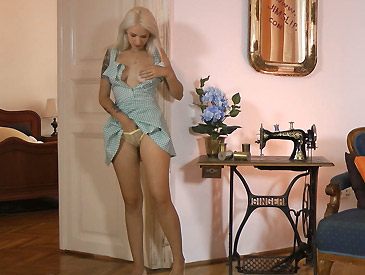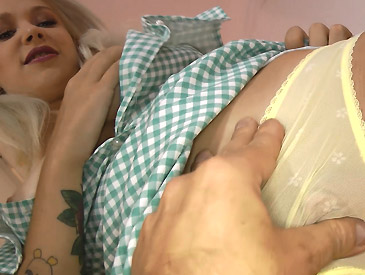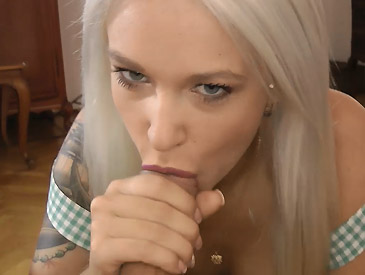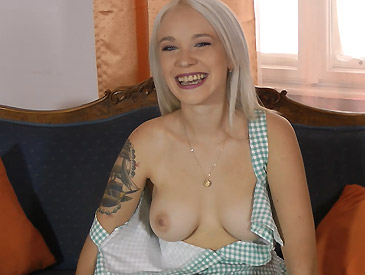 Sexy Schoolgirl Fuck Frenzy!

Well, as members will see, this week the gorgeous Zazie dresses up as a very sexy schoolgirl and gets soundly fucked by yours truly. The show starts with Zazie striding about in front of Lara Latex on cam, showing her knickers off and I'm sure Lara had to bite her lip to help stop her throwing the camcorder to one side and plunging her whole head inside Zazie's sexy white knickers and gorging on her wet pussy. Lucky for me Lara constrained herself and instead allowed me to plunge my hand in Zazie's knickers - my head wouldn't fit - and first play with her wet pussy and then bend her over and fuck her. We then jumped on to the bed and continued screwing in various positions. Lara noted that Zazie was creaming my cock with excitement and after cumming herself proceeded to feverishly wank my cock into her mouth! With that she put her Daisy Dukes back on and returned to complete her shift at the sex shop with no doubt a story to tell the poor, depraved, Godless souls who frequent such establishments!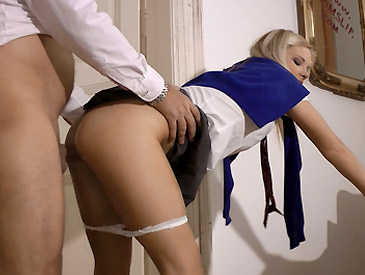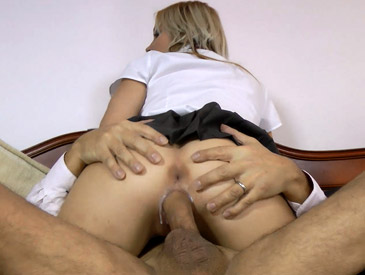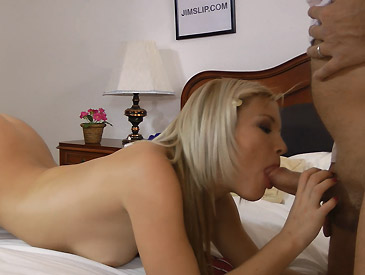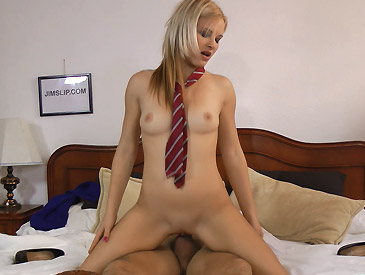 The Queen Of Mime!

This week we have the dazzling 18 year old Zazie for your delectation. She holds down a job in a sex shop and speaks no English and I can guarantee you wont give a "tinkers cuss" for she truly is a total babe. She had to use the art of mime to describe the instruments of depravity sold from the shameful establishment in which she toiled. You will be amused at her use of mime to describe one of those blow up dolls you see drunken students staggering about with in freshers week. Anyway, I must confess that Zazie had already passed her casting within one millisecond of me gazing upon the tiny "Daisy Dukes" she had squeezed herself into and she also had a clip in her hair and a huge smile which are both nutty fetishes of mine! Her casting included me screwing her very tight pussy for a short time, but it was too difficult with a camcorder in tow, so next week she dresses up as a sexy schoolgirl (Quel surprise! I hear you cry) and we have a nice fuck in bed!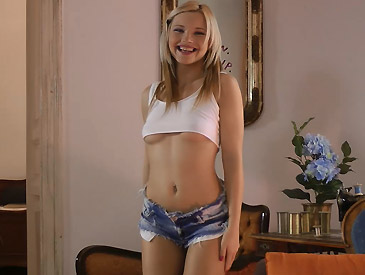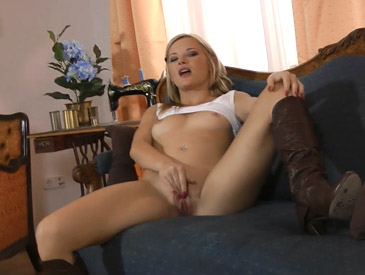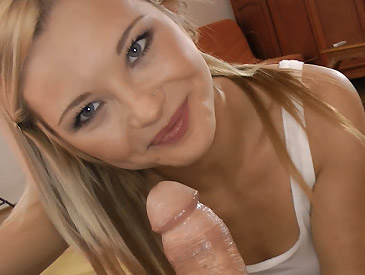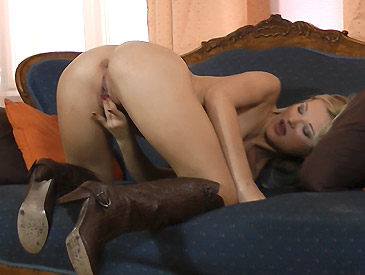 Jim Gets Steam-Rollered

After donning the garb of a cheap whore there was no stopping Eva. She didn't know whether to launch herself in a crazed lesbo attack on Lara or attack me. She chose the latter and after flaunting her sexy bum for Lara, simply bent over and insisted that I fuck her as hard as humanly possible. She then moved into various positions that put the antique furniture under enormous strain and I could not help but wonder whether the craftsmen who had once fashioned the items could possibly guess that one day a hapless Englishman would be literally pummelled with the force of a pile-driver by a sex crazed Russian female interrorgator - Sorry, I mean, holiday camp funster. I swear I thought the spindly legs on the sofa would snap, but that's antique workmanship for you. Watch out because having wiped me out she then once again attacked Lara Latex, whipping her and making her fetch dildo's like an obedient pup! But thats another story, coming soon on Larasplayground.com.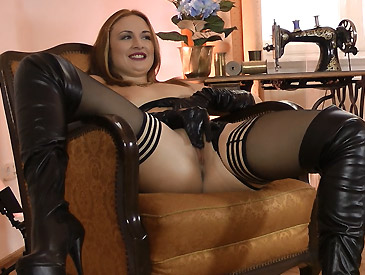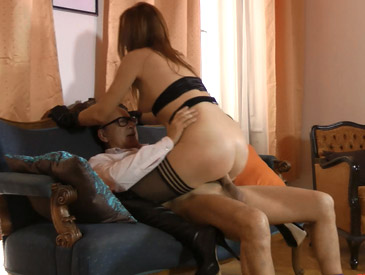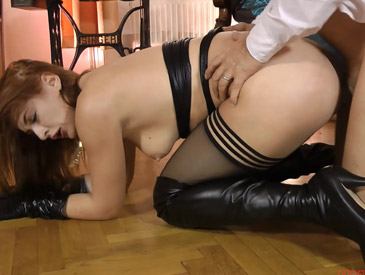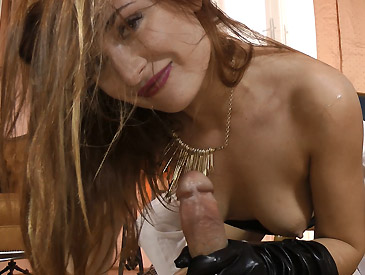 Camp Kommandant Eva

This week we have the crazed Russian dom Eva. Members will have seen her some time ago putting Lara Latex under the lash and I thought it might be fun to have her on jimslip.com. She announced that she had left teaching behind and now worked in a "Holiday Gulag" in Russia for, "complicated" people. Anyway, she looked very sexy in skin tight rubber look trousers, thigh high boots and black polar-neck top! Even James Bond would have gulped if he had encountered Eva in one of his adventures. After explaining in detail how she searched the prisoners - I mean "Holiday makers" - she set about me with gusto and after sucking my cock, delighted in rubbing it up and down her wet look, legging clad crotch. She tired of this foreplay after a minute or two and simply pulled down her trousers, went on her hands and knees and made me fuck her hard! She then decided she wanted to dress as a cheap whore and get fucked properly whilst being filmed by my wife, which she said would be a turn on as she could taunt her, by saying how good my cock felt as she looked into the camera. How could I refuse the Kommandant?