Lara Lubes Lolas Bumhole

Lola just couldn't stop fucking, so I carried on screwing her everywhere in the apartment including over a rather quaint antique Singer sewing machine, which I thought was rather reminiscent of times gone by; when a young wife busily sewing, would have been roughly taken, bent over whilst still sewing and once finished with continuing with her chores! Oh the good old days! Anyway, we carried on, on the bed and my wife Lara Latex took on the wifely chore of lubing up a cute teen's bum hole in readiness for her husband to use for his unashamed pleasure. Don't laugh, I am sure such decadence was the norm in Royal households and residences of the rich in centuries past. I lost no time in stuffing my cock into Lola's will arse and then fucked it until even I tired of the incessant pleasure and Lola caused me to come all over her face, cock freshly yanked out of her moist bum!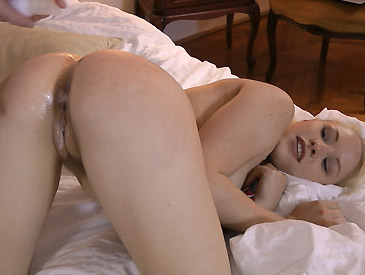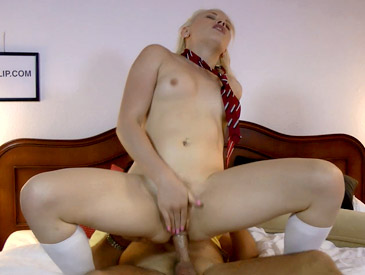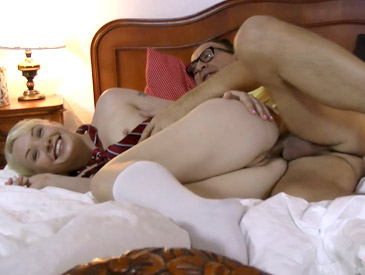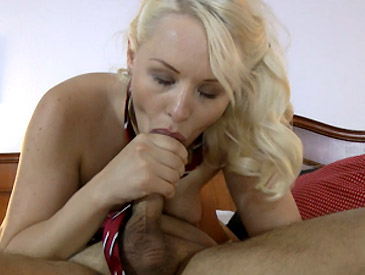 Muscovite Fucked In Uniform!

Members will have seen sex mad Lola modelling the two universally loved outfits that drives us guys mad. The classic English sexy school uniform and the American college girl uniform. Well, being a true patriot, I naturally chose the English 6th form school girl look, as seen by all in the old St. Trinians movies. That is no reflection on the sexiness of the American College girl ensemble. In an ideal world one would sew both uniforms together so when a girl turns one way she appears as an English school girl and turns the other way and appears as her American counterpart! Anyway, you will have gathered you could have put Lola in a bin liner and she still would have been sex crazed, so when I made my decision we carried on the camcorder capers until I tired of this and asked Lara Latex to take the camcorder, so we could carry on fucking on the bed! Lara then decided she wanted to see my cock stuffed in Lola's bum and kindly lubed it up for me!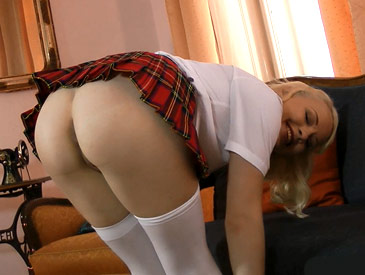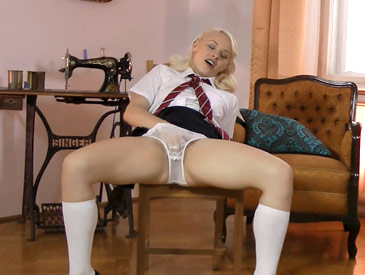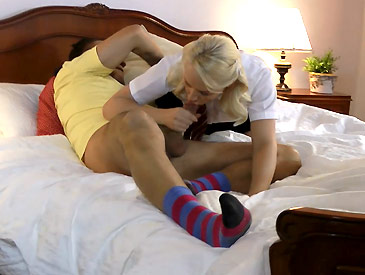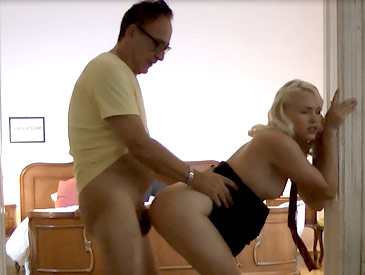 Bedtime Frolics With Nesty

The whole point of being a cuckold is to feel turned on or slightly jealous of the the person your other half is fucking, so you can't just pick anyone. For example, having a drunken female tramp over for fun wouldn't make Lara jealous. However, in Lara's case Nesty was the perfect choice and being a naughty little minx, knew the exact buttons to press to drive Lara mad with lust. For example, as soon as we jumped into bed Nesty winked at the camera and then proceeded to snog me in the most intimate manner with one eye on the camcorder to tease Lara even more. We then had a frantic sex session on the bed with Nesty groaning with lustful pleasure. God only knows what was going on in the heads of Lara & Nesty at the time, I'm just a man, how could I possibly know? Anyway, they both enjoyed a huge orgasm Nesty looking at the camera and Lara watching via her ipad. Straight after Nesty had left Lara announced she couldn't wait to try it again and Nesty disappeared back into the night to ply her trade.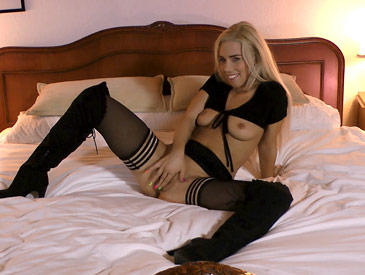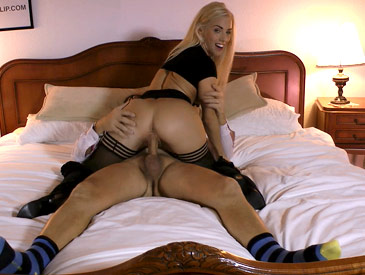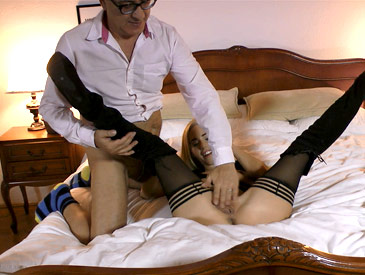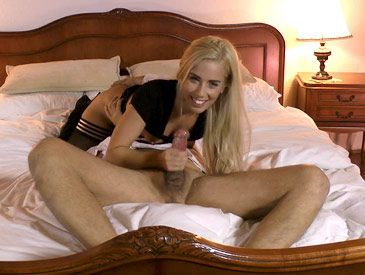 Secret Encounter

This week I walk on the wild side at the behest of Lara Latex. She decided she wanted to play the part of a ''Cuckold''. No, its not a type of bird, it is a role play game where one side of a partnership enjoys their other half having fun with another man or in my case girl. Lara chose the gorgeous cute little blonde Nesty. Nesty knew that I had a camera set up and Lara was watching somewhere else on an ipad. What she didn't know was that Lara was sitting atop an old washing machine in a broom cupboard next door with her ipad in one hand, some headphones on and her hand between her legs. Nesty, dressed as a whore, had been busy sucking and fucking men at a nearby station and took time off to come and fuck me and you could tell she was having a good time by her beaming smile when she arrived. She loved teasing Lara by making sure I as fucking her as close to the camcorder as possible and that she could see all the acrtion. Next week we jump into bed!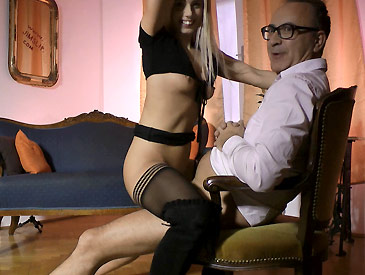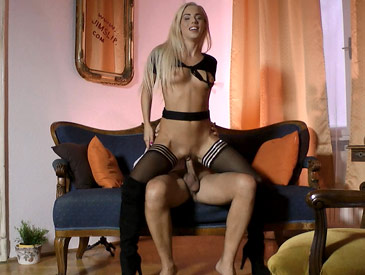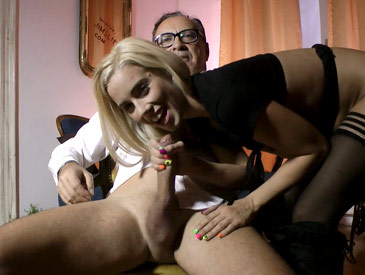 Lola Returns For Cock!

Members will have seen the sex crazed Lola fucking my wife, Lara Latex's brains out and now she is back and even hotter than ever! No wonder the Beatles penned the song, "Back in the USSR", these Muscovite girls are extremely sexy. Anyway, she related once again her difficulties in trying to launch a career as an artist since all the male models insisted on getting erections whilst sitting for her. Hardly a surprise when they'd see her in her skimpy denim shorts. Anyway, she was gagging for my cock and lost no time in unzipping my trousers and stuffing my stiff cock down the back of her throat. Remember I am holding a camcorder which makes sex quite difficult, especially when one is being ravaged by a sex crazed Muscovite, who managed not only to suck me and fuck me, but doing everything she could to get my rock hard disk buried in her bum hole! Anyway, I decided to halt the proceedings at this point and get her dressed up and model a variety of school/college uniforms and make my final decision on what she should wear before I continue fucking her properly in a couple of weeks time!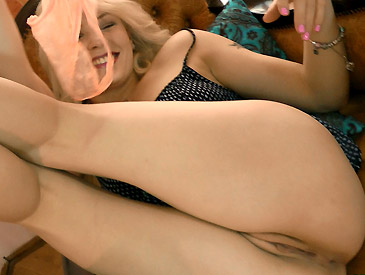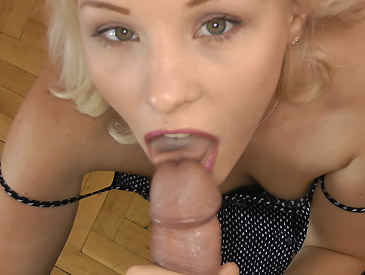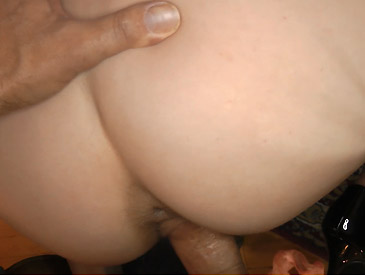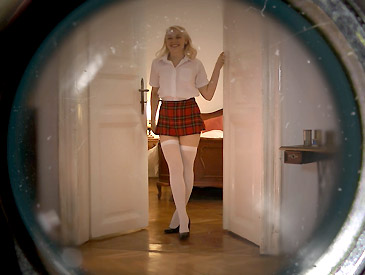 Nurse Holly!

After salivating all over Holly in last weeks episode, I couldn't wait for her to try on her regulation, specially designed, ''Pro-penile erective'' outfit and when she walked into the room I nearly dropped down dead of shock. Obviously this was not the effect the doctors of "Penology" had in mind, but I self resuscitated myself with a few hard thumps on my rib cage and got my heart thumping again. Anyway, Lara and Holly decided it was only fitting to play a role play game in which I played the patient in bed and Holly acted out her role as Nurse Holly. To be honest it wasn't a very convincing role play especially since watching Nurse Holly adjusting her stocking tops had already caused me to have a raging hardon bursting through the bed sheet. On closer inspection, Nurse Holly didn't think my dick was standing at the correct 90 degree angle and decided it required some attention at which she wrapped her red lips around it, sucked it to the correct angle, climbed on top of me and squeezed my cock into her tight sodden pussy and made me fuck her as hard as I could! With her hands covered in spunk, Nurse Holly made a note in her diary, ''Prescribed a prophylactic course of erectile treatment to the patient Mr Slip to which he reacted favourably!''