Sexy Porn Student

This week we have the lovely "18 and 11 month year old" Anina a student of the Erotic Arts at college. Yes my brethren, truly I say to you, there are places of learning in enlightened Europe where one can study the ancient art of taking dirty pics. I must admit Anina's story did smack of simply no more than a teacher's clever ruse to get his dick sucked by his students whilst he got others to take pictures and then having the bare-faced cheek to offer his students a critique on their work! Anyway, credit where its due, this same teacher recommended Anina do a jimslip casting as a form of "Work experience". Anyway, she turned up in the tiniest pair of denim shorts I have ever seen and you will marvel at this 18 year old temptress first eagerly sucking my dick and then actually pulling her little shorts to one side and squeezing down onto my cock for a nice fuck, at which point I called on the services of Lara Latex to take over on camcorder as I found the strain of holding said apparatus rather tiresome!By the way watch out for Anina's very sexy "Gammon Style" dance at the beginning!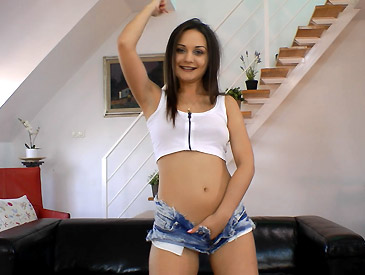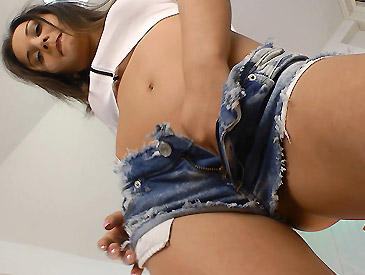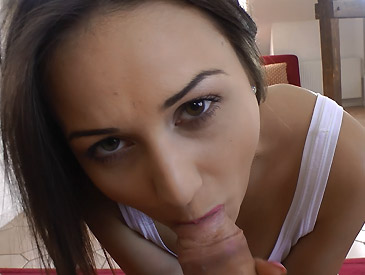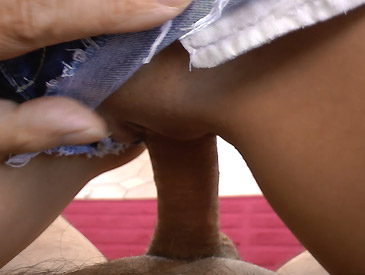 Catholic Cutie Goes Crazy At Christmas!

Firstly, please accept our warmest Christmas Greetings from Lara and myself! Anyway, my cunning plan worked a dream and the lovely Sicilia re-emerged in her college uniform at which I nearly collapsed in shock! She had her long blonde hair clipped back, a white shirt with blue cardigan draped over her shoulders a tiny pleated skirt, WHITE SOCKS and heels and guess what? I noticed she was wearing a Crucifix, yes my brethren the mark of a good Catholic girl. Unfortunately I accidentally touched it and poor Sicilia look startled as I cried out, "It burrrrnns!" Anyway I soon recovered and plunged my hand into her sodden panties and swollen pussy (As members will have seen in last weeks episode, Sicilia was VERY excited) To be honest Sicilia had the most varied selection of facial expressions of pure lust and mischief I have ever seen in a girls face. She simply had a look so depraved that if the nuns at her college had been witness to her shameful behaviour they would have certainly dragged her into the church, hung her naked (Apart from her white socks and heels) from a cross and mercilessly lashed her with rosary beads, to which I am sure Sicilia would have orgasmed to and further enraged the nuns! A sight that I am sure many out there would have been more than happy to have born righteous witness to, especially myself!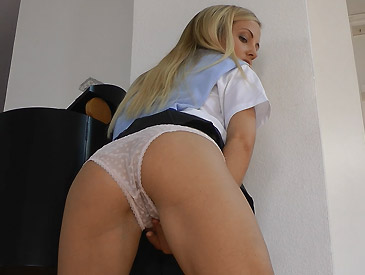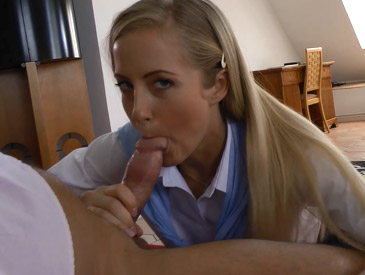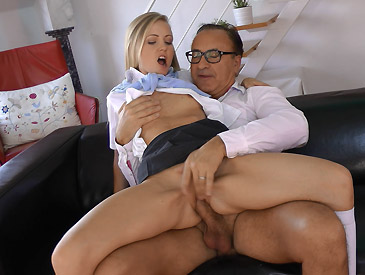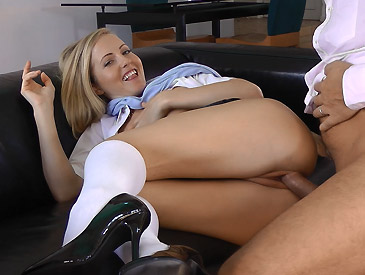 Catholic College Cutie

This week we have a real treat for you in the form of 19 year old Sicilia, a cute little blonde babe who having nothing better to do, decided to come and do a jimslip casting. She arrived wearing tiny denim shorts, a crop top and flip-flops on her feet. She explained she was at a strict Catholic College and when asked what she was studying she said, "The art of time-wasting!" Naturally, I put her through paces, but to be honest I was delighted when she simply dropped to her knees and swallowed my dick whilst looking up at me with her big doe eyes! From then on there was no stopping her and she managed to fuck me in 3 positions whilst I precariously clung on to my camcorder as she bounced up and down on my dick, groaning loudly, like a typical Catholic girl! Anyway, she announced she was actually on her way to college and I asked whether she usually wore a uniform to which she said "Yes I do, but it is very boring" and then showed me a very sexy, preppy uniform which included a little pleated skirt. Being a sneaky rotter and cad, I told her that we'd lost all our dressing up clothes in a fire the night before and suggested she wear her college uniform for the second part and yes my brethren, your eyes are going to pop out of your head when you see her!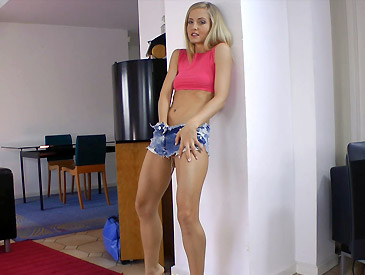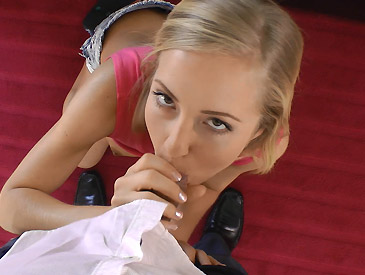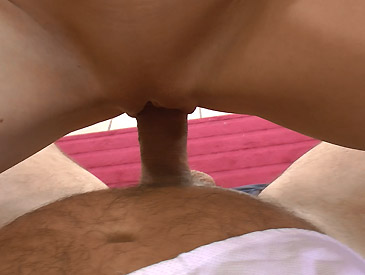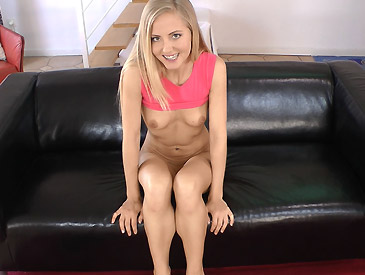 Sexy Spanish Schoolgirl!

I thought that would get your attention! Yes, members will have listened last week as Carolina declared she had a "secret desire" to dress up as a sexy school girl and get fucked senseless. Why was I not surprised at this admission and truly I say to you my brethren, Carolina brushed up rather well in our "Sexy Schoolgirl Outfit" and her photo dressed in this outfit drew hundreds of favourites on twitter! It felt like every man in Spain was busily Tweeting their approval! Anyway, Carolina just loved the whole Jimslip VS Schoolgirl routine and went crazy when I put her over my knee, ripped her tights to bits, pulled her panties to one side and spanked her firm round bottom! From then on she literally turned into a sex mad, mad thing and did everything in her power to bury my dick inside her as deep as is possible for a dick to go. However, the horniest bit is whilst she is riding me she momentarily stops and asks, "Is it ok if I cum?" of course I answered, "Yes, be my guest" and for a full 10 seconds her body jerked around as if someone had plugged her into the mains! Yes Carolina had a good time and all I can say is Viva Espana and Viva Carolina!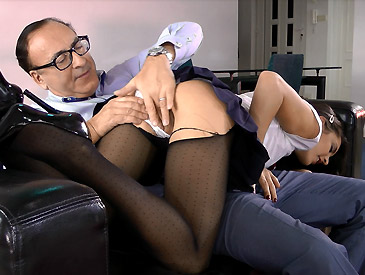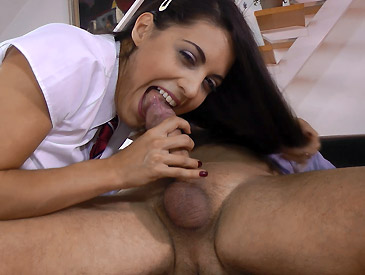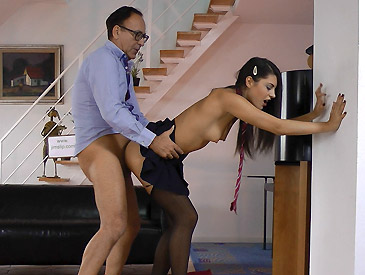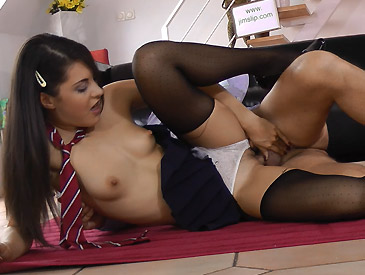 Viva Espana!

This week we have a babe from Spain for your delectation. Carolina had been recommended to visit me by lapsed Catholic and previous candidate for canonisation Valentina, who you would have seen earlier on the site. Carolina had no qualms about anything and her introduction was simply, "Valentina said you are a good fuck, so get your dick out!" and with that I dropped my trousers and Carolina breathed life into my cock in a few seconds and once ready, pushed me down on the sofa and simply squeezed my dick into her very tight pussy. To be honest I felt like I was the one being auditioned rather than vice-versa, but I continued to muffle my protests as she simply put herself into different positions and then made me stuff my dick into her and fuck her. Carolina without doubt is a cock-addict and seemed to have an insatiable appetite to be fucked senseless, so please forgive the shaky camera work, but you try holding a camcorder, headphones, etc whilst fucking a sex maniac and you too will see how difficult it is!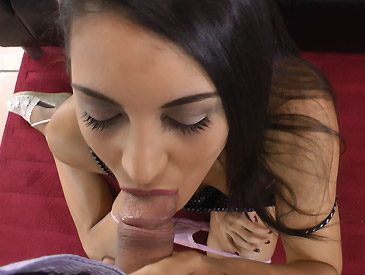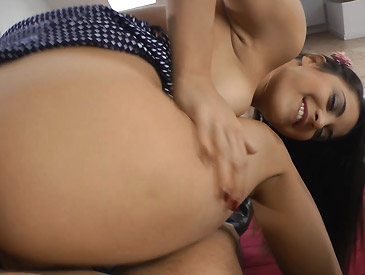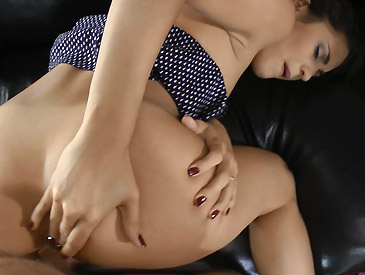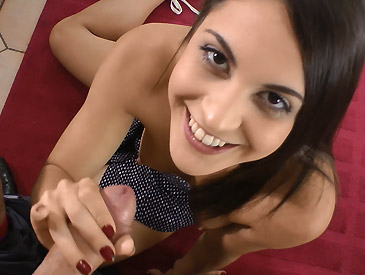 Sexy Catholic College Girl

Now, that was easy to get your attention! As you will have seen, Bella passed her casting with ease and when asked how she would like to dress for her main scene jumped at the idea of dressing up in a sexy Catholic schoolgirl outfit. She made her entrance with a huge grin on her face, as will you! Somehow the pale blue cardigan made the ensemble all the more sexy, but she insisted on wearing it all the way through and I must admit there is nothing more horny than having a sexy 19 year old dressed up as a sexy Catholic college girl riding your dick with her tongue buried down your throat. It truly is the stuff of dreams and Bella continued in this shameless fashion right through to the culmination by making my dick explode in her mouth. What more could one want, other than to fuck her again!