Milf Versus Teen

REMASTERED UPDATE

Part 1:
Well this week folks I have a special treat in store, MILF Vs TEEN. Yes, you can see it here, the big fight, with the delectable Honey in the left corner and the cute little teen Laura in the right. You'll wince as you see Honey jam her tongue into Laura's smooth, hot minge, you'll sigh as you see both of them groaning with pleasure as they eagerly finger each others tight holes and you will gasp as you see the pair cry out in orgasm and, finally, you will seethe with rage and envy, when I tell you that next week, having cast the teen Laura to one side, I will fuck that sex mad Honey's brains out!

---

Part 2:
I was so horny at having to watch Honey and Laura engaging in their XXX HARDCORE LESBO ACTION , that I was simply gagging to attack Honey. Well I think too much MINGE ACTION can leave a girl like Honey hungry for cock, so with both of us gagging, I wasted no time in simply pushing Honey up against the wall and stuffing my dick into her. It was still sodden from where Laura had been lashing it with her tongue. I mean to say just standing back and seeing Honey standing there in those ripped fishnets and that cute little arse would drive any guy nuts, I'm sure you'll agree. Although I love all the cute teens out there, I must admit when it comes down to a good, hard, dirty shag, a gorgeous Milf like Honey is unbeatable!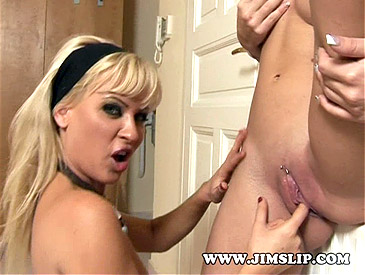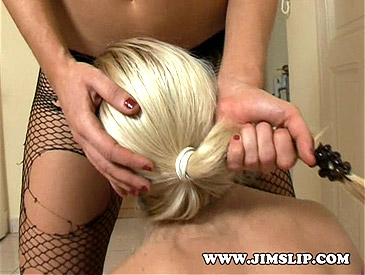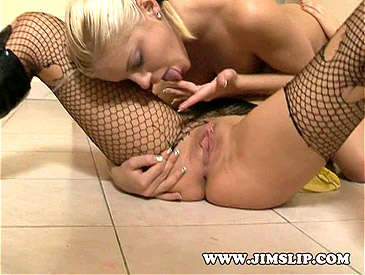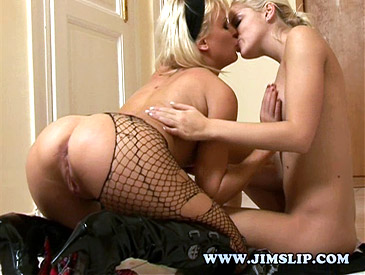 A classic beauty next door


Part 1:
I met the lovely Louisa at a bus-stop and simply marvelled at her cuteness. A classic, "Girl next door", I'd say. Although, I never get to live next door to anyone like her! Anyway, I managed to entice her back to my place for some fun and as usual, the Pt 1 section was perfect for, "Breaking her in". She did some great work with the dildo and even jammed it up her tight arse. I must admit, I just had to let her sample my cock. I know, I can hear you say, "But Jim, you're a great cameraman, you wouldn't be swayed from your work by a slip of a girl, wiggling her butt at you!" Well you'd be amazed at my dexterity, the ability to hang on to a fucking big camera and perform at the same time. It's an art, learned over time.

---

Part 2:
Well after the great success of Part 1, I decided to dress Louisa up in some "Kinky clobber", namely red boots, black hold up stockings and a skin tight little PVC skirt. Also just to finish things off she wore some long gloves, which felt great against my dick! Well you know what I'm like when faced with a cute babe, dressed like this... yes, I turned into rabid devil-dog and attacked her full on, groping, prodding and slobbering all over her in my insatiable lust! I know it wasn't a pretty sight, a desperate, middle aged man, foaming at the mouth with lust. But, I ask, what would you do in the same circumstances? Especially, knowing that her tight bum was on offer!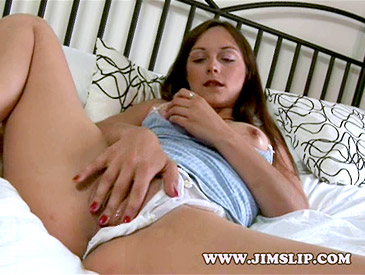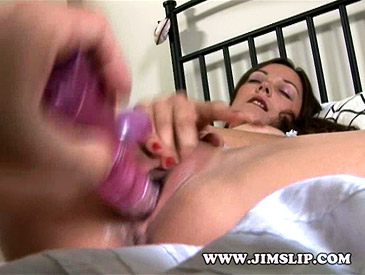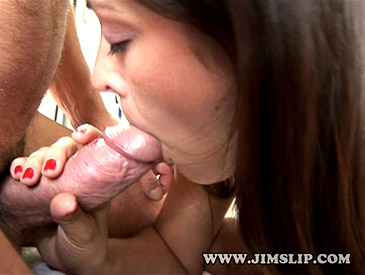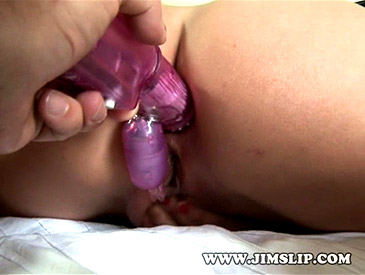 Teen streetslut for the day

Well theres cute and theres CUTISSIMO! Well that's the lovely Isabella. She wrote to me saying "Dear Jim, will you fix it for me to be a streetslut for the day, Love Isabella, age: 18 and 3/4's?" What is with these girls who want to be "Streetsluts?" It must be a dark, strange fantasy for females. Even in Hungary the girls seem to have this need to behave like "Streetsluts". So it's not just an English, thing. Anyway, I decided to dress Isabella up in the "Dorothy, from Wizard of Oz" outfit, which always seems to suit cute young girls in my opinion. Well for a novice, she took to being a slut like a duck to water. She was remarkably good at sucking cock for a girl of a mere 18 and 3/4's, her expression not mine, but I just loved making her say it! Anyway I went through the usual menu of depraved acts as per the Jim Slip ethos, ie "When encountering a cute, young girl, ensure that there are lots of the following shots: gratuitous shots of cock stuffed into mouths, spanking of firm young bottoms, gratuitous angles of cutey lowering herself on to stiff cock, recording her expression of pleasure.etc, etc." Yes it's all there folks, so feast your eyes and enjoy! Oh by the way any other girls out there who'd like to be a "Streetslut for the Day", please feel free to write to me!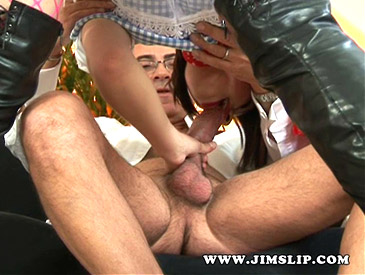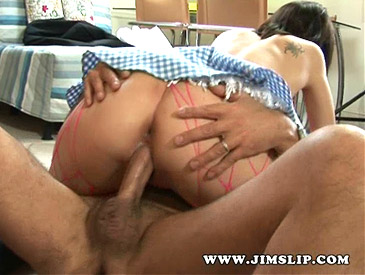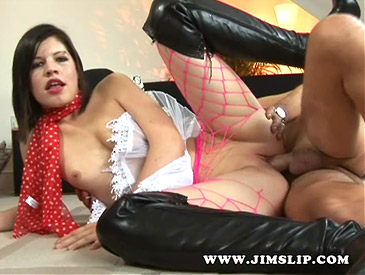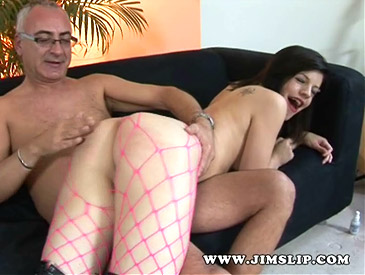 Not So Cheap Whore

So continuing on from last weeks casting Julie wanted to dress as a "cheap whore" and she re-appeared looking amazing, except her "cheap whore" outfit cost at least £2000! I am sure many of you will also love the outfit, especially those boots! She taunted Lara Latex by striding around the flat wiggling her tight round bum into the camera and then my eyes nearly popped out of my head and when she bent over, pulled down her tiny red shorts (£500) and then pulled her bum cheeks apart! Naturally, I had no choice but to drop my trousers and plunge my stiff cock into her and give her a good screwing. We then started to fuck in every possible position on the sofa, with Julie banging up and down on my like a pile-driver gone mad! We ended up in a 69 position with me lapping up her pussy juice and her pummelling or should I say "Fracking" my dick to extract the spunk which she successfully did within a very short time!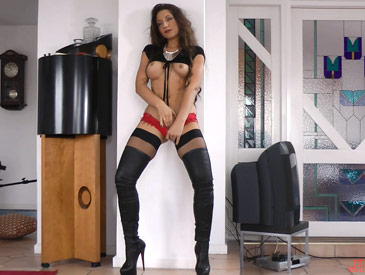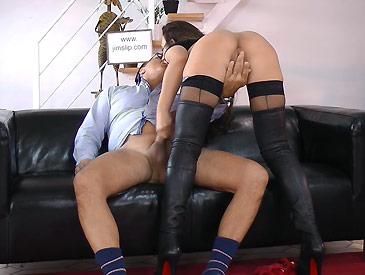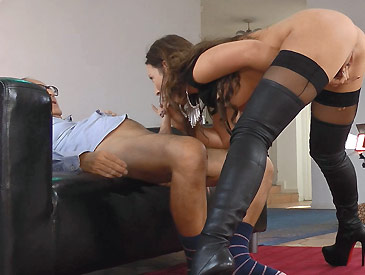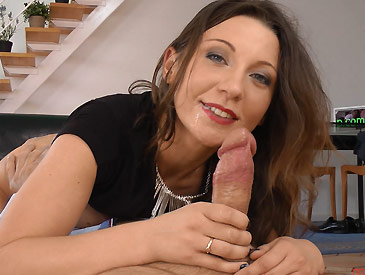 School uniform month show


Part 1:
Roll up!, roll up! for the most exciting show in time.Yes, due to popular demand it is "SCHOOL UNIFORM MONTH" on jimslip.com.Well, maybe it might be extended to S.U.M. every month, who knows? What better way to kick it off than with the beautiful Cyprus, who I think you'll agree looks rather fetching in her little pleated skirt and white shirt and tie. To be honest I couldn't wait to tear down her knickers and squeeze my dick into her, so I didn't!

---

Part 2:
Wel,l as you can see Cyprus is quite lively, to say the least. In fact when girls put on a school uniform for some fun, you'll notice that it becomes like a "Talisman of Bad Behaviour". This is why, the school uniform is a welcome addition to most girlfriends and wives' wardrobes of sexy clobber, throughout the World. Well apart from wives in say, Iran, who could well be shot for having such an outfit. Anyway, Cyprus went from strength to strength, leaving no stone unturned in her desperation for more depravity. I must admit my favourite bit was seeing her cute little arse, framed in her skirt eagerly awaiting my cock to be inserted into it!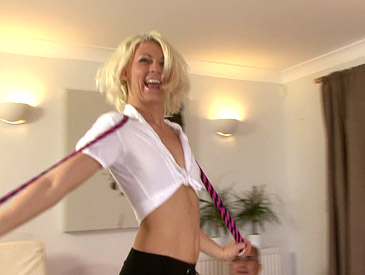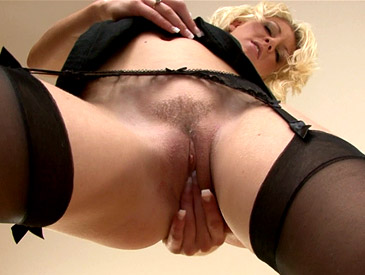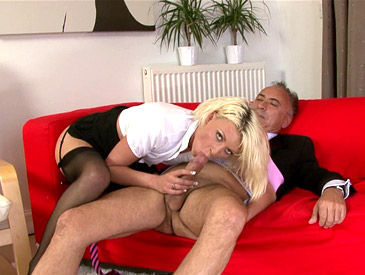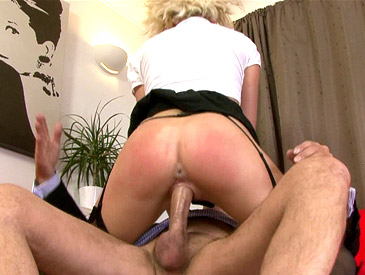 Big Scottish juggs


Part 1:
Well, you don't get letters like this on BBC's "Points of View!".... "Dear Jimbo, why, oh why, oh why, can't you give us more BIG JUGGS on your site? I'm a wee Scotts lass and on many a cold, wintry night, you'll find me feverishly masterbating to the vids of cute girls on your website.My knickers are usually sodden with love juice, by the time I orgasm. Recently, I've noticed that I am in desperate need of some BIG JUGG visual stimulation, so being that I am in possession of a rather JUMBO PAIR OF JUGGS, I propose to offer myself to you, for the use thereof and furthermore, (As an added bonus) the offer of the exclusive use of my BUM-HOLE for whatever use you see fit. I am yours Jordanna XXX!

---

Part 2:
You have to admit, when filming in 16:9, with a wide angle lens, those JUGGS certainly fill the screen! Well having given you a visual feast of gratuitious JUGG mania, this week it is time for me to prepare the gorgeous Jordanna's tight BUM-HOLE for penetration, well not least after, her having teased and coaxed you with her PRE BUM-HOLE ACTION DILDO WORK. Well while she was doing this I was biting my lip and crossing my legs, just desperate to get stuck in. It was certainly worth the wait! By the way, next week, I get the gorgeous Madison back, for a 1 week BUM-FUN FRENZY, dressed as a sexy sailor, that's her by the way, not me!