Summer Reigns!

This week we have the lovely 22 year old computer geek, Summer. She arrived for a Jimslip casting looking very elegant in a splendid cocktail dress and high heels. The moment I laid eyes on her I was desperate to know what she had on underneath her dress. Sure enough she had researched the hallowed halls of Jimslip.com and come to the conclusion that seamed stockings would go down well at a Jimslip casting. Anyway, Summer was very hot and after I'd stuffed my hand in her panties she announced that, she liked cock and dropped to her knees to take my dick into her mouth and suck it. Well as you can imagine, things got out of hand at this point and it wasn't long before Summer was squeezing my cock into her hot, tight pussy. With my camcorder gripped tightly, I then put her on the sofa on her hands and knees and fucked her hard and I must declare, my brethren, that I truly believe that Summer has the creamiest pussy on Jimslip.com. She made a complete mess of my cock in her crazed lust, which was very, very exciting!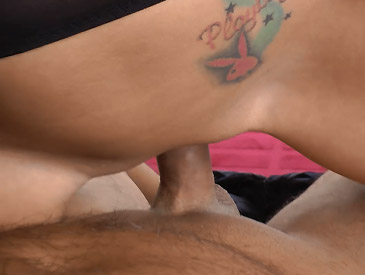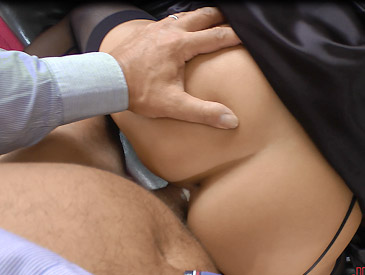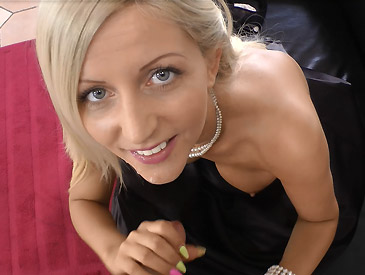 Sexy school girl flattens Jimbo

Well Anna strode out of the changing area re-modelled in a sexy school girl outfit complete with tiny pleated school skirt, white shirt and tie. She also had black tights and sexy panties underneath. When I saw her, my heart skipped a few beats and I had to bang my chest to get it beating again. Yes my brethren I was clinically dead from shock for a few seconds! I must ask you my friends, what would you do if faced with such a sight, looking at you with a look of crazed lust in her eyes? I know what you'd do, you'd do as I did. I grabbed her, stuffed my tongue down her throat, then turned her around , bent her over and tore a huge hole in her tights, ripped her panties in half and plunged my dick into her soaking pussy at which point she let out a guttural groan of pleasure. After that she was insatiable and fucked with the same vigour as a gold prospector might dig after 10 years of digging finds a seam of solid gold! Anna was overcome not with gold fever, but cock fever and yes my brethren I paid the price! A body left racked with pain from being repeatedly pounded and pounded! I am not complaining, but no muscle or bone in my body was left unscathed by this crazed sex beast!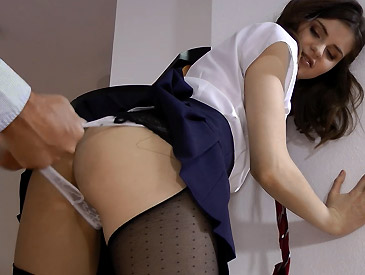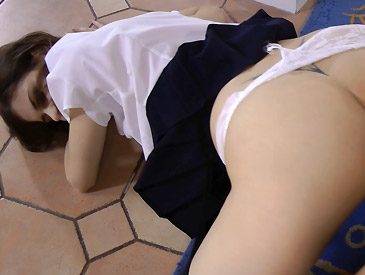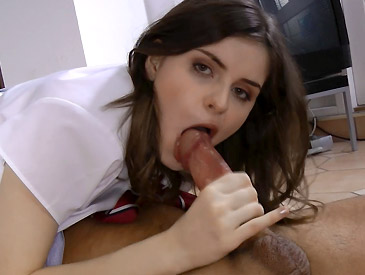 Lovely bum in tiny denims!

Sometimes a babe arrives for a casting in clothes perfect for her. Anna arrived wearing the tiniest little denim shorts encasing the most gorgeous arse and longest legs you've ever seen. To be honest I think you will agree that Anna has possibly one of the finest arses on jimslip.com and I took great care to film her striding about the apartment capturing her round bum swivelling from side to side, all for your salivation and gloating! Anyway, she declared that she was a 22 year old Russian student of "Fish". I presume she meant Marine Biology, but who knows? We've had all sorts of jobs ranging from tram driver, penguinologist and now presumably "Fishologist!" Also, I wonder how many will find a resemblance between Anna and a young actress who starred in the Harry Potter films? Anyway, Anna was very hot indeed and about to explode with lust when I packed her off to change into the outfit that needs no introduction, the ensemble that causes men to tremble with lust every Friday night when the wife digs it out of the bottom drawer, "The sexy schoolgirl outfit!" Be prepared to be shocked, very shocked! Clutch your rosary beads and hang up your Crucifix as you are about to peak into the Devil's lair!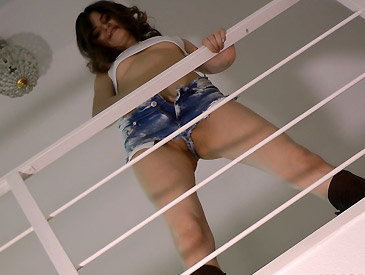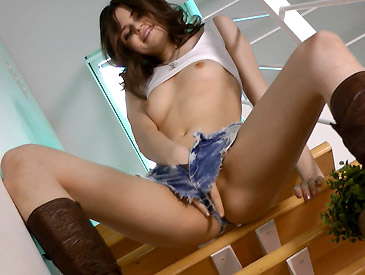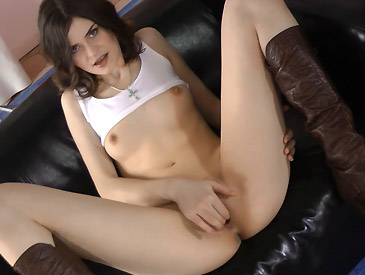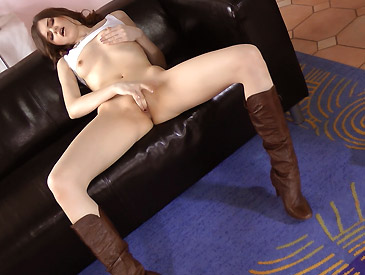 Tina creams herself!

As members will have seen last week, Tina was absolutely rampant and we couldn't stop fucking so we simply called in Lara Latex to take over on camcorder as my right arm was aching from holding the camcorder. By now Tina was crazed with lust and literally jumped up and down on my cock until she came and then simply changed position and continued to do the same until she was exhausted from multiple orgasms and there was still no stopping her. The pensioners at her bakery would have choked on their Fondant Fancies if they had seen Tina in action. The final and most depraved of her antics being her forcing me to chin-wank her pussy in a 69 position! It was my stubble that drove her delirious with lust and her resulting orgasm together with her sucking my cock caused me to cum all over her face at the same time. All in all a job well done!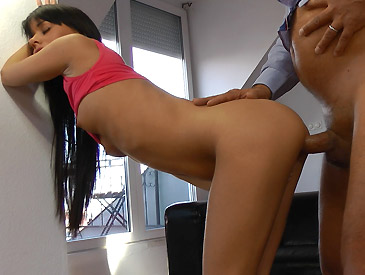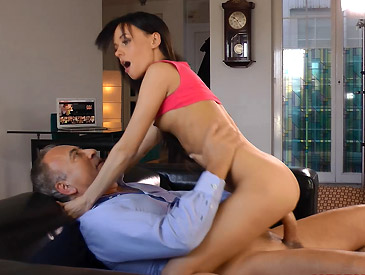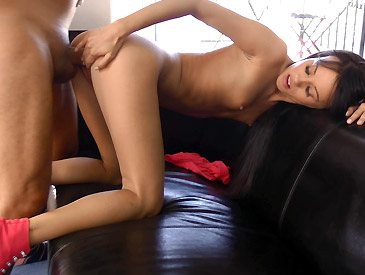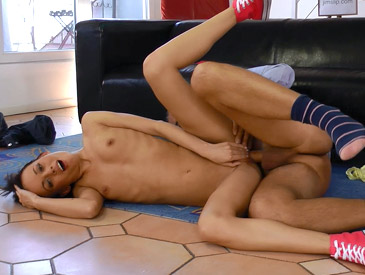 Lustful baker!

Yes, you read it correctly, Tina works in a bakery making bread, sandwiches and in between all this got her first taste of depravity by being filmed by her boss, a certain, Mr Crusty Esq, sucking his dick underneath the counter whilst he was serving cream horns to the OAP's! Anyway this charming man suggested to Tina that casting for jimslip.com may be a wise career move! Tina arrived in the skimpiest little denim shorts I've ever seen and a little top. She was very amicable and wasted no time in unbuttoning her shorts and shoving her hand into her now sodden knickers. She was desperate to suck my cock and wasted no time in stuffing it into her mouth. After a bit of this she straddled me, whilst I clenched the camcorder and used my dick as a sex toy, rubbing it up and down her pussy lips until finally squeezing it in to her very tight hole and then furiously fucking me! Naturally she easily passed the casting whilst howling at the top of her voice!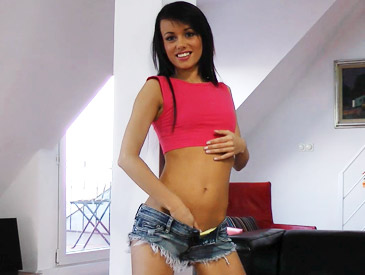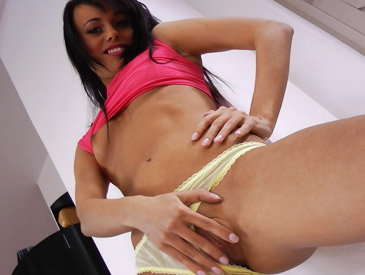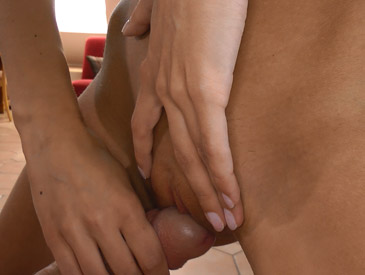 Stars In Her Eyes

This week reminded me of that TV show, Stars in Your Eyes, where some nobody announces to a captivated audience that he wants to be transformed into Elvis or Adolf Hitler & deliver a Nuremberg speech or whatever. In this case Kate went into the "room of shame" as a fragrant MILF and then triumphantly re-emerged as a "Whore queen". My eyes nearly popped out onto the floor! Also her attitude had completely changed into the role she was playing. Now she was overflowing with sexual abandonment. She had on the standard hooker outfit with ripped turquoise tights and thigh boots. Red lipstick plastered over her pouting lips and an arse to die for! Naturally I put her over my knee and gave her bottom a good spank which drove her crazy and from this time onwards there was no stopping her. I was simply pummelled once again into the poor, battered IKEA sofa and even as I write this text, my whole body feels like it's been run over by a steam roller. Take heed my brethren, look at your wives in a new light, because underneath that mumsy exterior lies a volcano of filth and depravity, ready to explode and all you need to do is light the fuse! For starters hide all her dungarees!