Sex crazed MILF

This week we have a lovely 26 year old Russian blonde ballet mistress for your delectation. MILFS like Kate can be seen in Surrey picking up the kids or shopping in Waitress every day, getting out of their Range Rovers in lovely dresses looking the very picture of decorum and decency and after watching Kate in action, you wonder how many of those mum's harbour the most outrageous and depraved of thoughts? In Kate's case she harboured a secret desire to be transformed into a cheap Russian style street prostitute (prostitutka) what a lovely word and then ravaged. Well she certainly came to the right place, Jimslip Towers! Naturally, we had to do a casting and there is nothing sexier than a gorgeous MILFY babe in a summer dress looking into the camera with eyes oozing with lust and sin! God only knows what was brewing in her mind but needless to say it wasn't long before she dropped to her knees and sucked my dick and I must admit it is most erotic to look down at a beautiful woman gazing up at you with her hair in a clip, in a summer frock and with your dick in her mouth with saliva oozing out of the corner of her mouth!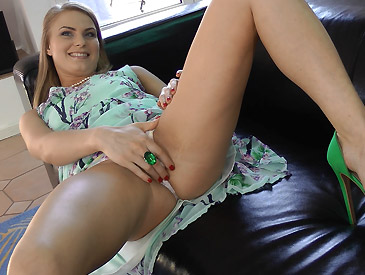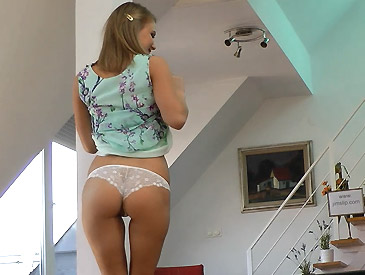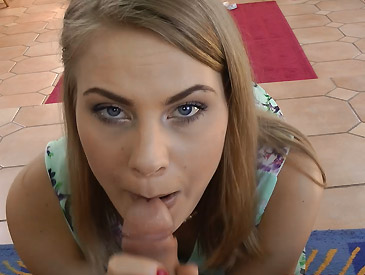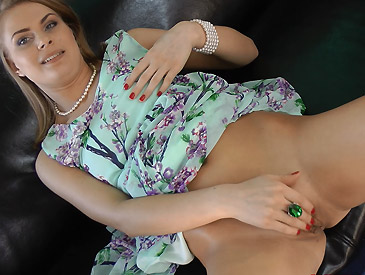 Skin tight denims

This week we have the lovely long legged Cindy who arrived dressed in my own personal fantasy ensemble of skin tight denim jeans and thigh high boots! If I had seen her walking up Oxford Street in this outfit on a busy day, I would have had no choice but to drop my trousers then and there and furiously masturbate in public causing outrage to all around me! Of course I wouldn't really do that, but it would be tempting! Anyway Cindy plunged her hand down the front of my jeans and then sucked my dick, after which she changed into a total whore outfit complete with crotchless thong, yes such a thing exists in Slutland which is a shop like Poundland except they sell slutty lingerie all for a pound per item! Naturally I fucked her and shot my load all over her gorgeous arse! What else was I to do?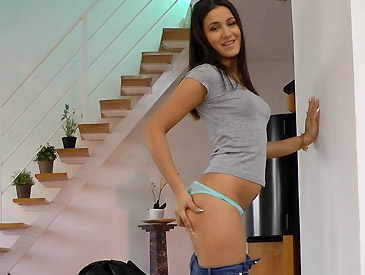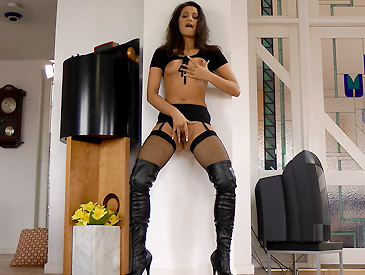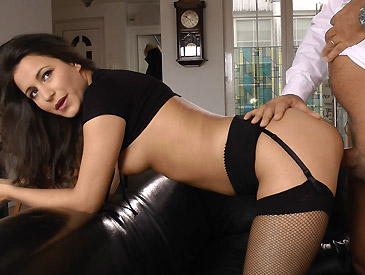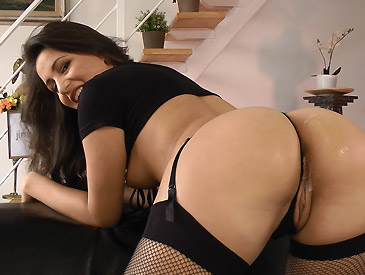 Sex crazed teen fuck fest!

So finally I was unleashed from my restraints and brought in to have some fun with the now rampant Stella. However the only one who did any "Leaping" was Stella herself who, realising there was a stiff cock to be had, simply launched a full scale attack on me tearing down my trousers and plunging my stiff cock down the back of her throat and then proceed to try and suck me dry! These sex crazed teens are certainly a handful and it seemed that it should have been Stella in the straitjacket, not me, as she thrashed about like a girl possessed by an evil spirit! Anyway, we continued fucking and you will laugh as Stella pummels me into an antique chair until I nearly disappear into springs inside!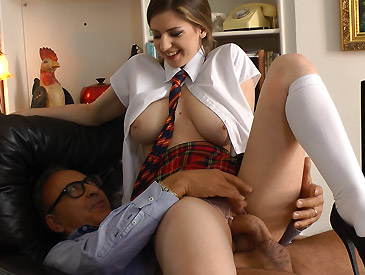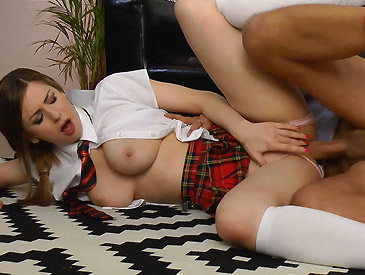 Teen Dream Stella returns!

This week I am pleased to announce the return of the gorgeous Teen Dream, Stella! Last time we had her in ripped tights, this time we went the full monty with the jimslip signature school girl kilt ensemble! BE WARNED! PUT SOME SWIMMING GOGGLES ON BEFORE VIEWING, to stop your eyeballs flying out of their sockets and getting lost under the sofa. This week Lara did the "Chat" as I was out the back restrained in a straight jacket to stop me leaping on to Stella and ripping her panties to shreds and stuffing my dick into her! Lara captured some lovely frilly panty ripped dildo action for your enjoyment!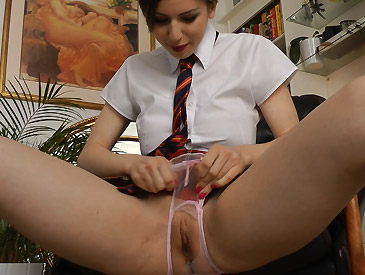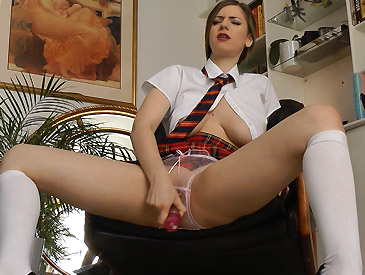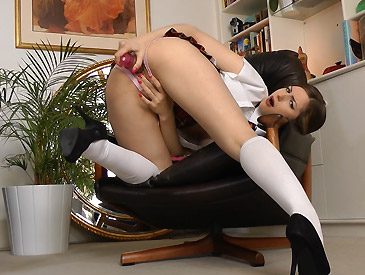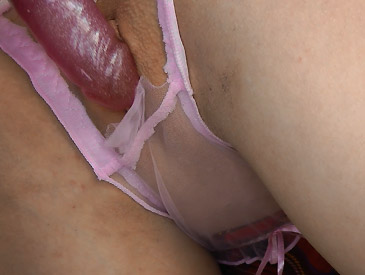 Man attacked by sex crazed schoolgirl!

Well if you thought Alessandra was rampant in last weeks episode, you "Ain't seen nothing yet!" She changed into a sexy school uniform complete with cardigan, tights, frilly panties and heels and literally leapt on me! She seemed possessed by an evil spirit and seeing her dressed like that and giggling at me, seemed to have a similar effect on me and we simply leapt on each-other in a fit of crazed lust. No gentle seduction here, I simply tore her tights to shreds, yanked her panties to one side and stuffed my dick into her and in return she soaked it with excitement! Even Mrs Slip on camcorder was taken aback at Alessandra's insatiable, nay, unquenchable thirst for rampant fucking. To say Alessandra pummelled the living daylights out of yours truly is an understatement!It was a good day for perhaps a renewed Anglo-Russian entente of 1907?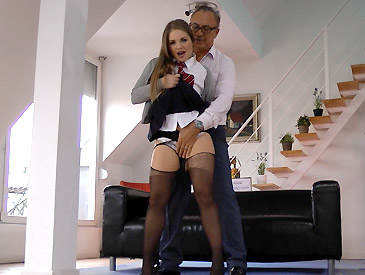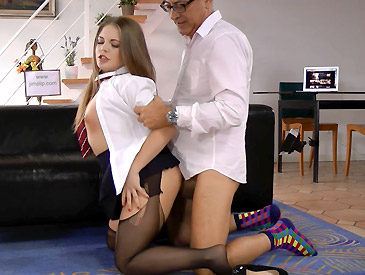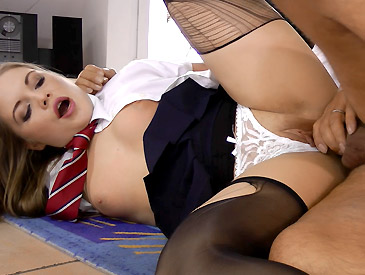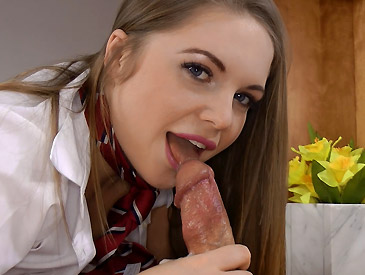 Sexy Muscovite!

This week we have the lovely 18 year old Alessandra from Moscow! Normally girls come from St. Petersburg, so its unusual to have a sex crazed Muscovite in town. I knew the casting was going to be good as soon as I saw Alessandra giggling, which in itself is enough to pass a jimslip casting, but I put her through her paces all the same. She had a nice flowery dress, tanned tights and heels. She reminded me of Little Red Riding Hood and I reminded myself of the Big Bad Wolf especially when she lifted her dress up and ripped her tights apart to reveal some very flimsy and sexy panties. She plunged her hands inside and with a fit of giggles fell to her knees, tore down my trousers and plunged my dick into her hot mouth. After that there was no stopping the POV debauchery and we both fucked like crazy, handing the camcorder to each other to film the shameful shenanigans!She then decided to change into a school uniform….