Giggler in Gingham!

This week we have a true first timer. A beautiful junior librarian who arrived in a little green Gingham dress with her hair in a plait. If she had said she was on her way to visit her local priest for a blessing you wouldn't have batted an eyelid, she looked so natural and innocent. I blushed when she told me she wanted to take flight from the confines of the library and spread her wings into the murky, steaming cesspit of porn. But who was I to discourage her? Anyway, she was quite awkward which made it all the more exciting and you will be goggle eyed as she gently places her hand into her skimpy yellow panties and plays with her pussy on our steps. I got her to climb the steps for a nice "Up skirt" view. On turning around I noticed she had a perfect bum as well. Could things get any better? Anyway, she giggled at my suggestion to suck my dick and did so with her little finger pointing straight up as if she was taking tea at the Ritz. Anyway, I just put her up against the wall, bent her over, lifted up her dress and fucked her and that was that!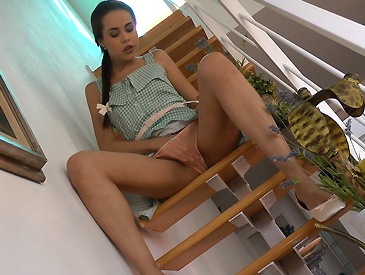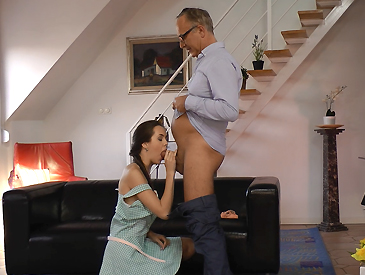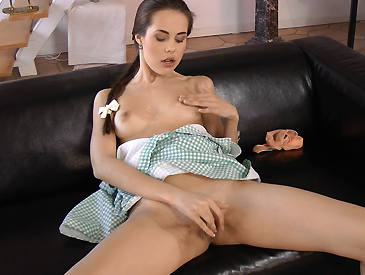 Latex Lust Filled Lunacy!

Well you could have blown me down with a feather when I discovered that Zara had a dark secret! Yes, my brethren, she was a fan of wearing SHINY LATEX and being fucked in the aforementioned "Vestments of Beelzebub"! I was shocked to my very core to see the fragrant Zara transform into a lust filled, latex wearing agent of Satan with just one thing in mind! MY COCK! Also I was astounded to see Zara was sporting a pair of GIANT JUICY JUGGS! Conveniently, the shameful pervert who had designed Zara's latex outfit had left a convenient gap in the material so that any would be suitor could simply plunge his dick into her and screw her rampantly without the need for the removal of any item of her clothing! Well done that man or woman, or should it be "Well done Satan, for your exquisite taste in clothing"!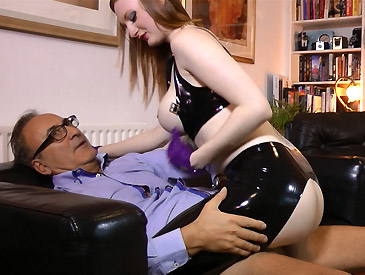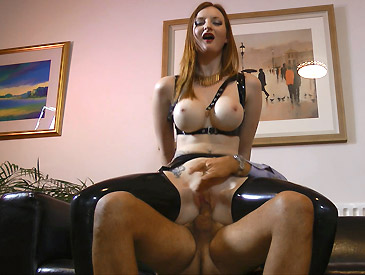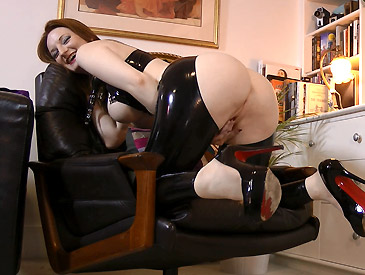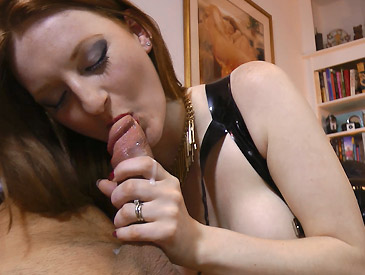 The Lynx effect?

This week we have the lovely Zara who I met whilst walking through a department store. She was working on a fragrance counter and seeing me decided to spray me from head to toe in Lynx "Fragrance". Anyway, the sexual power of the secret ingredients in Lynx seemed to work, because we got chatting and I got her over for a jimslip casting. As you can see she was dressed in a very retro 1950's style dress with tanned nylon stockings underneath finished off with cream laced panties! Yes I know I sound like Gok Wan, but this sexy ensemble drove me crazed with wanton lust and Zara also wasted no time in ripping down my trousers and sucking my dick! I got a rather charming shot of Zara holding the camcorder and filming me squeezing my dick into her tight juicy pussy and hearing her groan into the microphone is extremely horny!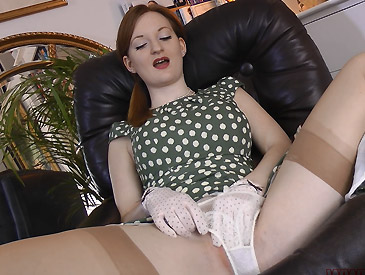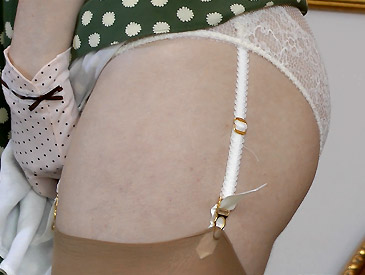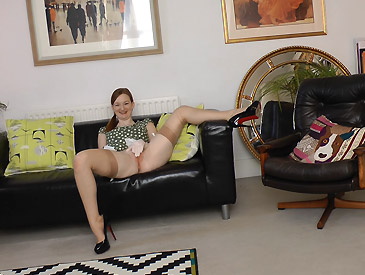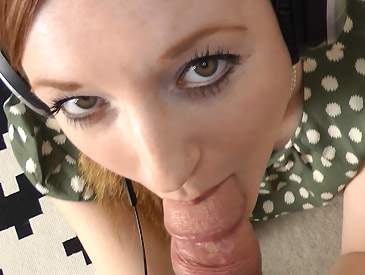 Sexy nurse Felicia!

You all saw Felicia in action with her skin tight wet-look leggings in last weeks episode. This week things go from great to even greater with Felicia dressing up as a sexy "Carry On" style nurse. In normal porn she'd have a cruddy fake "sexy nurse" outfit from a sex shop! But not on jimslip.com! Instead she is wearing a shortened, starched, cotton, REAL NHS STYLE nurses uniform complete with watch! I know I sound like Gok Wan, but to continue, underneath she was sporting a pair of sexy black stockings with laced ribbon tops, flimsy panties and all finished off with black patent high heels! Naturally, I just bent her over pulled her panties to one side and plunged my dick into her at which point she creamed herself all over my dick, which was very horny indeed!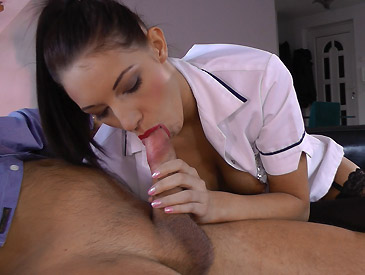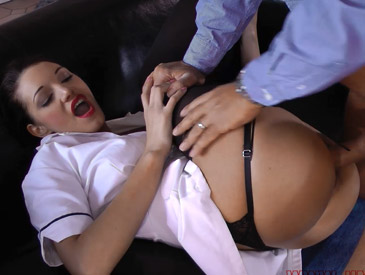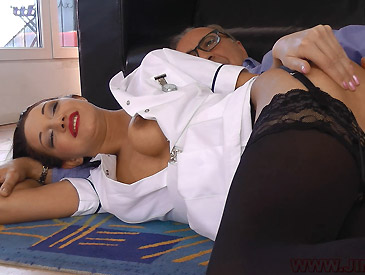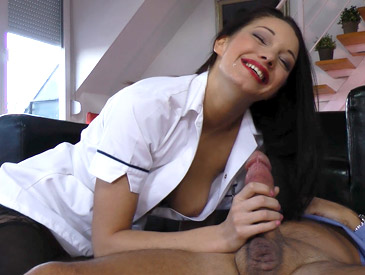 Crazed slut sex-machine!

Those that saw the demure Diore in action last week will turn away in horror when they see her transformation into a wanton sultan this episode. She stormed out of the changing area in micro mini-skirt, pink ripped fishnet tights that she had torn a huge hole in and finally thigh high kinky boots! Her hair ruffled in a whorish manner. Naturally, immediately wondered what her gran would think! Anyway Diore went crazy and made me fuck her senseless! She was insatiable, as is often the way when horny girls get dressed in this manner! Why not try investing in a similar ensemble for the wife to don at home on a Saturday evening? You'll either get a great night of hot sex or a punch in the face, but it might be worth a try all the same!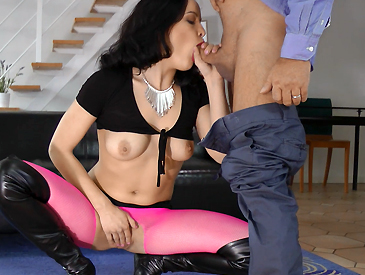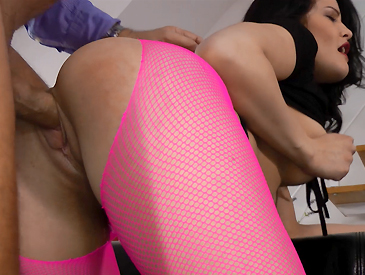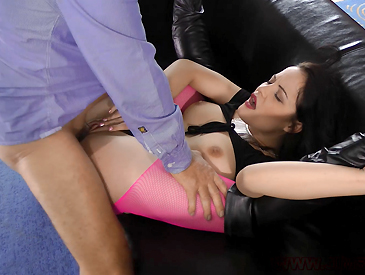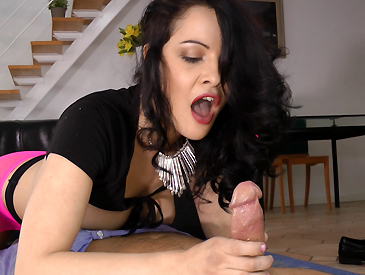 19 year old sex kitten!

This week we have a complete babe for you. Felicia arrived for a casting in those skin wet-look effect trousers you sometimes see girls walking around in. You know, the ones you feel like ripping down, pulling the knickers to one side and then plunging your dick in. Of course that does depend on who is wearing the trousers. In this case Felicia was 6ft in heels and had an arse to die for, especially clad in shiny leggings. Anyway, I acted with total decorum for a full 5 or 6 minutes before asking Felicia whether she'd like to suck my dick. At this point her eyes lit up and that was that, the sloop Jim Slip, left dock and headed at full speed for the island of paradise! Naturally Felicia passed the casting with flying colours and next week she gets dressed up in a real, i.e. not sex shop crap, white, starched nurse's outfit with stockings and heels. No need to ask what happened!