Gustav pimps out his wife!

This week we have the delightful Lana, wife of arch pimp, "Gustav", "Pimp of Pimps" This man is so depraved and devoid of all morality that he will not only sink to the level of the gutter, but burrow underneath it, presumably so he may reside closer to The Devil! This is a man that trades in flesh and when his cupboard is bare, offers his loving wife to all and sundry for a paltry sum. Have pity on this hapless scribe whilst he hastily puts to paper this horrific tale of one man's descent into the very Fires of Hell! Do you think for one second that I would have taken Lana, wife of Gustav in consideration of a few coins? Well, you're damned right I would! How a man so sleazy as Gustav could have such a classy, well dressed wife as Lana stuns me to my very core. She arrived, looking like she had been parading around the streets of Knightsbridge and underneath that garb she sported the most handsome pair of legs both clad in stockings. On her arrival I had no choice but to push her up against the wall, yank up her dress and take her then and there! I even dispensed with my usual handing out of the "Ferrero Rocher" Ambassador's Chocolate Selection, I was so consumed with lust!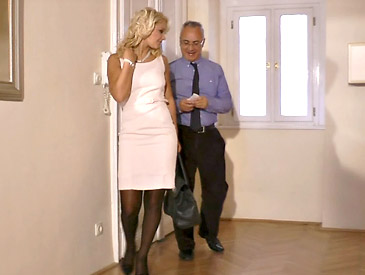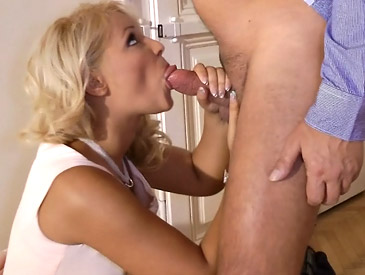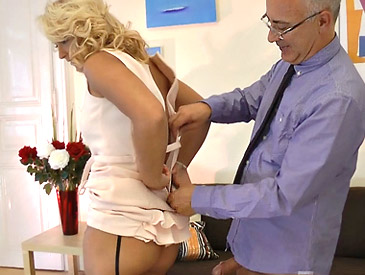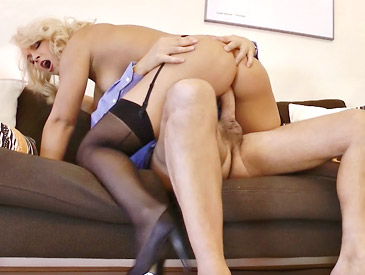 Dressed up as a trashy teen prostitute

This week Gustav has excelled himself. As you can see I tracked him down with my secret camera in one of the most dangerous places in Budapest. A place peopled by murderous, cheating, swindling scum and they're the local police! Anyway, Gustav introduced me to the sensational Zafira May. Once dressed up as a trashy, teen prostitute she has to take the crown for looking like the most gorgeous hooker ever to grace the pages of jimslip.com. If the Pope himself saw her walking the streets of King's Cross touting for work, he'd be desperately counting the money in his wallet. Mind you don't start me on priests and popes! Anyway, I dressed her in furry coat, ripped, red fishnet tights and topped off with thigh length PVC boots. When Zafira made her entrance, Lara nearly choked on her pork pie and Cecil masterbated all over his crisps!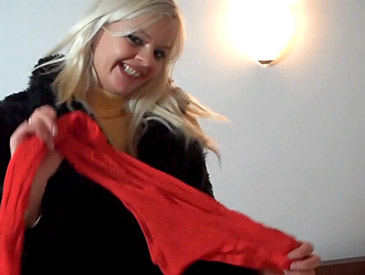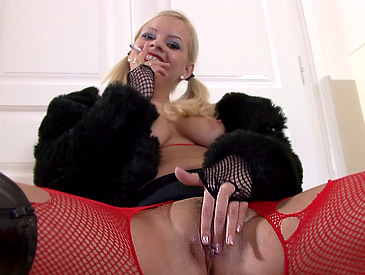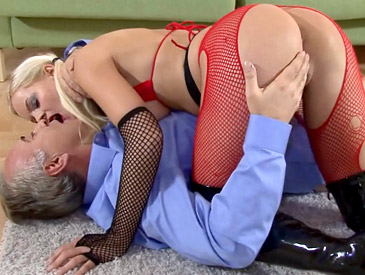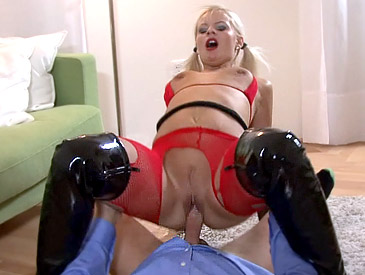 UK milf spreading

Stumbled on this babe, whilst cruising the streets, in my endless search for new young flesh. At first, Summer (As we will refer to her) was very suspicious of my, "Competition", but the thought of all that wonga, soon, turned her to the Dark Side. She chose some sexy clobber from my treasure chest and we had a very good time indeed, if not a little, quiet. This is quite normal for normal girls. So think nothing of it, you see, out there in the world of porn, most of the girls scream and shout with ecstasy………..before you've even touched them! So a lot of noise never convinces me of anything at all.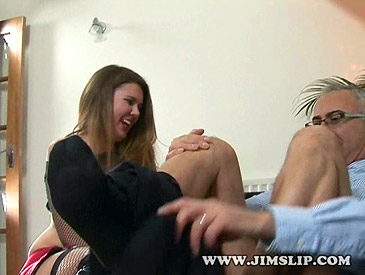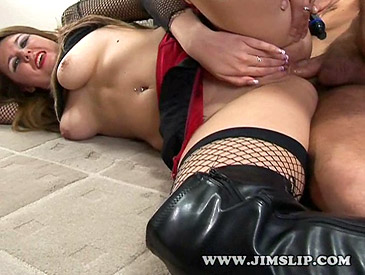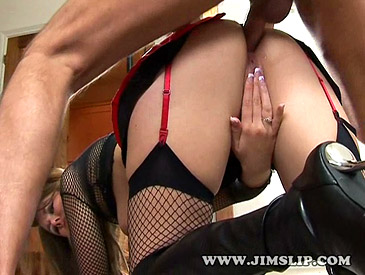 Luvly giant juicy juggs

Luvly, luvly, luvly, giant juicy juggs covered in baby oil! Well guys and gals, now I've got your attention, you're going to drop to your knees and give thanks, when you lay your eyes on the wonderful Sascha's mega-juggs. Yes, yet another babe who's written in harbouring a secret lust to shag Jimmy Saveloy. They're coming in thick and fast now. It's a bit alarming though, 'cos one girl has written in asking me to be Rolf Harris! But I'm drawing the line at this idea. Anyway back to Sascha, I got an absolutely great shot of her smearing oil on her luscious juggs and then I got to have a feel as well. I couldn't wait to ask her to climb on to my dick and when she did, she struggled to get it in, which was very horny. Very demure and extremely sexy this one!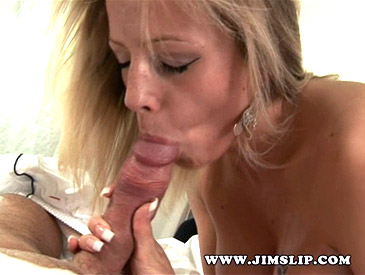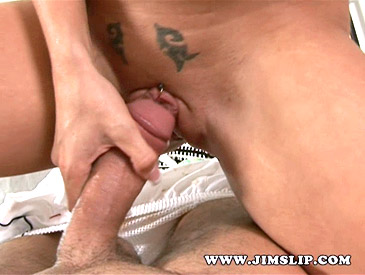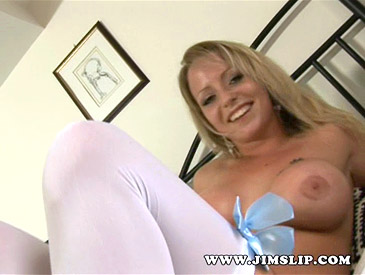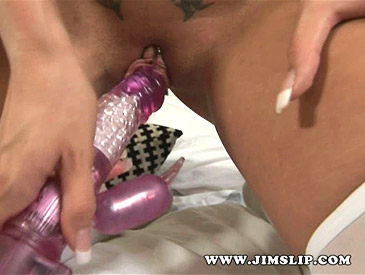 Luvly giant juicy juggs part 2

Hold on to your eyeballs folks, 'cause they're going to pop out of their sockets when you see the wonderful Sasha, "Whored up". Fishnet gloves, tight little skirt, stockings, heels and big juicy juggs bursting out of her bra. Sometimes I have to kneel down and give thanks. She smeared oil all over her tits and did the, "Tit-wank" routine on my dick. I must admit I rather liked this and when she got it nice and hard plunged herself down it and fucked it with gusto, with a big smile on her face. As you all probably know by now a girl with a big smile on her face dressed up like Sasha, riding my cock, is a big turn on, well a TOTAL TURN ON for me. Forget all the false pouting, "I'm so horny" shite you see on other sites, jimslip.com brings you girls relishing and enjoying cock for real! Remember, I don't think this girl had ever done anything before, which makes it all the more hornier!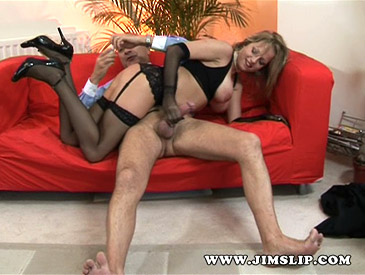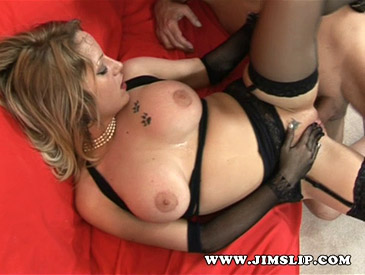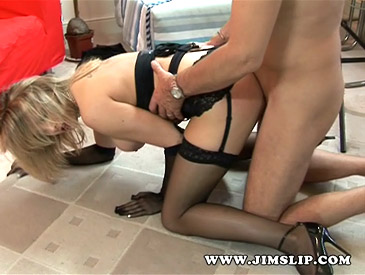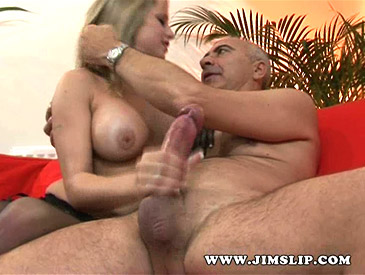 From phwoar to WHORE!

After Christen crazed sex antics of last week, I thought things could only get better when I sent her to get dressed up as the commonest of common prostitutes. Christen certainly didn't disappoint and when she reemerged in red fishnet stockings, micro mini-skirt and over knee boots it took me back to my "roots". That was the original concept behind jimslip.com when the plan was first hatched over 12 years ago, when all the girls dressed like whores and chewed gum! Now, folks make sure you have a jumbo box of Kleenex Mansize (Or the new Hog-Snout size would be better) to hand and make sure you are shackled to something solid, wear a hi vis jacket, goggles and scrawl on the back of your jacket, "I WAS WATCHING JIMSLIP.COM" because when Christen bends over in that tight little skirt and invites me to fuck her from behind, your eyes will glaze over and you will be struck by a state of madness and start trying to tear your dick off in wanton lust! During this period of lunacy, you could quite easily find yourself crashing through a window and plunging, naked to your death, still hanging on to your dick to the busy streets below. With the jimslip sign on your back it will be nice to get some free publicity! So beware and remember, "Don't make Health & Safety an issue!"