Devil in a red dress!

I hope you had a lovely Xmas. However I am afraid that once again you must stock up on Kleenex, because we have a stocking crazed frenzy coming up this week and it gets worse next week! As you have seen before Tina Kay has one of the most wonderful, smooth skinned , round bottoms possibly in the whole World and gorgeous, long legs as well. So imagine this clad in seamed stockings and suspenders, frilly knickers, high heels and all topped off in a pretty red dress. An ensemble that would be perfectly acceptable for taking afternoon tea at the Ritz! Now imagine, if you will, this thing of beauty being ravaged by a sex crazed, middle aged man in a suit. Her bent over, her pretty dress roughly lifted up, her panties yanked to one side and the mad man plunging his dick deep into her tight sodden pussy. Are you imagining? Well believe it or not, that "Madman" is me and you are in for a real treat!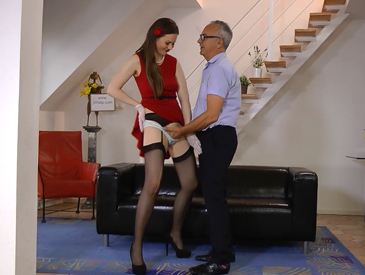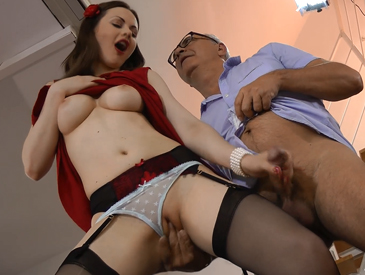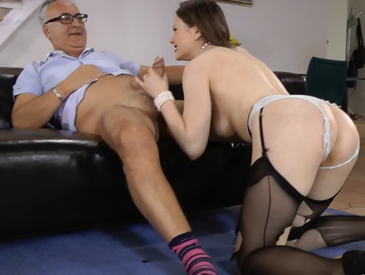 Ripped Christmas Stockings!

To celebrate the festival of Christmas I bring you the lovely licentious, Latvian, Beata, possibly one of the cutest babes to grace the hallowed halls of jimslip.com. She arrived for a jimslip "Casting" in a rather nice dress in Santa style red, pearls, white gloves and underneath she sported tights and frilly knickers. The first thing that came to mind was, "Those tights and knickers need to be ripped to shreds?..for Christmas!". She described how she'd been airlifted to safety from the clutches of a pervert photographer who had lured her to the snowy wastes of Latvian hinterland. His icy claws reaching out from behind his antique camera trying to grope this pearl bedecked, fragrant beauty! Thank God for the emergency services! Anyway, as a special Xmas treat, you will also over this Festive period get to see Beata dressed in a sexy school uniform being ravaged by Lara Latex, so make sure you clamp your eyeballs in their sockets, because they will be popping out when she you see what Beata looks like, when transformed into a lustful schoolgirl! So Happy Christmas from your hosts Jim Slip and Lara Latex, who will be having a well earned break from our relentless sex crazed debauchery in a monastery somewhere in the South Pacific!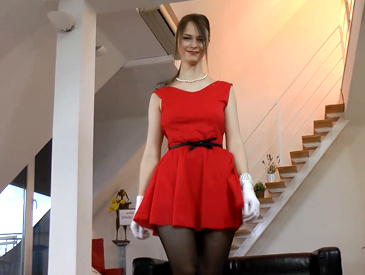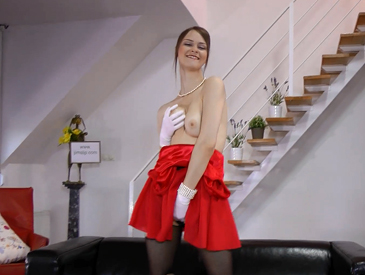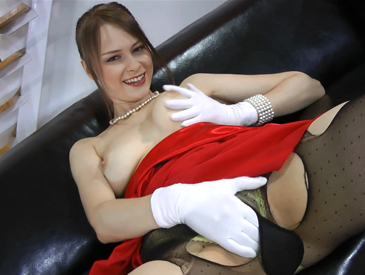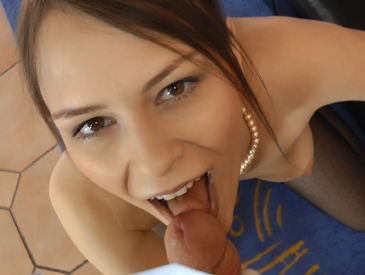 My Wife and I

Some may say I am just plain greedy, others will say I am insatiable. Well both are true and this is why, not content with just fucking Coco alone, I decided to turn this spectacle of lustful shame into a "My Wife and I" special. This was just a cunning ploy to squeeze even more fun out of the scene by enlisting the services of my wife Lara Latex, placing the camcorder on a tripod and then fucking the pair of them! I would strongly suggest this idea to any of those fed up with having to endure awful Saturday night TV of "Celebrity Singing on Ice" and the like. Why not simply engage the services of a cute girl like Coco, bung her in some kinky clobber and then fuck her brains out with the help of your wife? I must add a caveat here as follows: I take no responsibility for injuries incurred as a result of head injuries resulting from your wife smashing you over the head with a saucepan at this suggestion!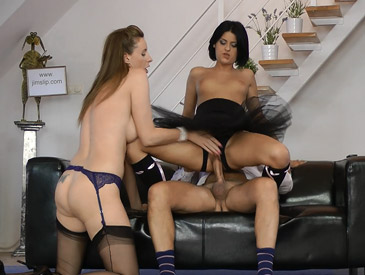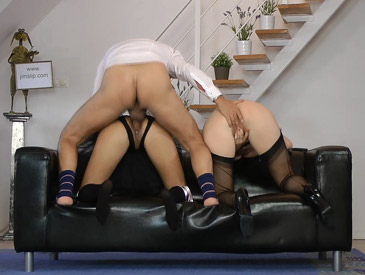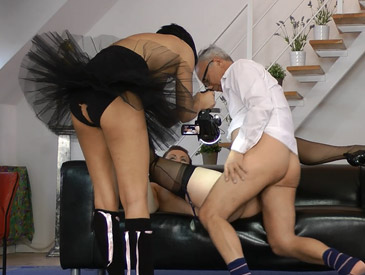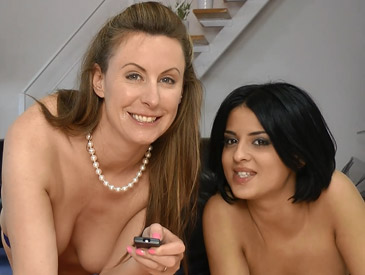 Bellissima Ballerina!

Sorry to go all Italian this week, but I couldn't think of anything else to rhyme with "Ballerina". As members will have seen, Lara Latex had the pleasure of the beautiful Coco a few weeks ago and having had to film this ball aching spectacle I decided to get Coco back and have her for myself. I employed the POV style of shooting which is all the rage at the moment and Coco did not disappoint. As you can see we dressed her in a ragged, black TuTu with rips in all the right places and with socks. As you will see I demonstrated the dexterity of a master acrobat when it came to holding the camcorder and fucking the delicious Coco and even crazed with lust, I do believe I did a rather good job at keeping the camera steady!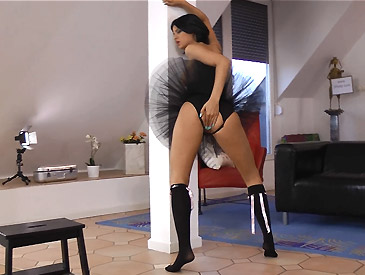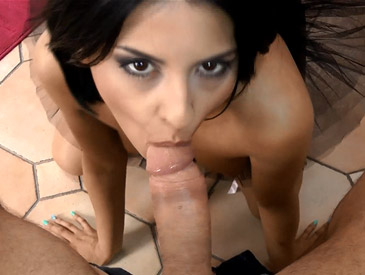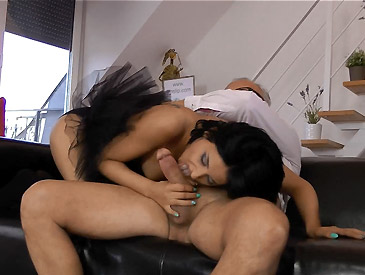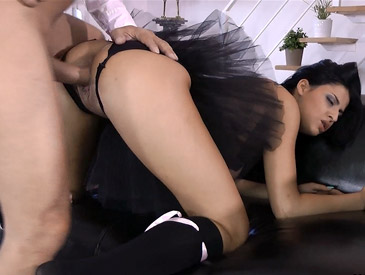 Tour Guide sex kitten!

This week we have a tourist guide for your delectation. She took a wrong turning and ended up doing a casting for jimslip.com. She had interrupted a tour of Budapest with a gaggle of rain-coated Japanese tourists and leapt into Jimslip HQ thinking the casting process was a simple "in and out" job! Of course as you all know, it is far more intricate and detailed than that and Christine found herself jamming my dick down her throat not caring that her Japanese brood were all huddled together fretting underneath a tree outside. Anyway, just to rub salt in the woulds Christine passed the casting and decided to stick around and get fucked senseless in seamed stockings and heels!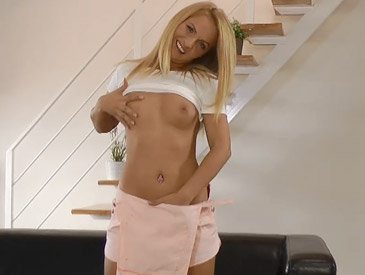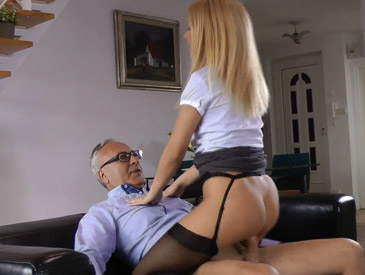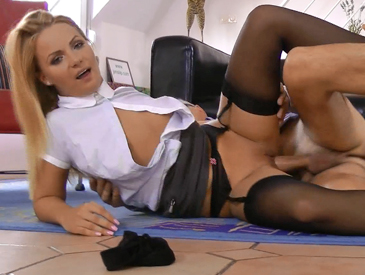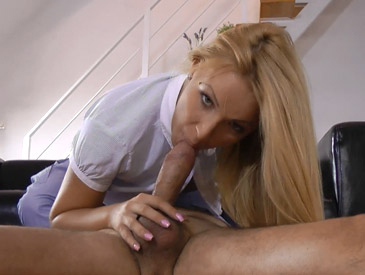 Street Slut Threesome Frenzy

A few weeks ago on my wife's website, larasplayground.com members will have seen Lara and Nesty having some hot lesbo XXX action. What gave the scenes that extra 'Zing' was that they were dressed in the mode of the most common of common prostitutes! The whole nine yards as they say, heels, ripped fishnet tights, gum chewing whores on the rampage for hot dirty sex. Well, my brethren, it was time for me to go back to my, 'Roots' and have a crazed threesome with Lara & Nesty, under the guise of a My Wife and I' scenario. As you will see, both the girls took it in turns to use my cock in every imaginable position to satisfy their sex crazed lusts! If you like girls dressed and fucked like this, then I urge you to delve deep into the bowels of jimslip.com, and investigate the scenes from years gone by! I am sure you will enjoy them!