Anal maniac!

As jimslip.com members will have seen, Tassia is truly a sex crazed teen who simply wouldn?t take, No! Enough, already!? for an answer. Well, to be honest at no point in the proceedings did I actually say, ?No!? to her, but I was tempted for a millisecond.Not content with being fucked senseless in the more traditional sense, she now demanded a full on sex crazed anal session! Just imagine, she was on her hands and knees, tights ripped to shreds and panties in pieces, bum hole beckoning whilst looking around at me and telling me to stuff my cock into her juicy, tight arse. Well, to be honest, I was shocked to the core at this disgusting suggestion and considered for a full half second whether I should acquiesce to her demand for rampant anal action. But not wishing to be a party pooper, I jammed my dick in her bum with no further ado!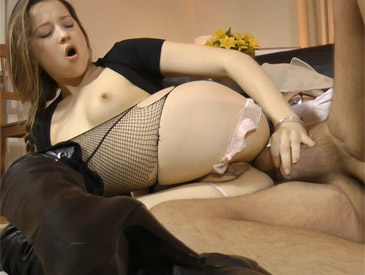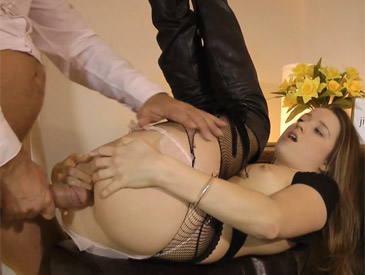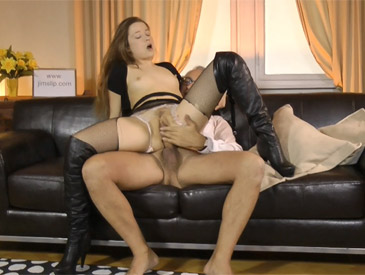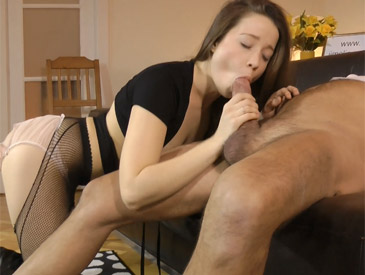 Slut in a Tu Tu

Adriane passed her casting with flying colours and insisted on rummaging through the clothing box for another outfit to get fucked in for Pt 2. Shortly after she made her grande entrance through the, ?Doors of Shame? as a Ballerina Slut complete with black ripped tu tu, fishnets, and thigh high boots. With her long black hair and huge smile I couldn?t wait to stuff my dick inside her, but she decided instead to drop to her knees and swallow my dick down her throat, after which she stood up, bent over and smiled at me beckoning me to plunge my dick inside her sodden pussy, which I duly did without question!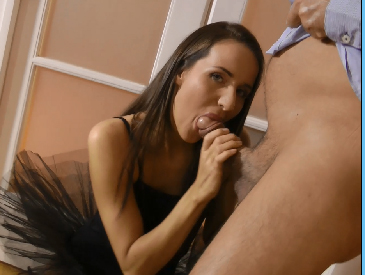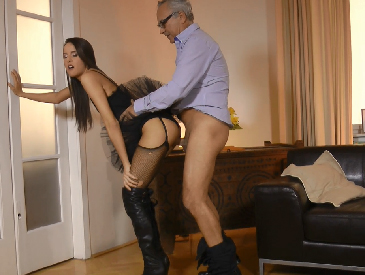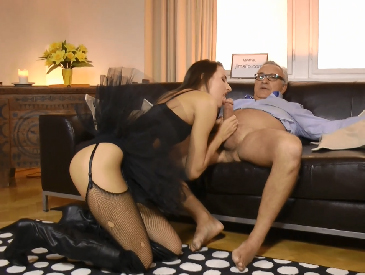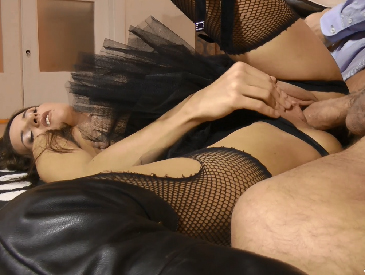 "She gave me eXtra!"

Adriana works as a teller in a bank and when I laid eyes on her dressed in her skimpy, skin tight dress, I couldn't help but think to myself, "I'll give you eXtra!" as per the popular TV ad. Anyway, Adriana had in fact arrived for a "casting" and the first thing I noticed when she pulled up her dress were her skimpy, white,frilly knickers and once again I thought, "I'll give you eXtra" and so I did. Actually, it was Adriana who gave me eXtra by unzipping my trousers and stuffing my dick down her throat, then ripping her knickers off and wiggling her bum at me in a most provocative manner and so naturally she passed the casting....well, after I fucked her, that is!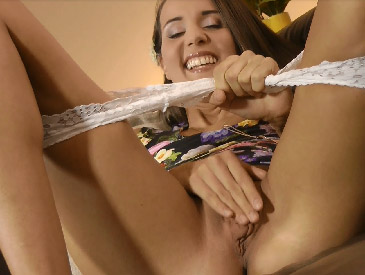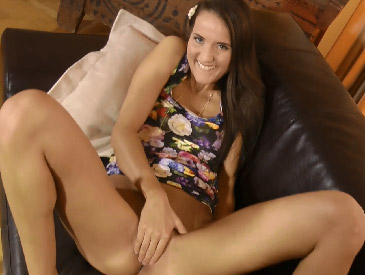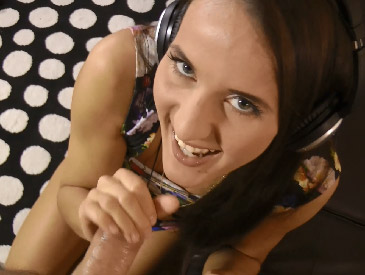 From law to whore!

As you saw last week, Tina transformed from buttoned up and sensible legal eagle, into tights ripping slut from Hell! This week she pushes the envelope a lot further by re-appearing as a common street slut, complete with black micro mini, see through black top and over knee boots. Of course her tights and knickers were already shredded to bits and looking like she did, she could have done a roaring trade in Amsterdam's Central Station! As it was she tore me to shreds with her sexy crazed shenanigans and might I say in that outfit it wasn't hard to bang her senseless especially with that peachy round bum and those long, long legs! Also Lara got to bury her tongue in between Tina's hot crotch to gorge on her sodden pussy!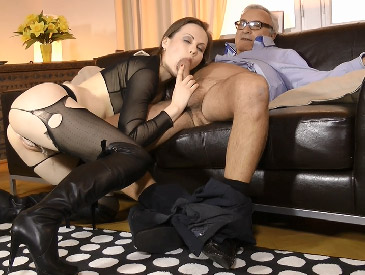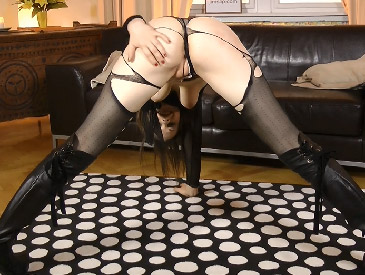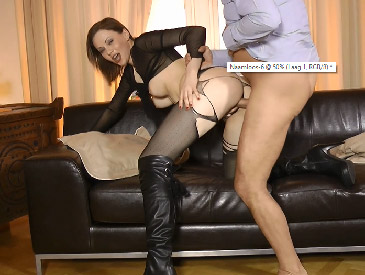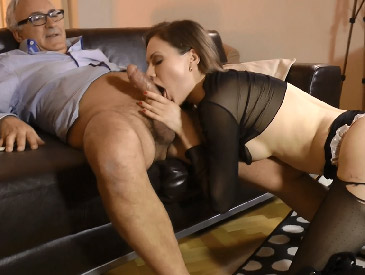 Pleated skirt, shredded panties and tights!

This week we have the lovely, long legged Tina who lives in Birmingham UK, originates from Lithuania and is doing a casting for jimslip in Budapest! Tina arrived for her casting in a short pleated skirt, need I say more? As members will know, a pleated skirt is enough to get me salivating with lust and after telling me about her job dealing with compensation claimants for the legal firm, "Sheisters 4 U" she lifts her skirt to reveal tights and panties underneath. Well, I was already going crazy, long before she started to shred her tights and panties right in front of me, revealing the world's roundest and tightest bum! Anyway, after standing in front of me, hands on hips and having exposed her sodden and swollen pussy, she simply grabbed my cock and squeezed it into her tight juicy hole whilst I continued filming with my trusty camcorder! Needless to say, she passed her casting with flying colours!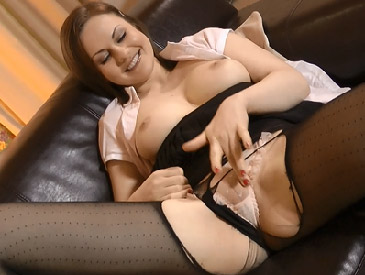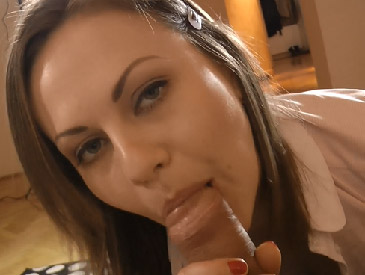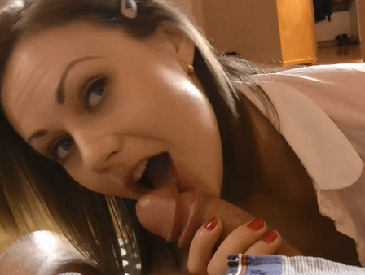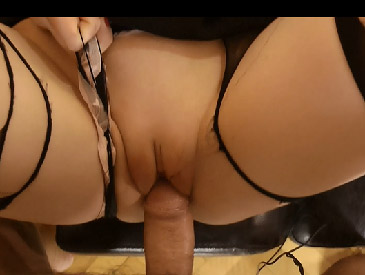 Ripped panties and tights!

After successfully passing her casting, sex maniac, Tassia dresses as a common prostitute and reappears looking amazing. She is wearing thigh highs, black micro mini skirt and top, together with fishnet tights with frilly knickers on as well, a bit like Superman does, well a transvestite version I suppose. Anyway, this ensemble drives me nuts and I had no choice but to bend her over, rip firstly her fishnets to bits and then literally shred her pink frill knickers. Try to imagine the vista that stood bent over before me, a gorgeous bottom, framed by ripped fishnets and knickers ripped to bits! Well, naturally I had no choice but to jam my dick first into her pussy, fuck her hard and then when satisfied with this, stuff it into Tassia's tight bum hole and continue fucking that. Even Lara remarked, "Its times like this that I wish I had a dick!"