Hostess with the Mostest!

This week we have the lovely air hostess, Sunny Diamond. I stumbled on her during one of my streets trawls for fresh meat. Sunny was enjoying the lovely weather during a stop-over when I slithered up to her and made her an offer she couldn't refuse.....well I suppose she could have refused, if she'd wanted to, but anyway, she explained that she worked for a very budget airline and didn't make much money, so the promise of wonga for some modelling was very appealing. Naturally, we dressed her up as a sexy air hostess and as you can see, she brushed up spectacularly, especially with the stockings and heels and don't start me on the big juggs!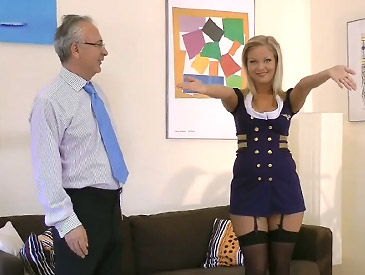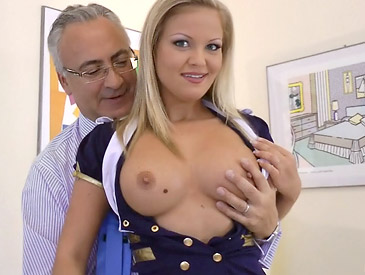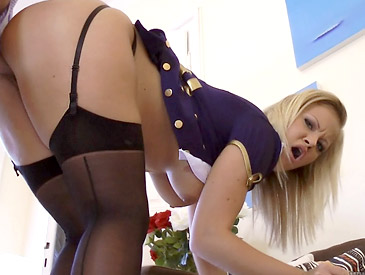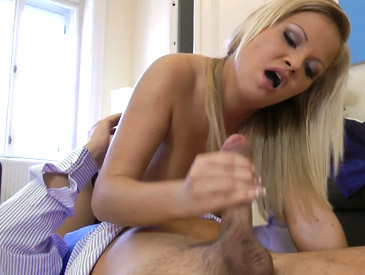 Attempt an arse-fuck

Well folks it's back to the Festival Of Babes I'm afraid. Sometimes I think there is no pleasing you. I had a letter the other day saying "Dear Jim, I just can't take any more of these beautiful babes, they're just too damn hot. Can you put some ugly birds on, to calm me down?" ...... NO I CAN'T!, Mr Mugabe of Cleethorpes. Here is the lovely Sara to drive you mad. I had to split her in two parts (not literally) because she's too horny to take in one episode, what with her creaming herself on the bed. Next week, we attempt an arse-fuck which will make your hair curl!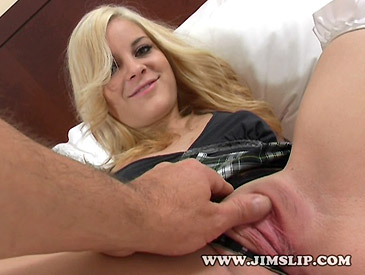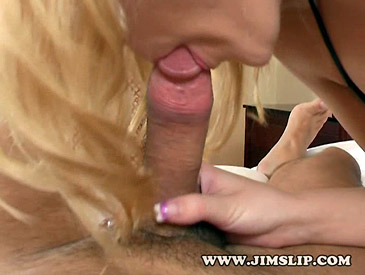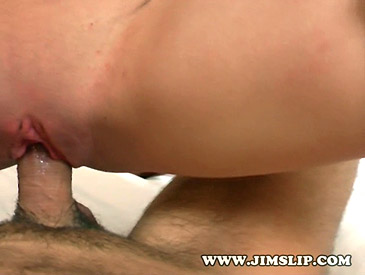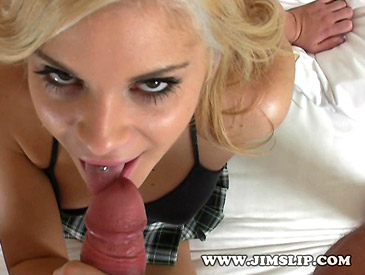 Mad dogs and Englishmen!

This week I transport you back to last summer, in Budapest it was a scorching 40° C and God fearing folk took refuge from the sun indoors praying to the Gods not to turn them into charcoal for their missdeeds! But we've all heard the expression, "Mad dogs and Englishmen go out in the mid-day sun!". Well, that's me, a mad dog, always snuffling around, in rain or sun, for a tasty morsel to chew on! This time I stumbled on the lovely art student Bettina. She was sketching a monument and I'm afraid the promise of some wonga, an ice cold drink and an air conditioned room was an offer she simply couldn't refuse. When she got changed, I couldn't believe the body that she'd been hiding under her clothes. She was a symbol of perfection and it took all of my immense self control not to simply rip down her knickers and screw here then and there! Nay, my friends, I constrained myself for at least 2 whole minutes! Yes folks, I do indeed possess the poise, grandeur and infinite patience of the great man Gandhi!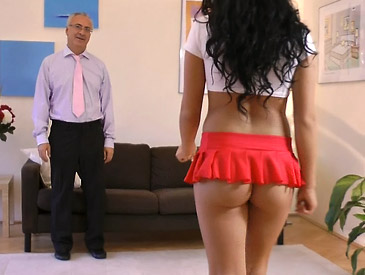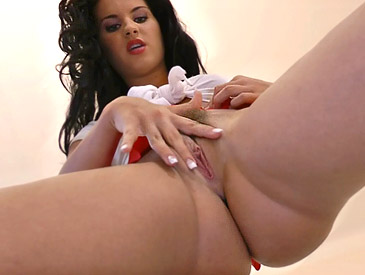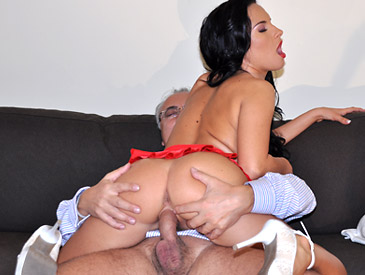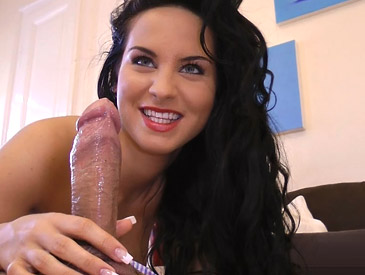 The shortest shorts on Earth?

This week we have one of the cutest and sexiest babes ever to grace the pages of jimslip.com! Lara and I were out and about trawling the parks, but this time we found ourselves being shadowed by 2 disgusting, morbidly obese photographers with huge telescopic lenses. They were literally hiding behind trees taking snaps of God knows what! Anyway, they started on us and Lara was having none of it, she gave chase and the perverts fled in terror! Anyway, like the great explorer David Bellamy, I continued scouring the undergrowth when I stumbled on the cutest babe, wearing the tiniest little pair of white shorts imaginable. I had no idea they made shorts.......so short! Her name was Sasha and she agreed to return to our place for some fun. Here was my quandry, should I leave her in her tiny white shorts or change her into our cow-girl outfit? These are decisions that would have taxed the mind of that great thinker, Confucious! Anyway, I decided to go for the cowgirl outfit as I just find the boots very sexy. Anyway, keep an eye on this scene because Sasha is a VERY, VERY, naughty girl if you get my drift!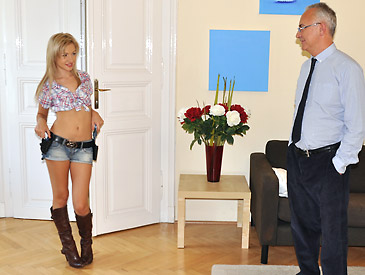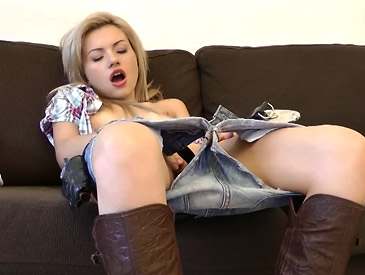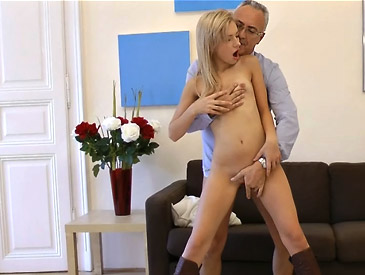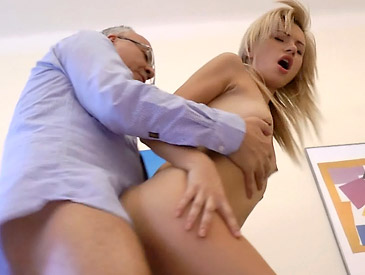 Penny for a Pooch, Sir

Is there no depth that charity workers will not plumb, to turn a coin? I saw Amica collecting money for a so called "hotel for dogs". My suspicions were aroused by her claims that each kennel would be equipped with, "Satellite TV" and all dogs would be given a, "Full English breakfast every day!" Also she said that a dog, "Would phone you every week!" Do I look stupid? I know a dog's paw is far too big to operate a keypad on any phone let alone an IPhone! Anyway, after some close questioning, it transpired that Amica was actually working for a stinking scumbag, who was in fact pocketing all the money that poverty stricken pensioners thought, was going abandoned dogs! Amica broke down in tears when I pointed out the error of her ways and managed to convince her that she should take the path of righteousness and perhaps do a hard days work for a hard days pay. On the basis of this advice, she then came back to my place, donned some kinky clobber and got shagged senseless by me!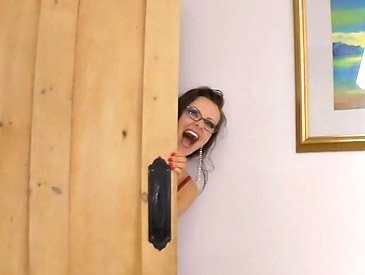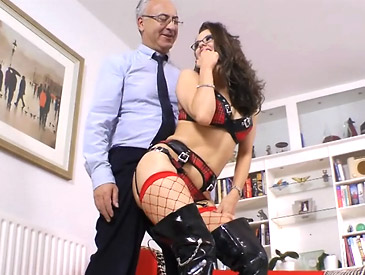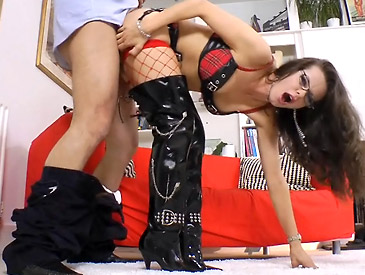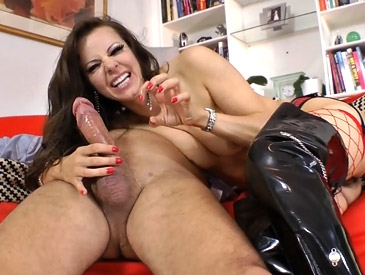 Babelicious, bootiful, ballerina!

As you know jimslip.com is absolutely stuffed full of the most stunning natural babes on Earth. No sausage lips and stuck-on tits here! This week we have a babe that pushes the "Babe" envelope from 10 to 11! Yes Angel was so beautiful, I had no choice but to get her to do a little fashion show in different outfits, so I could decide what would be most fun to shag her in. Decisions! decisions! To be honest she was gorgeuos in all the clothes and it was extremely difficult deciding what to go, for so I went for a long walk to help me decide. Anyway, when I got back, Lara and Angel had made the decision and to be honest I think they made the right choice!