GOLDEN CLASSIC REMASTER FROM 2005

Welcome to "Agnes", yes I know she's got an unusual name for a porn star, but hey the Yank names are just as daft, "Musky McRain", "Misty Showers", "Murky Waters". Anyway Agnes is a babe with a super model figure, all 6' 5" of her clad in thigh high boots. Just my type, with legs that never seem to end. Anyway I'm giving her a full 10 rating for leg length and sheer "Fuckability".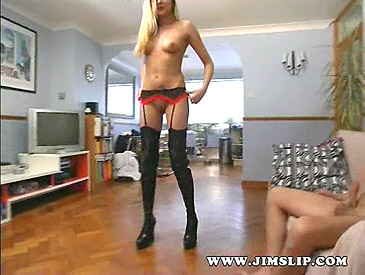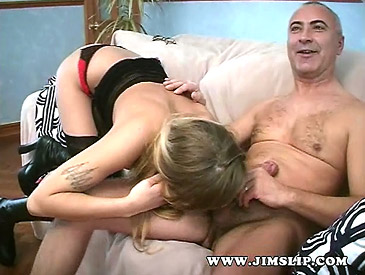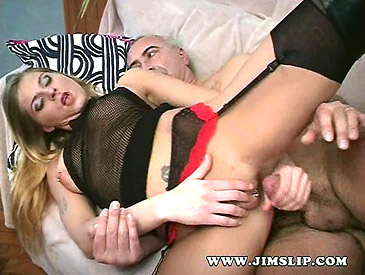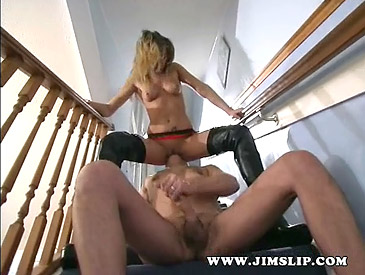 Cute Cowgirl In Plaits!

Members of Jimslip.com will have seen just how sex crazed the lovely Luna was in last weeks casting. Well, it's not over yet as Lara Latex and our stylist re-modelled Luna as a sexy cowgirl complete with tiny denim shorts and her hair in plaits. How they would have viewed Luna if she'd entered a bar in Tombstone during the days of the Wild West, God only knows! In fact probably the same way I did today and that was to simply rip down those tiny denim shorts and stuff my dick into her. Anyway, being a sex maniac, Luna proceeded to fuck me in every position she could think of; pounding up and down endlessly without her breaking a sweat until she had a low gutteral orgasm lasting for at least 15 seconds. After which she proceed to milk my cock like a "Luna-tic" alarming Lara Latex in the process - she thought it was going to ripped off and ruin any future fun she might have - up and down she rubbed it until she extracted the spunk. Then with a wide ecstatic grin she said "Au revoir!" to cam.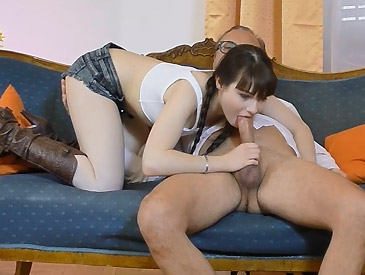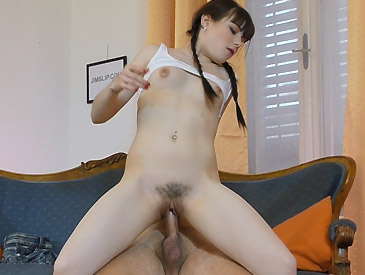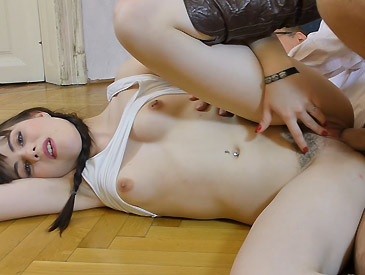 Lovely Luna Teen Dream!

This week all the way from the South of France we have the lovely Luna. She trekked over to Chez Jim to do a casting and may I say from the outset I could see Luna was a sex maniac. She arrived in a pair of "Pantalon de plastique" which simply scream "Fuck me!" well, at least to me they do. She looked the picture of Parisienne elegance with her black polar neck sweater and the ensemble completed with a pair of thigh high boots. An outfit that is just so sexy even the Pope would ravage her if I left them alone together. Anyway, I did a kind of "Manuel" from Faulty Towers attempt at French, which lasted all of 3 minutes, after which I just plunged my hand into those skin tight trousers and felt her soaking pussy. After that, all Hell broke loose and I just had to peel down her trousers, bend her over and fuck her. Hopefully you will forgive the camera wobble! Next week she returns with her hair in plaits and a cowgirl outfit.....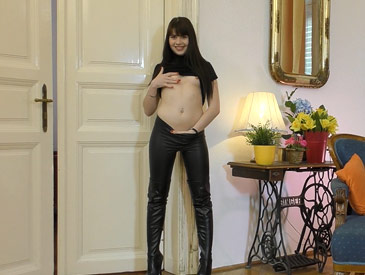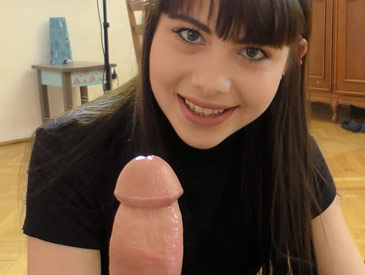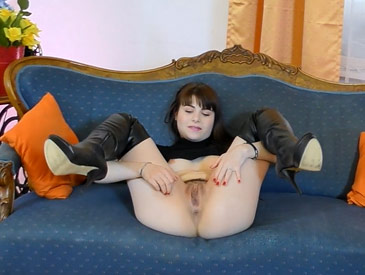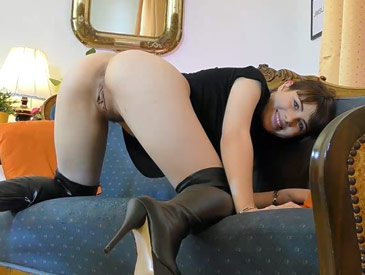 Kittina Pleases Her Boss!

Last week Kittina described how her pervert boss made her dress in a school uniform complete with giant lollipop and man the massage parlour reception desk. The clientele not realising that this sick pervert actually had an office located on the floor between Kittina's legs! Invisible to the clientele, he was able to man the fax, send emails, take hushed calls and between all this plunge his head between Kittinas legs and gorge on her sodden pussy. The funny thing being Kittina orgasming as she takes in deliveries and makes bookings for clients! Anyway, luckily Kittina brought her sexy school uniform along this week in order to help me visualize her working conditions at the massage parlour.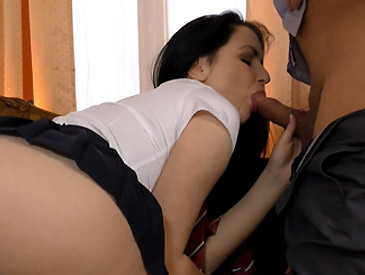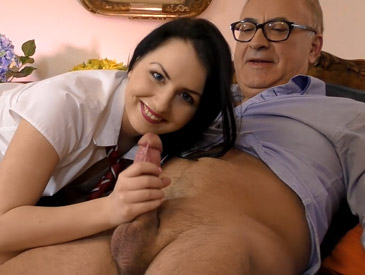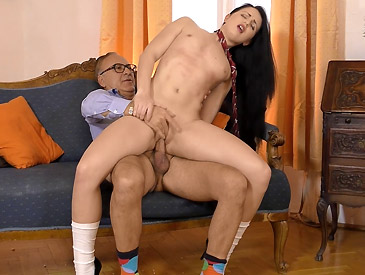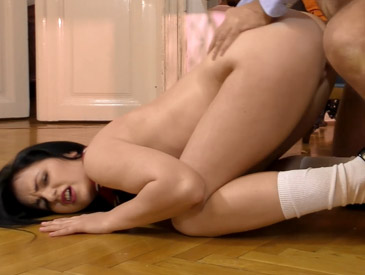 Very Tight Pants!

Members will have seen Kittina back in July and heard her story of working in a massage parlour. Anyway, she contacted me and asked to return to fill me in on the latest news regarding her job. Now she has been promoted in her job and has her own "Theme room". Your eyes will pop out as you watch Kittina striding around in the tightest wet look trousers you will have ever seen. Trousers so sight her voluptuous arse can be seen bursting through the seam running the length of her bum crack! Anyway, it was very sexy having to grapple with such a sexy babe and at the same time hold a camcorder and wear headphones. I must admit that it is most vexing trying to screw a girl with such tight trousers, ripped down just below her bum, whilst holding an an unwieldy camcorder; together with the headphone cable falling into view all at the same time. All the same, I managed to complete my mission!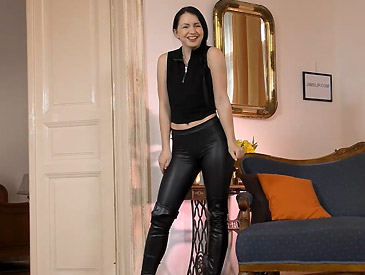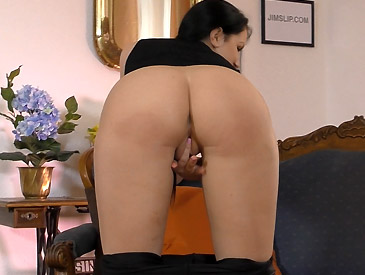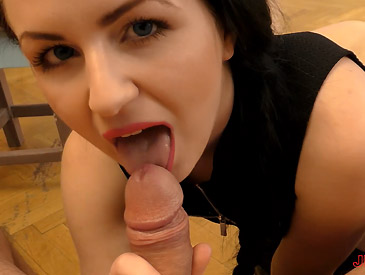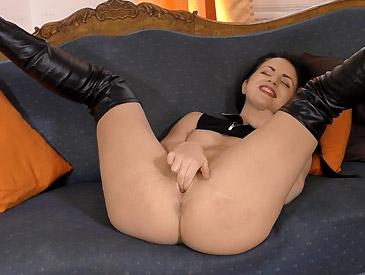 GOLDEN CLASSIC REMASTER FROM 2005

By popular demand this month we have a re-master to MPG4 of the red-hot babe Tricia. A true Brit slut with no holds barred. Tricia could cater for any desire or perversion no matter how weird and rightfully reigns as Queen of Sluts! How's this for a beautiful big-jugged Scouse babe. A true UK streetsluts classic. Even got some Golden Showers on this one. Anyway she fleeced me for £20 and my loose change before rampantly fucking like a slut possessed. She then offered me her tight arse-hole for I can't remember whether it was £5 or £10, anyway it was very good VFM, (value for money).