Eva Ready!

I was so excited about Eva gorgeous arse wrapped in those wet look leggings, I completely forgot to mention that her normal job is a nurse. Hopefully the NHS had had the foresight to keep Eva away from temptation and NOT post her in the Blood Transfusion department. With her Transylvanian heritage it may have been too tempting for Eva to make up a quick "bevvy" or cocktail from the blood of some of the patients! Anyway, thanks to NHS cuts, she had her "Cut short to save money" nurses uniform with her! Yes, by taking 20 centimetres off the hemline of all the nurses' uniforms the NHS could save £432.51 (rounding it up) in material costs, so Eva is part of a pilot scheme. We of course supplied the seamed stockings and suspenders - as Scrooge like NHS mandarins were not even willing to "Cough up" for this simple addition, which would have kept many a patient alive for a bit longer! Anyway, I digress from the point and the point is that after the tease of last week, I just had to leap on Eva and fuck her brains out!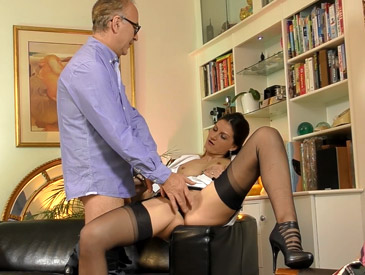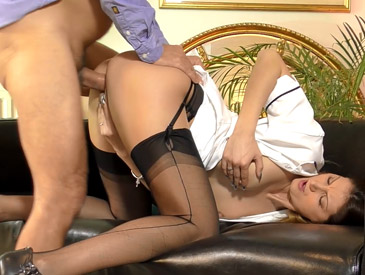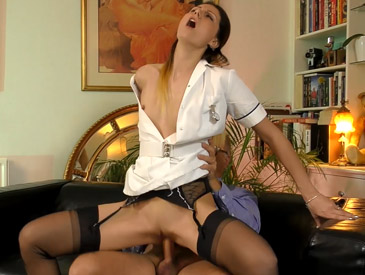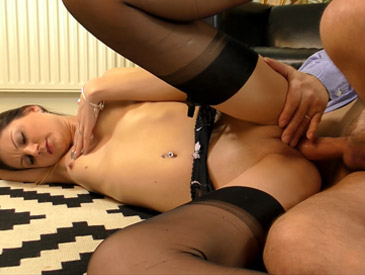 Transylvanian Trollop

This week we have a fan of skin tight wet-look leggings with the lovely Eva, from the land of Dracula, Transylvania! She assured me she had arrived in the UK by plane, but I think she omitted to mention the part about being in the cargo hold, inside a massive coffin laden with the earth dug from the grave of Dracula himself! Eva certainly got my imagination going and her stories, from the "Old country" terrified me to my very core, so instead I concentrated on her amazing body poured into those wet-look leggings and knee high boots! Yes folks when you see her walk around with those leggings creasing in all the right places, you will see why I couldn't help but to reach out, like the hand of Dracula, from behind my camcorder - of course Dracula doesn't have a camcorder as it would soon fail from being covered in all the blood & dirt etc - and start to run my hands all over those seductive curves. I'll leave you to guess what happens next! Did I mention she brought a sexy nurses outfit with her too?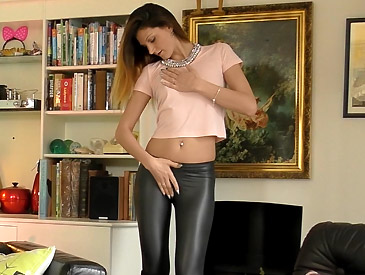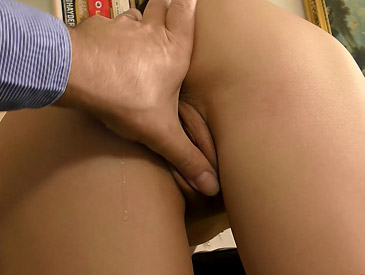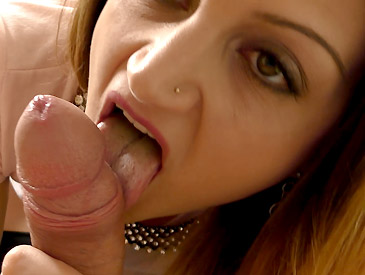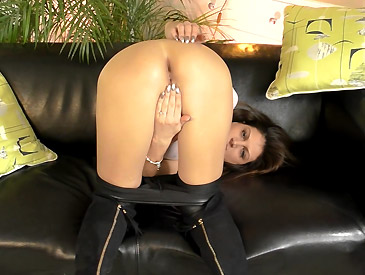 Allegra Fucks King Tut!

Sorry about the title, but knowing Allegra works in a museum I couldn't think of anything else. As you can see she looked great dressed as a cheap whore and to be honest I was gagging to screw her without being tethered to both my camcorder and headphones. Allegra was also desperate to get started and so we started fucking at a pace that even shocked my wife Lara Latex. Allegra simply couldn't get enough cock! I know you've heard that a few million times from porn girls, but Allegra REALLY COULDN'T get enough cock and after endlessly pounding into her she finally came and I had no choice but to shoot my load over her round bum. Allegra can now look forward to a glittering career in the cesspit of porn, thanks to your truly!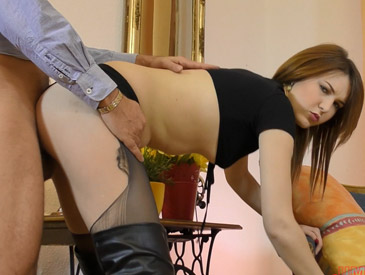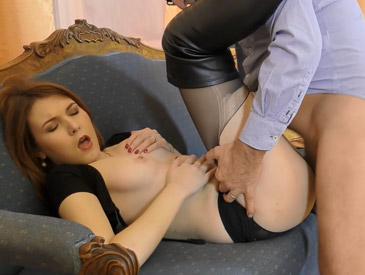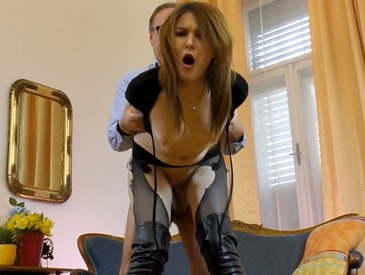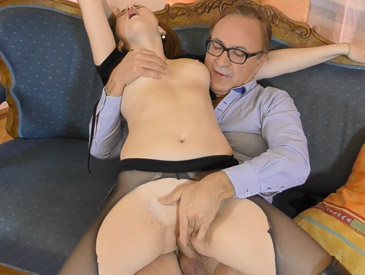 A Night in the Museum

I received an email from Allegra who claimed to have the most "Boring job in the World". On reflection she may be right as she has a job as a security guard in a Moscow museum. This is where you just sit on a chair in a gallery for 12 hours a day and do absolutely nothing. In a moment of brilliance Allegra made to decision to do some porn to brighten up her life and so she naturally contacted yours truly to try her hand at a now infamous Jim Slip casting! She wore her uniform, which comprised a black pleated skirt and blouse, which of course is perfect for a Jim Slip casting. After the months of boredom Allegra unsurprisingly turned from a smouldering temptress into a crazed sex maniac and as a master of dexterity I managed to fuck her whilst holding my trusty camcorder! Next week she's back with in her ripped tights, micro mini skirt and thigh high boots!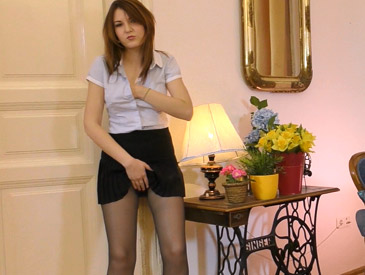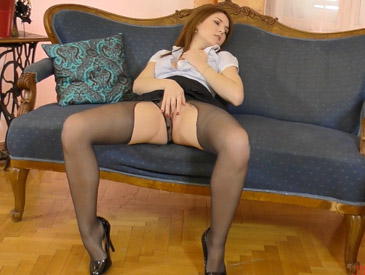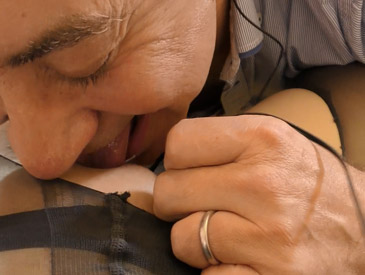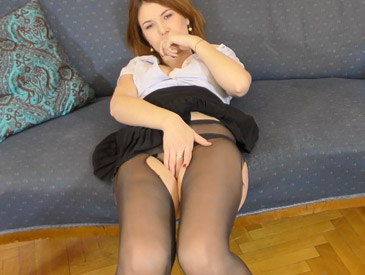 GOLDEN CLASSIC REMASTER FROM 2004

Another fitting babe for remastering to MPG4 we have the very sexy English Avalon this month for you to enjoy! If you like your sluts, sultry, exotic and rampant, then check out Avalon. Clad in thigh length boots and skin tight micro-mini-skirt, she used me up and spat me out! Check out her lap-dancing routine, it'll make your eyes pop out on springs!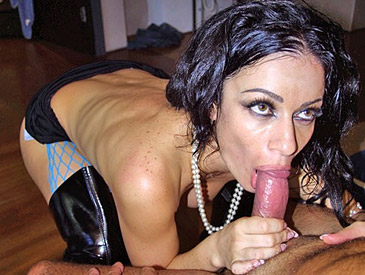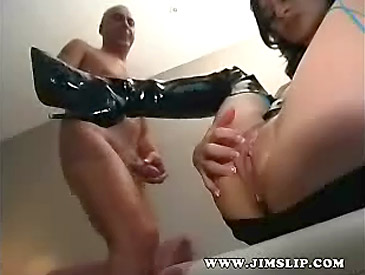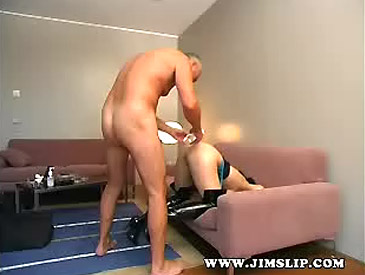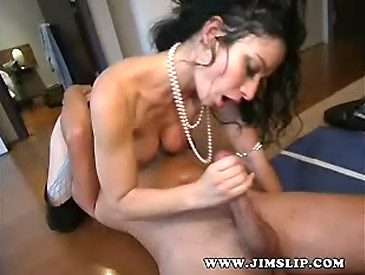 Carla in a Tiny Tennis Skirt!

Sometimes you don't need a cryptic title, just say it like it is and when you see Carla emerge in the tiniest tennis skirt you have ever seen you'll understand. A skirt so short that should Carla ever take up tennis and end up at Wimbledon, any elderly umpire would at worst have a heart attack and plunge to his death on the Centre Court or even start feverishly masturbating on his podium thus causing worldwide outrage & shock whilst at the same time bringing 10 million new male tennis fans to avidly watch the sport! Underneath the tiny skirt, Carla, or should I call her, "Miss Tease" had decided to wear skimpy white panties. Well to say the least, this sexy ensemble set me off in a fit of lust and I had no choice but to bend Carla over, pull down her panties and simply stuff my dick inside her and fuck her remorselessly! Even Lara Latex on cam was shocked at my new found vigour, but having had the pleasure of the lovely Carla herself completely understood my actions.