Aylin Sexy Schoolgirl!

Aylin disappeared for a good half an hour and re-emerged as the epitome of the "Sexy schoolgirl" complete with pleated skirt, white socks and high heels (which in my day would have gotten her flayed with rosary beads by angry, twisted and vengeful nuns). Otto would have been most proud to see Aylin striding around with her tiny pleated skirt barely covering her round, perfect bum. Naturally, I was delighted when she dropped to her knees and looking up at me with doe eyes, reached into my trousers, took out my dick and stuffed it down her throat! From here on there were no holds barred in Aylins repertoire of shameful shenanigans and I was so shocked that I was tempted to visit this Otto fellow at his establishment of filth, knock on his door and when he answered it, shake both his hands and congratulate him!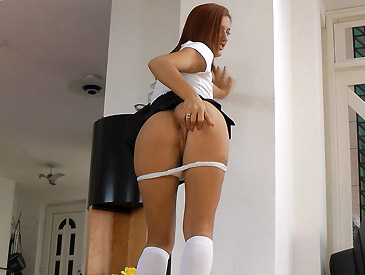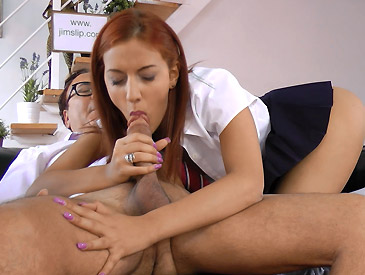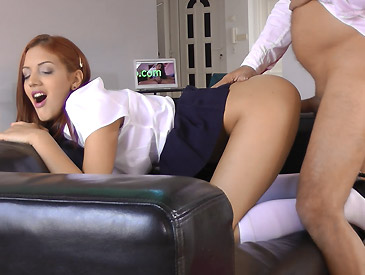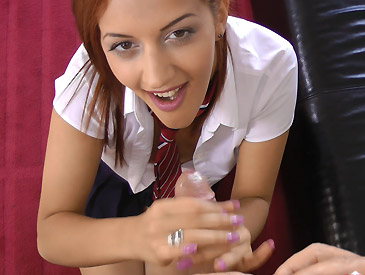 Come on Aylin

This week we welcome the lovely 18 year old Aylin, a girl with a sordid story to tell! Yes, my brethren, you too will recoil in horror as she recalls her days working behind the bar of Otto's Angels, a cesspit of moral turpitude and depravity, posing as a pole dancing club. Unlike other 16 year old schoolgirls who do paper rounds and care for the old folk and such like, you will hear how the 200 kilo Otto encouraged Aylin to work behind the bar in her school uniform, so he could gloat both at her and at the unfortunates straddling the poles on the dance floor. Anyway, by sheer coincidence Otto knew of the infamous Jimslip castings and encouraged Aylin to attend. As you can imagine Aylin had no problem performing a most spectacular casting and you will be delighted to know that she had the forethought to pack her sexy school uniform in her bag, which she begged to wear in next weeks scene!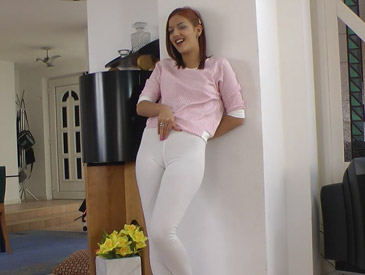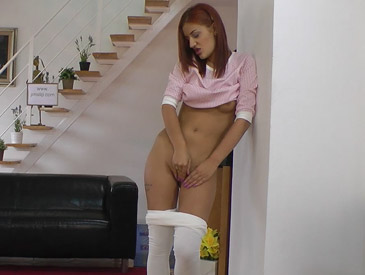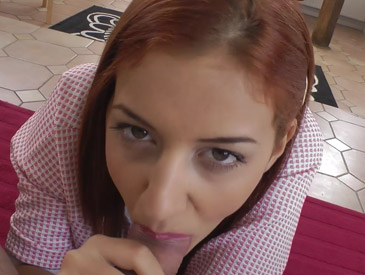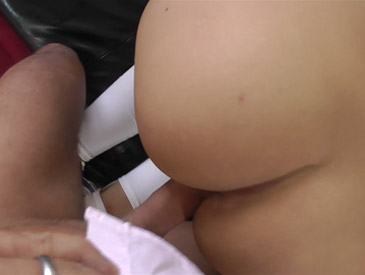 From Secretary To Cheap Slut!

As members will have seen Sasha did a very sexy casting and had no qualms about trying to jam my dick into her sodden pussy, but this was simply not enough for "Miss Pork Pie!" No she wanted to get dressed up like a cheap, 2 bit slut and continue the fucking with my wife Lara Latex on camcorder. Well, to be honest I was relieved because screwing a babe whilst holding a camcorder always plays havoc with my sciatica! Anyway, Sasha re-emerged dressed in enough fishnet to bring a smile to Captain Birdseye as he lands a huge catch of fish when utilized on his fishing boat. I particularly like ripping both the fishnet tights to shreds, the skimpy panties underneath and then plunging my dick into the exposed pussy, which is exactly what I did to Sasha! It then turned into a crazed fuck fest, yes this is the allure of fishnet as known by loose women throughout the world!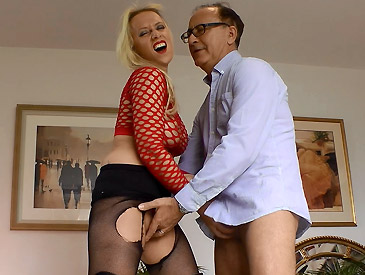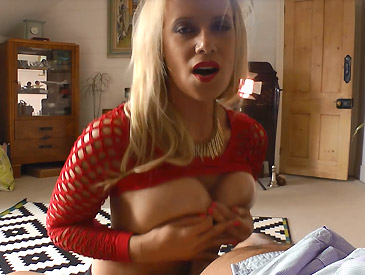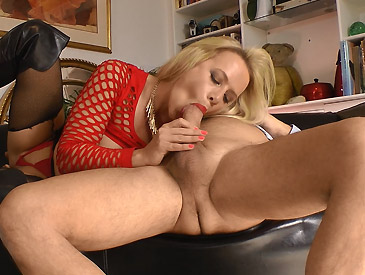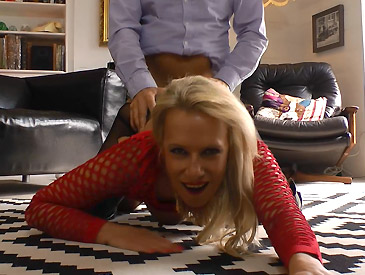 Sexy Secretary In Seams

This week we have the gorgeous Sasha Steele from the little town of Melton Mowbray in England. She turned up for her Jimslip casting dressed in a very clingy sexy secretary style outfit. As members will know, I always try to find out what prospective Jimslip girls have been or are doing in their normal lives. Sasha had a particularly bizarre tale of the vicious competition one finds in the world of pageants! In this case Sasha had been a winner of the "Miss Pork Pie" pageant for the years 2005 and 2006! You see Melton Mowbray is famous for the making of this quaint British snack. Anyway, Sasha did a very sexy casting indeed and I was stunned to see that underneath her tight dress she was sporting some seamed hold-ups with pink seams. This sight nearly made me choke on the complimentary mini pork pie snack I'd been quietly munching whilst on camcorder! Sasha couldn't wait to get my dick in her mouth and I couldn't wait to stuff my dick into her wet pussy, which I managed in spite of being entangled in the camcorder wires!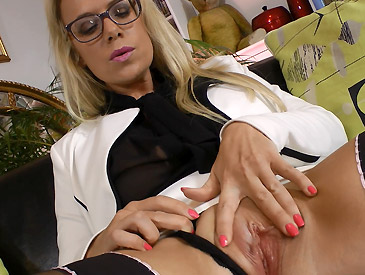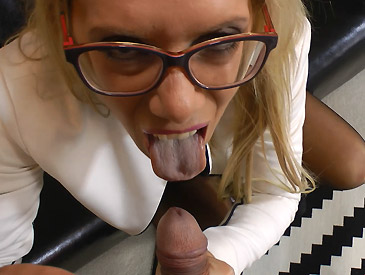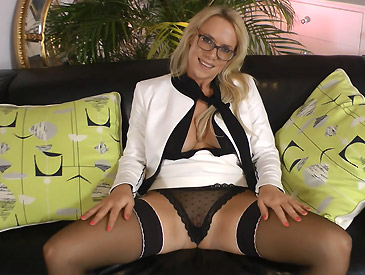 Dressed up in some sexy fishnet hold-tights

I did a rather nice intro with the gorgeous Passion standing with a view of what I believe to be Snakes Pass in Derbyshire, England, I can't be sure since, I was far too busy trying to imagine how good Passion was going to look dressed up in some sexy fishnet hold-tights, I know it sounds weird but they looked really horny when she put them on. Oops, not forgetting the short preamble featuring her cute bum clad in skin tight denim. Anyway, she'd told me that she just loves being fucked up the arse! So picture the scene, a babe clad in fishnet tights with a big hole in them, PVC thigh high boots, a tiny denim mini-skirt, white shirt and school tie. Wow, what an ensemble, I nearly came in my trousers! I was just desperate to get stuck in her tight arse, but don't worry I paced myself for you lot out there to get the full benefit of Passion from every angle!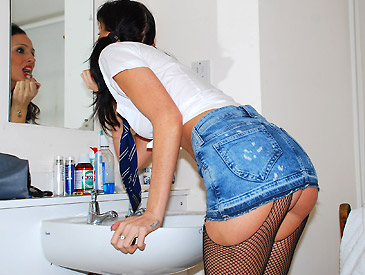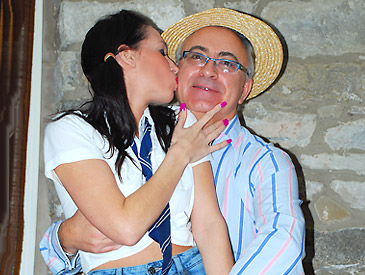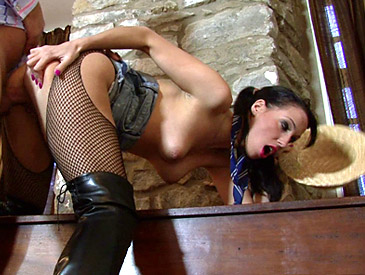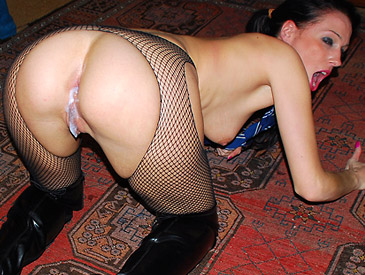 Hot Student Gets Fucked!

Thank God Lara Latex took over when she did, as it was obvious that Anina simply wanted to get fucked hard without the impediment of a camcorder. Lara suggested she peel down her skimpy shorts and I got Anina to climb back onto my cock, which she did without hesitation and carried on fucking me until I suggested she changed position into what is known in the trade as "Reverse cowgirl". Its a pseudonym for a girl alighting a horse and then riding the horse backwards, which of course would be rather silly since she wouldn't know where said horse was going! Anyway,that said, it is still daft since when Anina was fucking me in "Reverse", from a horse riding perspective, she was actually riding me in the correct position, i.e. we were BOTH facing forward. So it would seem that the elders of porn have got this definition wrong and not corrected it for the last 50 years! Anyway, you will enjoy this 18 year old sex kitten orgasming a couple of times whilst my cock was buried inside her ball deep and Anina will surely be entered into the Jim Slip Top 50 cuties of all time!